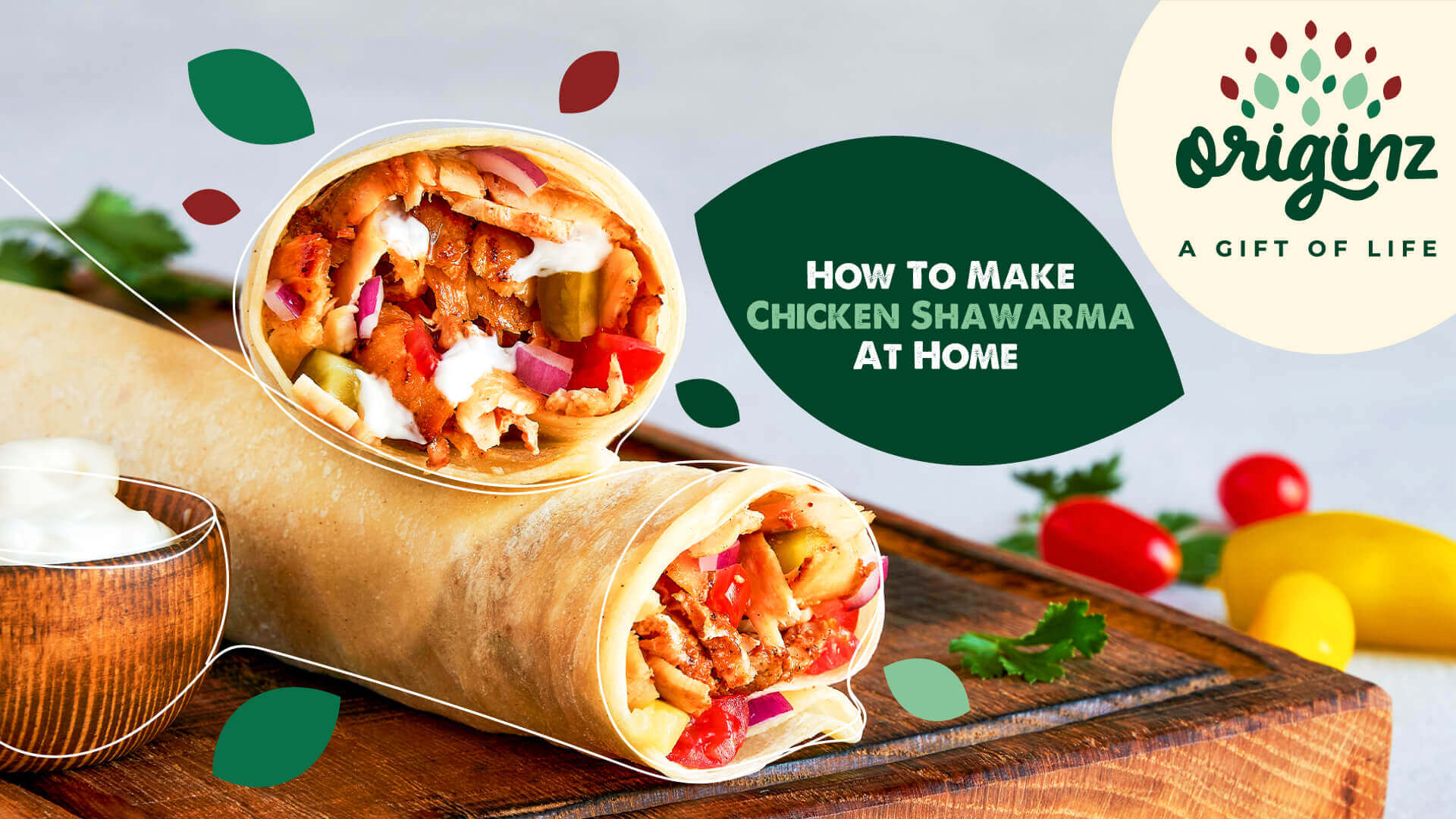 How to Make Chicken Shawarma At Home
In the Arab world, perhaps no dish better represents fast food than shawarma. The shawarma stall is a staple of the night-time food scene in many Arab countries, and after a late-night event, visiting one is almost like a ritual, a tradition. However, shawarma has gained a reputation for being unhealthy due to the way it is prepared and cooked in shawarma stalls. If you are hankering for the succulent taste of a juicy chicken shawarma wrap, this recipe will allow you to cook quality shawarma from the comfort of your own home. This recipe is also a much healthier way of enjoying a food which is often seen as indulgent.
Equipment
Large mixing bowl
Small bowl
Garlic press
Cling wrap
Meat hammer
Oven tray and wire rack
Kitchen tongs
Ingredients
1kg boneless chicken thighs (ask for free range)
For the marinade:
1 cup (250g) Greek yoghurt
¼ cup (60g) Originz tomato paste
4 tablespoons (60g) shawarma spice mix
1 tablespoon Originz apple cider vinegar
4 cloves garlic, pressed
For the wrap:
Arabic flatbread – if you can find wholegrain, use it
Garlic mayonnaise
1 cup mayonnaise

3 cloves garlic, pressed

A squeeze of lemon juice

A pinch of salt
Organic cucumbers
Organic onions
Organic tomatoes
Shredded organic lettuce
How to Make Homemade Chicken Shawarma
Make your marinade – this will give a rich depth of flavour to your chicken. In a large mixing bowl, combine a cup of yoghurt with 60 grams of tomato paste, 4 cloves of garlic, a tablespoon of vinegar, and 4 tablespoons of shawarma spice mix. Mix them all together until you have a creamy reddish marinade.

Take your chicken thighs and sandwich them between two sheets of cling wrap. Take your meat hammer and give each chicken thigh a few good whacks until it has flattened a little. This breaks apart the meat, meaning that the marinade can get deeper into the chicken and make it tender and flavourful.

Add the chicken to the bowl of marinade, mixing in well with your hands. so that the marinade covers all the thighs. Cover with more cling wrap, and let it rest in the fridge for at least half an hour. For best results, leave for several hours, or even let it sit overnight. Wash your hands thoroughly – raw chicken can contain harmful bacteria!

Once you are ready to take out the chicken, preheat your oven to 230ºC, or 210 with fan. Place the wire rack on top of the oven tray. While the oven heats up, chop up some tomatoes, cucumber, onions and lettuce into long strips. Make sure to remove the insides from the tomatoes, as the liquid content can make the wrap soggy.

Take the chicken thighs out of the fridge and place them onto the wire rack. Put the wire rack high up in the oven, close to the grill, so that the chicken can char and develop its characteristic flavour. If you'd prefer to avoid charring your chicken, place the tray lower down in the oven.

Meanwhile, make the garlic mayonnaise by combining mayo, garlic, lemon juice and salt in a small bowl.

Once the chicken begins to turn brown on one side, take the tray out and flip the chicken thighs over with kitchen tongs.

When the chicken has a deep golden brown colour on both sides, and is cooked through on the inside, remove it from the oven. Slice the thighs into long strips.

Put the bread in the oven for a few seconds until it is warm, then assemble your wrap.

Spread a layer of garlic mayo around the centre of your wrap. Place the chicken, tomatoes, cucumbers, onions, and lettuce in a line down the middle of your wrap. Fold the ends of the line over, then fold one side of bread over the chicken and roll the wrap to close it.

Serve with extra garlic mayonnaise and enjoy!
Health Benefits of Chicken Shawarma
Believe it or not, chicken shawarma made in this way can offer you a variety of health benefits. Let's explore a few below:
Nutrition Benefits of Lean Protein
Chicken is an excellent source of lean protein, which is essential for muscle growth and repair. An array of B-vitamins are also found in chicken, including B6, niacin, and riboflavin, which help support the immune system, convert food into energy, and keep your skin healthy.
Fibre and Digestive Health
The vegetables and bread served alongside shawarma are plentiful sources of dietary fibre in themselves. When combined together, they help promote normal digestive system function. Wholegrain bread is a particularly rich source of both fibre and carbohydrates.
A Well-Balanced Meal
When you think about it, a chicken shawarma wrap provides all five of the main food groups: carbohydrates in the bread, fruits and vegetables in the wrap, protein from the chicken, dairy in the marinade, and oils in the mayonnaise. This means you gain a balanced intake of many beneficial nutrients at once with your chicken shawarma wrap.
Fast food has long been associated with indulgence and an unhealthy diet. But when you prepare the same dishes yourself, you will often find that the food is significantly healthier, and just as tasty. This variation on chicken shawarma is no exception – our recipe gives you a way of making chicken shawarma mindfully rather than just going out and buying it. Being involved in the process of making your food gives you a sense of power over your own diet choices. It means you can make informed decisions about what goes into your body. It also allows you to experience the great taste of chicken shawarma in a healthy, wholesome way.