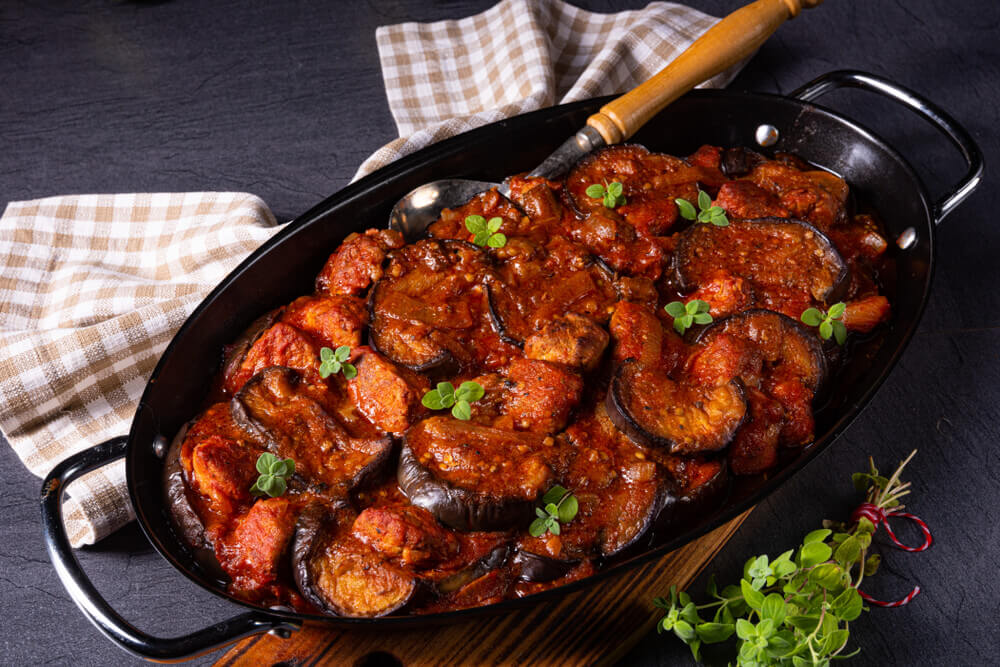 Eggplant Mousakka (without bechamel)
INGREDIENTS:

Eggplant
• 3 large eggplants (cut into 0.75cm slices lengthwise)
• 1 tsp salt
• 2-3 tbsp Originz olive oil
Filling
• 1 tbsp Originz olive oil
• 1 medium onion (diced)
• 3 garlic cloves (minced)
• 500g of ground beef (mince)
• 700ml Originz strained tomatoes
• 1 bay leaf
• ¾ tsp salt
• ¾ tsp sugar
• 1 tsp dried oregano
• 300g Originz tomato paste
• 2 cups of water
• 1 potato
Topping
• 2 tbsp Originz olive oil
• 100g pine nuts
COOKING INSTRUCTIONS

Eggplant
1. Place the eggplant slightly overlapping in a large strainer. Sprinkle with some salt. Repeat with remaining eggplant.
2. Leave to sweat for 20-30 minutes. Meanwhile, make the meat sauce.
3. Preheat oven to 2400C .
4. Pat eggplant dry – make sure to do this well, otherwise it's too salty. Lay on parchment paper lined trays (you might need 2-3 trays), brush with olive oil.
5. Bake 15-20 minutes or until lightly browned and softened. Remove and set aside to cool slightly.
Meat sauce
1. Heat Originz olive oil in a large skillet or pot over high heat, cook the onion and garlic for 2 minutes.
2. Add the minced beef and cook it until it changes from pink to brown, mixing and breaking it up with a wooden spoon.
3. Add the bay leaf, a 700ml bottle of Originz strained tomatoes, salt, sugar, oregano and mix well. If you feel the sauce is too thick, add 100ml of water. Bring to simmer, then lower heat to medium low and cook for 15 minutes or until reduced to a thick sauce.
4. In the meanwhile, peel a potato and cut it into thin slices. Keep aside.

Pine nuts
1. Heat Originz olive oil in a skillet and add 100g of pine nuts. Mix regularly for a few minutes or until the pine nuts become golden in color.
2. Remove them from the skillet onto a plate with a paper towel to soak up the oil.
Assembly
1. Lower the oven to 1800C .
2. Place half the eggplant in the bottom of a baking dish in rows. Wedge the sliced potato pieces in-between the bottom eggplant rows (this will soak up any excessive oil if the eggplants are fried, and will add a delicious taste to the dish).
3. Top all with the meat filling and top with the remaining eggplant.
4. If there is any meat filling left, add it in-between the eggplant "sandwiches".
5. Mix the Originz tomato paste into 2 cups of water and pour it all over the eggplant and meat. Decorate with fried pine nuts.
6. Bake for 30-40 minutes. Allow to stand before serving.

This dish tastes delicious when served with a side of plain white rice or Arabic bread.