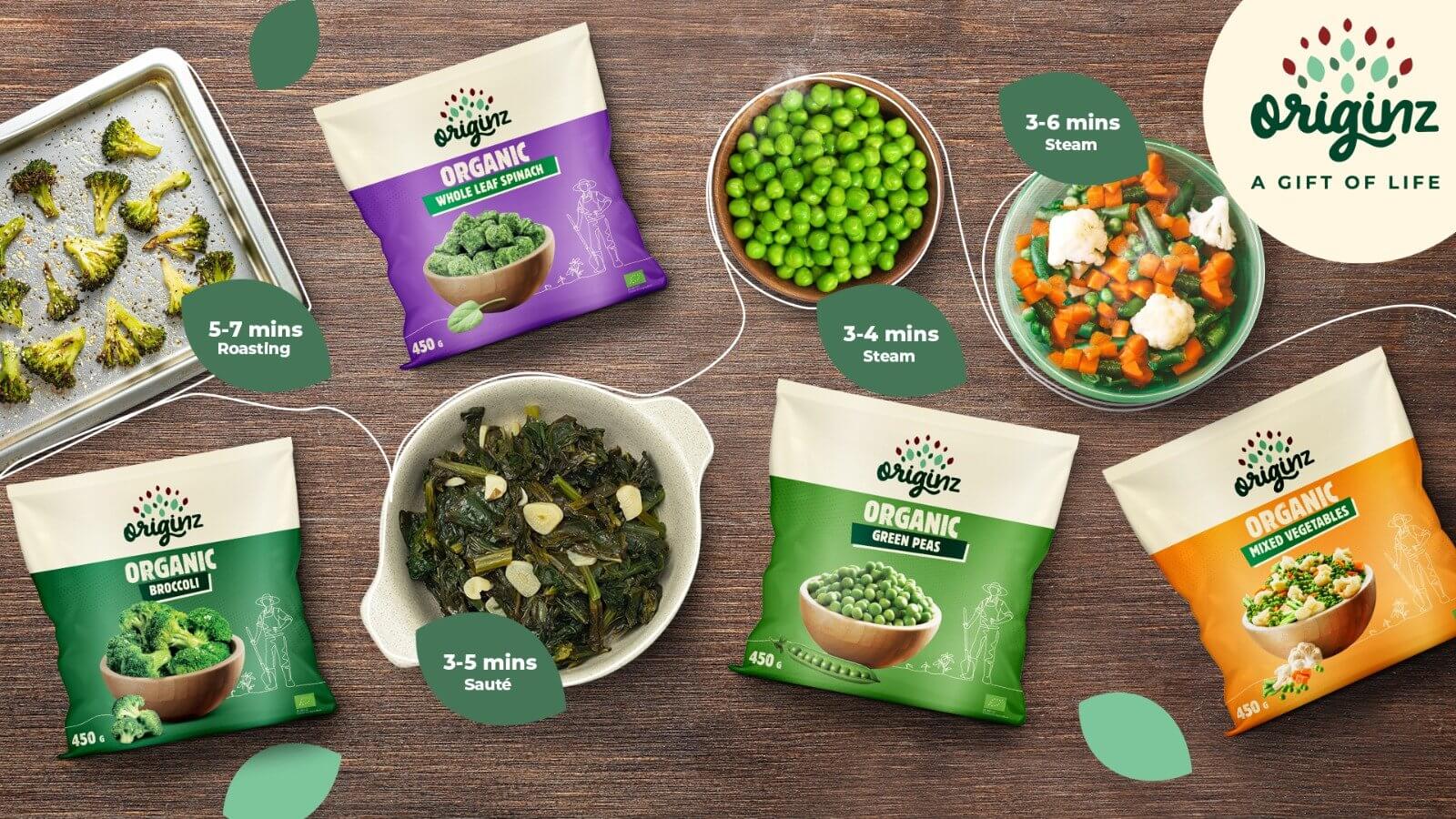 5 Things to Consider When Cooking Frozen Vegetables
In today's fast-paced society, it can be challenging to integrate nutritious and healthy meals into our hectic schedules. Fortunately, frozen vegetables provide a convenient way to incorporate essential nutrients into our diet. But how does one turn frozen vegetables into a delicious meal? Whether you are a seasoned chef or just starting in the kitchen, cooking frozen vegetables can be a simple and tasty way to enhance your dishes. In this blog, we will discuss the five most important factors to consider when cooking frozen vegetables, including the best way to cook frozen vegetables and the benefits they bring to the table.
Choosing High-Quality Frozen Vegetables
When shopping for frozen vegetables, opt for high-quality ingredients. Look for intact containers free of freezer burn and excessive ice crystals. Choose reputable brands or, if available, organic alternatives. Additionally, ensure that the vegetables are stored at the correct temperature.
Appropriate Thawing Methods
Some frozen vegetables can be prepared directly from the freezer, but thawing them first allows for more even cooking and flavour retention. The ideal method for defrosting frozen vegetables is to place them in the refrigerator overnight. If you're pressed for time, you can use the defrost function on your microwave or place the frozen vegetables in a sealed container and submerge them in water to speed up the thawing process.
Warming the frozen veggies and fruits is also another great option. Why? One reason to warm up to frozen fruits and veggies is that they do not require considerable preparation, making them a practical alternative; just warm up and add seasonings for a quick and healthy meal.
Best Ways for Cooking Frozen Vegetables
● Roasting: Roasting frozen vegetables can accentuate their natural sweetness and impart a delectable caramelised flavour. Spread the thawed vegetables evenly across a baking sheet and preheat the oven to 425°F (220°C). Toss them in olive oil, cover them with your favourite herbs and seasonings, and roast for 20 to 25 minutes or until tender and browned.
● Steaming: Steaming is an excellent method for cooking frozen vegetables while preserving their nutrients and vibrant colours. Place the thawed vegetables in a colander or steamer over boiling water. Cover and steam the vegetables for 4 to 6 minutes or until tender but still crisp.
● Sautéing: Sautéing frozen vegetables can be a fast and flavorful method of preparation. Melt one tablespoon of oil or butter in a skillet over medium heat. Add the defrosted vegetables and sauté for 5 to 7 minutes, stirring occasionally, until tender and faintly browned.
Customising Cooking Times and Methods
Cooking periods and characteristics of different frozen vegetables vary. Specific considerations for popular frozen vegetables are as follows:
● Frozen Broccoli: Before cooking, defrost the frozen broccoli and press it dry. 5-7 minutes of roasting or simmering will help preserve its texture and vibrant green colour.
● Frozen Spinach: Defrost the frozen spinach and drain out any excess liquid. Until wilted, sauté it in a skillet with garlic and olive oil for 3 to 5 minutes.
● Frozen Green Peas: Green peas are adaptable and fast to prepare. Steam the frozen green peas for 3 to 4 minutes, or sauté them for 7 to 10 minutes, until they are tender and vibrant green.
Reasons to Get Excited About Frozen Fruits and Vegetables
If we talk about frozen vegetable benefits, we have got a lot to cover, from nutrition to minimising food waste. It is not only healthy but also promotes sustainability. Let's look at a few of the benefits:
● Nutritious Value: Contrary to conventional belief, frozen vegetables have the same nutritional value as fresh ones. They are harvested at optimum ripeness and flash-frozen, which preserves their vitamins and minerals. This makes them an excellent source of essential nutrients, even when fresh produce is scarce.
● Convenience and Time-sparing: Frozen vegetables are pre-washed, pre-cut, and ready to use, sparing you valuable cooking time. They eliminate the need for slicing and preparation, making them convenient for fast and nutritious meals.
● Reduced Food Waste: The extended shelf life of frozen vegetables significantly reduces food waste. Food waste can be reduced by utilising frozen vegetables because they do not perish as rapidly as fresh produce.
Cooking frozen vegetables can be a game-changer for busy people seeking nutrient-dense dishes without sacrificing flavour or convenience. You can improve the flavours and textures of your meals by following the advice in this blog post, such as selecting high-quality vegetables, employing appropriate cooking methods, and adjusting cooking times. Embrace the benefits of frozen vegetables, including their nutritional value, time-saving qualities, and reduced food waste, and make them a staple in your cooking.
FAQs
Q. Can I cook frozen vegetables straight from the freezer, or must they be thawed first?
While some frozen veggies can be cooked straight from the freezer, it is usually best to thaw them first. Thawing enables more consistent cooking and flavour retention. Frozen veggies can be thawed from the freezer to the refrigerator overnight. If you're pressed for time, you can defrost the vegetables in the microwave, throw them in a zipped bag, and soak them in cold water.
Q. What is the best way to cook frozen vegetables to preserve their nutrients?
Steaming is one of the finest ways to preserve the nutrients in frozen vegetables. It also aids in preserving their brilliant colours as well as essential vitamins and minerals. Place the thawed vegetables in a steamer basket or colander, put over boiling water, cover, and steam for 4-6 minutes or until soft yet slightly crunchy. This process ensures little nutritional loss while producing a deliciously nutritious result.
Q. Is it possible to cook frozen vegetables? If so, how can I get the best results?
Yes, roasting frozen vegetables enhances flavour and creates a caramelised texture. Preheat your oven to 425°F (220°C) and evenly distribute the thawed vegetables on a baking sheet. Toss with olive oil, season with your favourite herbs and spices, and roast for 20-25 minutes or until tender and slightly toasted. Keep an eye on them to avoid overcooking, and stir them occasionally to ensure equal browning.
Q. Are frozen vegetables as healthy as fresh vegetables?
Frozen vegetables can be just as healthy as fresh vegetables, if not more so. They are instantly selected at their peak ripeness and flash-frozen, which helps retain vitamins and minerals. Frozen vegetables may be more nutrient-dense than fresh produce resting on store shelves for an extended time in some situations. Feel free to incorporate frozen vegetables into your diet, especially during the off-season when fresh food may be scarce. They are a convenient and healthy way to increase your vitamin intake.
Further Read,