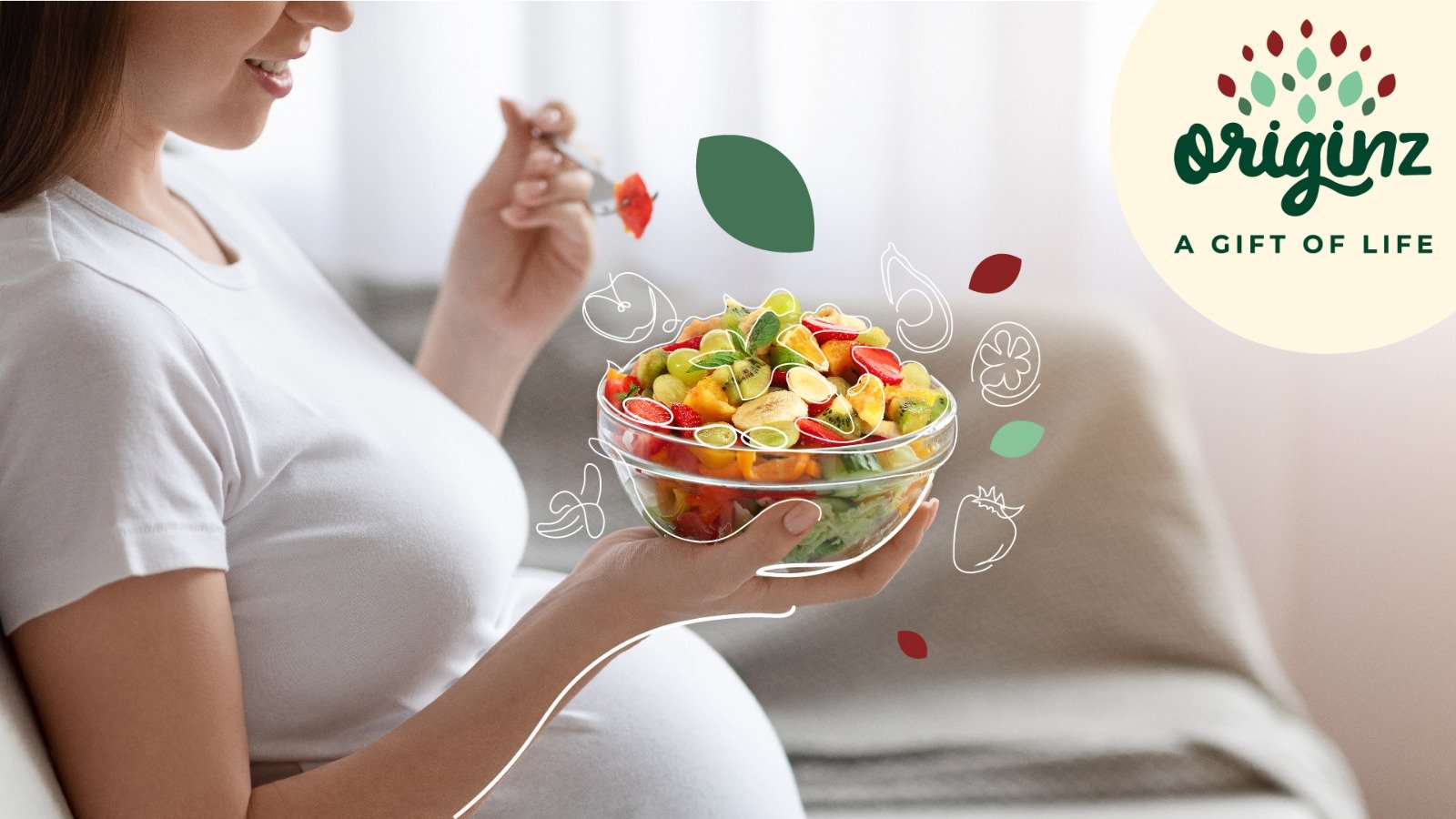 Nourishing Choices: 6 Foods to Consume During Pregnancy
Pregnancy is a joyful experience filled with anticipation and happiness. As an expectant mother, it is crucial to consume the right foods to support your health and the growth of your developing child. Incorporating specific fruits into your pregnancy diet can provide essential nutrients and make your meals more delightful. This blog will discuss six delicious fruits to eat during pregnancy that provide many health benefits.
1. Apples: A Crisp and Nutrient-Rich Choice
The proverb, 'an apple a day keeps the doctor away,' holds true during pregnancy. Apples are a versatile and refreshing fruit that can be simply incorporated into a diet. Rich in vitamins A and C, fibre, and antioxidants, apples promote healthy digestion, strengthen the immune system, and assist in developing your baby's tissues and organs. The natural flavour and high fibre content of apples can also aid in relieving constipation, a common pregnancy discomfort.
2. Berries: Antioxidants and Vital Nutrients in Abundance
For pregnant women, berries, including strawberries, blueberries, raspberries, and blackberries, are an absolute nutrient powerhouse. These small fruits are abundant in antioxidants, vitamins, and fibre, making them an ideal addition to your pregnancy diet. Antioxidants protect cells from damage caused by free radicals, and the high vitamin C content promotes collagen formation, which is essential for healthy skin, bones, and cartilage. In addition, the fibre content aids digestion and prevents constipation, while the natural flavour satisfies your sweet tooth.
3. Citrus Fruits: A Tangy Vitamin C Burst
Vitamin C, abundant in citrus fruits such as oranges, grapefruits, lemons, and limes, is essential for collagen production and promotes your baby's healthy development. Vitamin C also strengthens your immune system, ensuring your health during pregnancy. These fruits are also rich in folate, an essential nutrient that helps prevent birth defects. Enjoy citrus fruits naturally or as freshly squeezed beverages to maximise their benefits.
4. Avocados: Creamy Goodness and Essential Nutrients
Avocados are an excellent addition to a pregnant woman's diet due to their creamy consistency and delectable flavour. Avocados are rich in healthy fats, folate, potassium, and vitamins C, K, and E, all of which contribute to developing your baby's brain and other organs. The healthy fats in avocados aid in absorbing fat-soluble vitamins and promote the development of your child's nervous system. Spread avocado on toast made with whole grains, add slices to salads, or prepare guacamole to enjoy its health benefits.
5. Bananas: A Nutrient-Dense and Energising Snack
Pregnant women frequently consume bananas, and for good reason. Not only are these yellow fruits delicious, but they are also loaded with essential nutrients. Bananas are an excellent source of potassium, which aids in the maintenance of normal cardiac function and blood pressure. Additionally, they contain vitamins B6 and C, fibre, and natural sugars, providing pregnant women an immediate energy boost. Include bananas in your breakfast smoothies, enjoy them with yoghurt, or simply peel and eat them as a healthy snack.
6. Mangoes: Sweet Tropical Delight and Vitamin A
Indulge in the exotic flavour of mangoes during your pregnancy. These succulent fruits are a delight for the palate and an excellent source of vitamins A and C. Vitamin A promotes the growth of your infant's eyes, skin, and immune system. Mangoes also contain dietary fibre and natural carbohydrates, which boost energy. For a burst of tropical flavour, enjoy mangoes as a standalone snack, blend them into smoothies, or add them to fruit salads.
Apart from the food mentioned above, pregnant women can also explore organic meal ranges like organic pasta, sauces, olive oil, and frozen vegetables. Originz offers a fantastic options in organic meals. We believe in providing wholesome and nourishing meals made from high-quality, organic ingredients. Our meals are carefully crafted to meet unique nutritional needs, ensuring you receive the necessary nutrients for your health and your baby's development.
From delicious and balanced main courses to convenient, healthy, and pregnancy snacks, Originz offers a variety of options to suit different taste preferences and dietary requirements. Our meal range covers you whether you're craving a hearty vegetable curry or a protein-packed pasta bowl.
A balanced diet during pregnancy should include a variety of fruits to ensure that you and your unborn child receive essential nutrients. The fruits covered in this blog—apples, berries, citrus fruits, avocados, bananas, and mangoes—offer a delightful variety of flavours and many health advantages. From supporting the development of your baby's organs to bolstering your immune system, these fruits are a nutritious option during pregnancy. Consult your healthcare provider or a registered dietitian for personalized guidance on your dietary requirements during pregnancy. Enjoy the journey towards a healthy and vibrant pregnancy by incorporating these fruits into a well-balanced diet.
FAQs
Q. Which products should I avoid during my pregnancy?
Even though fruits are generally advantageous during pregnancy, there are a few precautions to consider. It is essential to avoid unpasteurized juices, as they may contain bacteria that are harmful to your health. In addition, some tropical fruits, such as papaya and pineapple, contain enzymes that may stimulate uterine contractions, so it's best to consume these fruits in moderation.
Q. Can I consume fruits with gestational diabetes?
You can still enjoy fruits if you have gestational diabetes, but it's important to watch your portion sizes and choose fruits with lower glycaemic indexes. The best fruits during pregnancy are berries, pears, and citrus fruits, which contain less sugar than tropical fruits such as bananas and mangoes. Work with your healthcare provider or a registered dietitian to develop a meal plan that meets your specific dietary requirements.
Q. Are organic food products a better option during pregnancy?
Choosing

organic food products during pregnancy is a personal decision. Organic produce is farmed without synthetic pesticides, fertilisers, or genetically modified organisms (GMOs). They also lack artificial preservatives and additives. Choosing organic can help you avoid potentially dangerous substances. However, it is crucial to remember that the nutritional value of organic and conventionally cultivated produce is often comparable.
Q. Can I eat fruits while experiencing morning sickness?
Yes, fruits are excellent for morning sickness because they are hydrating and provide essential nutrients. Try gentler fruits during pregnancy, such as melons, citrus fruits, or apples, if you are experiencing nausea. You may also consume fruit-infused water or frozen fruit popsicles to relieve your stomach and maintain hydration.
Q. Are preserved fruits a suitable option during pregnancy?
Dried fruits can be a nutritious option during pregnancy, but they should be consumed in moderation. While they retain most of the nutrients found in raw fruits, they are also rich in sugar. Due to their higher caloric density, choose unsweetened varieties and watch your portion sizes. Dried fruits can be a convenient and portable snack, but it is important to consume them alongside other nutrient-dense foods.
Further Read,