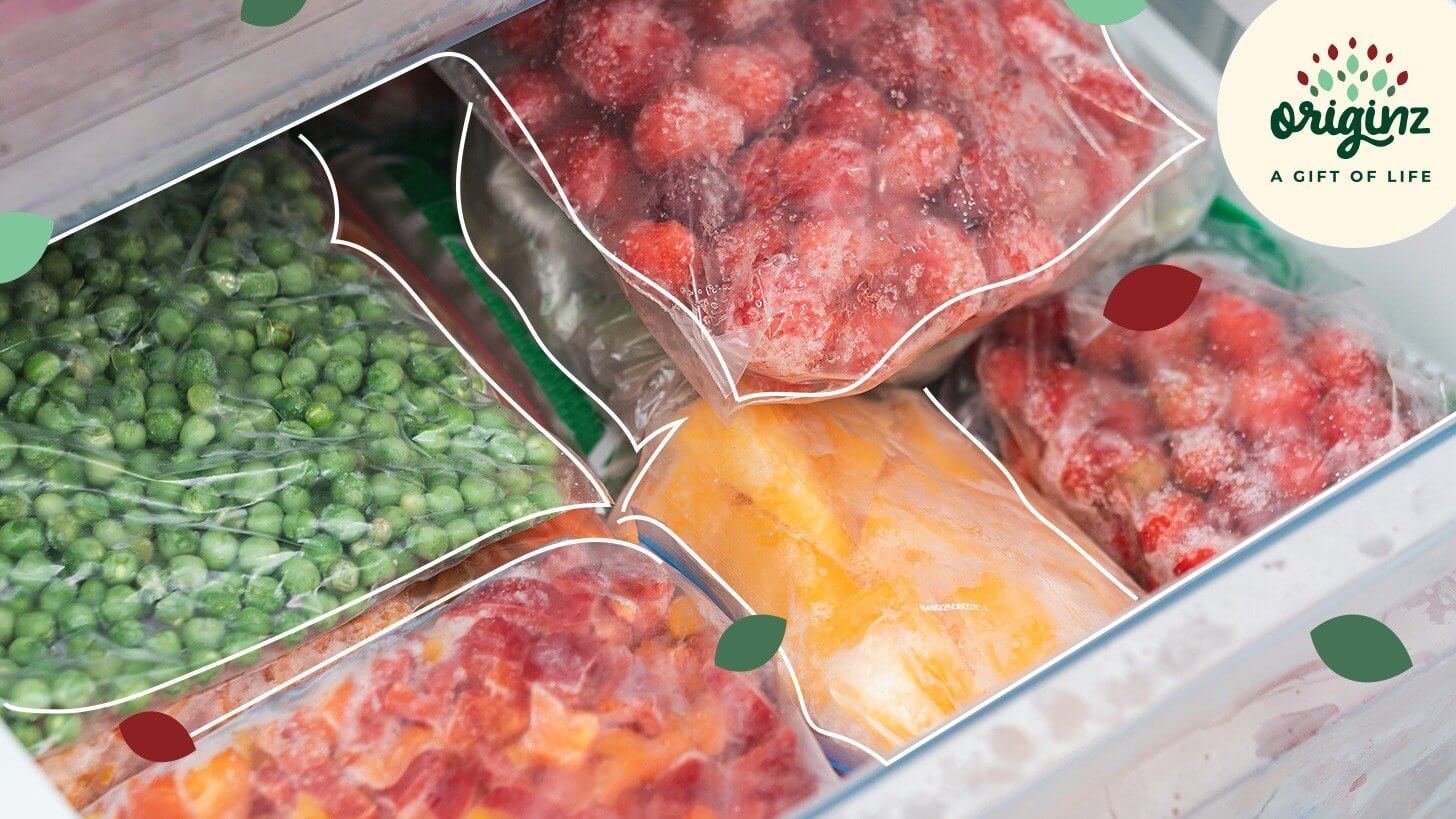 9 Best Benefits of Frozen Fruits and Vegetables
Nothing compares to fresh produce.
That's the thought most people have. Frozen produce is looked down upon because people think they have reduced nutritional value. And yet, the same is not the case with organic frozen fruits and vegetables.
Why?
Because there are several benefits of frozen fruit and vegetables that can change how you view the age-old debate of frozen vs. fresh fruits and veggies.
So, let's discuss the top 9 advantages, including the health benefits of frozen fruits and vegetables.
9 Health Benefits of Frozen Fruits and Vegetables
1. They Are Full of Nutrients
Fresh fruits and vegetables begin losing their nutrients the moment they're picked. But frozen produce, especially fruits and veggies, are picked at their peak ripeness and frozen immediately. This allows the nutrients to stay within without losing their true essence.
Besides that, you cannot always enjoy fruits or vegetables right after they're picked. So, freezing them allows you to consume nutrients like Vitamin C, Riboflavin, zinc, copper, and fiber for days.
Moreover, you can only store fresh produce in the refrigerator for up to 3 days before it loses all its nutrients or rot. In comparison, frozen fruits and vegetables can be stored for 9 – 12 months.
2. They Don't Require Food Prep
Using fresh produce means a lot of washing, cutting, and chopping before you can finally eat them.
Not only does it take more time, but it can also be exhausting if you have to rush to work. However, you don't have to dedicate yourself to prepping your meal with organic frozen fruits and vegetables. Instead, you can buy frozen produce in any form, including:
● Sliced
● Chopped
● Whole
For example, Originz frozen mixed vegetables allow you to create a healthy meal without wasting time. The ingredients are organically sourced, including frozen peas, carrots, cauliflower, and beans.
3. They Are Safe to Consume
Are frozen fruit and vegetable safe? That's a valid concern, but did you know that most foodborne illnesses derive from fresh produce?
That's right.
Freezing the fruits and vegetables after they're picked helps kill most bacteria that might lead to an illness. This indicates that frozen produce is as safe to consume as possible. Ultimately, it only adds to the health benefits of frozen fruits and vegetables you can't ignore.
4. They Are Available All Year Around
Let's face it. Not all the fruits and vegetables you love are available 365 days a year. In comparison, you have more variety with frozen produce.
For instance, you can buy frozen green peas in bulk quantities and use them in your meals, regardless of the season.
5. They Help Reduce Food Waste
Imagine preparing a meal using only half the fresh fruit or vegetable you bought. Since you've already prepared your meal, the unused product can be left forgotten in the refrigerator to rot for days.
Frozen fruits and veggies allow you to use what you need.
They're available in convenient pouches, so you can save the rest later - like using frozen fruits and vegetables for smoothies. Eventually, this helps reduce food waste, which has become a common practice worldwide.
6. They Help Save Money
One of the best benefits of frozen fruits and vegetables is cost-effectiveness. That means you can stock up on your favourite frozen goods when they're on sale.
Often, local grocery stores offer discounts during the holiday season. So, that's the best time to buy frozen fruits and vegetables and save your valuable money.
7. They Have a Long Life
As discussed previously, it's only a matter of time before fresh produce loses its nutritious quality and appeal. That means you must consume them as soon as you bring them home to avoid spoilage.
With frozen fruits and vegetables, you don't have to worry about the length of time because you can use them for up to 9 – 12 months without risking damage.
8. They Take Less Time to Cook
Some fresh fruits and vegetables take longer to cook because you must boil them first. However, frozen fruits and vegetables are packed after blanching. As a result, you can cook them right away.
Take frozen broccoli, for example. Add them to a pot of boiling pasta for a minute, and you'll be done cooking. After that, you'll only have to strain the broccoli and pasta to enjoy your meal with a side of your favourite sauce.
9. They Don't Contain Additives
Contrary to popular belief, frozen fruits and veggies don't contain additives. This belief comes from frozen pizza or other food items packed with additives. However, organic frozen fruits and vegetables are without any preservatives.
For obvious reasons, you must always check the ingredients list yourself. Several local grocery stores also hand out flyers for the general public to gain information about organic frozen produce. So, that's also an excellent way to make well-informed decisions.
And that's our take on preferring frozen fruits and vegetables over fresh. But no matter what you choose, pick organically sourced ingredients that show your love for Mother Nature.
Further Read,