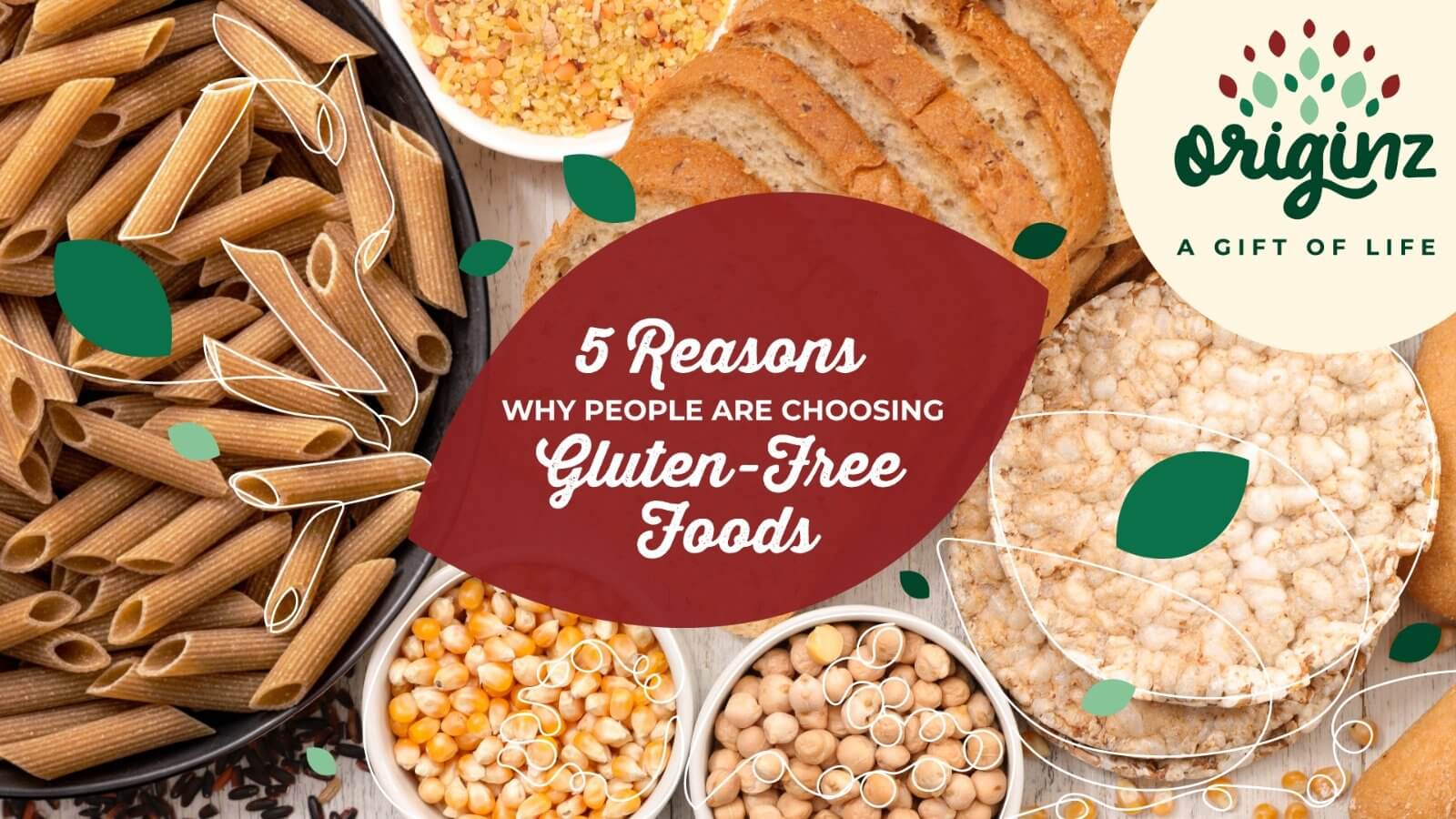 5 Reasons Why People Are Choosing Gluten-Free Foods
More and more people are following a gluten-free diet and lifestyle in recent years. You may have noticed an increase in the availability of gluten-free options at supermarkets and eating establishments, but have you considered the reasons for this development? This blog will discuss five convincing arguments for going gluten-free.
Gluten-Free Diet Benefits Health
The potential health benefits of a gluten-free diet are the primary motivation for many people to switch to one. Consuming gluten can severely damage the small intestine in those with celiac disease, resulting in vitamin deficiencies, digestive troubles, and other health concerns. Therefore, a gluten-free diet is crucial for the treatment of celiac disease and for maintaining good health.
Gluten sensitivity is a disorder in which gluten causes unpleasant symptoms such as bloating, gas, lethargy, and headaches in people who do not have celiac disease. The elimination of gluten from their diet can dramatically affect the quality of life for these people.
Why is Gluten Bad: Digestive Health
Even though being gluten-free has many positive effects, some individuals frown upon it. Why is gluten bad? In what ways could it be bad?
One of the main reasons individuals avoid gluten is its potentially harmful influence on digestive health, even in the absence of celiac disease or gluten sensitivity. Some people have trouble digesting the protein gluten, which is present in wheat, barley, and rye. Leaky gut syndrome, in which undigested food particles and chemicals enter the circulation and cause inflammation and other health problems, has been linked to this annoyance.
Gluten-free diets have been linked to enhanced health and well-being because they can aid digestion and alleviate gastrointestinal symptoms.
Weight Management and Energy Levels
Another reason why people are turning to gluten-free foods for a healthy diet is the potential benefits they offer for weight management and increased energy levels. Some individuals find that a gluten-free diet helps them shed excess pounds more effectively, as gluten-containing foods like baked goods and pastas can be high in calories and low in essential nutrients.
Additionally, some people report feeling less bloated and more energetic after cutting gluten from their diets, which can positively impact daily productivity and mood. However, it's essential to note that not all gluten-free products are inherently healthier or lower in calories, as some gluten-free alternatives might contain higher amounts of sugar or unhealthy fats to improve taste and texture.
Variety and Innovation in Gluten-Free Foods
Gone are the days when a gluten-free diet meant limited and bland food choices. With the increasing demand for gluten-free foods, the food industry has responded with many innovative and delicious alternatives. Whether you're a fan of pasta dishes or crave a delightful dessert, you can find gluten-free options that satisfy your taste buds without compromising on flavour or texture.
For instance, gluten-free spaghetti multigrain, gluten-free fusilli multigrain, and gluten-free rigate multigrain are excellent alternatives to traditional wheat-based pasta. These options cater to individuals with gluten sensitivities or celiac disease and offer a diverse and delectable array of choices for anyone looking to explore new culinary delights.
Enhanced Nutritional Value
When properly planned and executed, gluten-free benefits can be as nourishing as any other diet. Gluten-free diets make people more health-conscious, making them choose complete, nutrient-dense meals. This category includes naturally gluten-free whole grains like quinoa, rice, and oats (certified gluten-free), fresh fruits and vegetables, lean proteins, nuts, and seeds.
People can enhance their dietary intake and boost their general health by concentrating on naturally gluten-free and minimally processed foods. People with celiac disease or gluten sensitivity can still get the necessary nutrients by eating gluten-free items fortified with vitamins and minerals.
Gluten-free diets are becoming increasingly mainstream as people become more informed about their positive effects on their health. This trend is not just a fleeting fad. Managing celiac disease and gluten sensitivity, improving digestive health, and boosting energy levels are just a few of the many convincing arguments in favour of eating gluten-free.
More and more individuals are opting for a gluten-free diet, but doing so in a way that prioritises complete, nutrient-dense foods crucial for maintaining good health. Gluten-free alternatives such as gluten-free spaghetti multigrain or natural alternatives that are gluten-free, like eggs, beans, and more, are available to individuals who wish to try out the many exciting possibilities and culinary delights that await them on their gluten-free path.
Before making any major dietary changes, especially if you suspect gluten sensitivity or celiac disease, speaking with a healthcare expert or certified dietitian is important. The key to healthy and satisfying gluten-free living is a well-rounded and well-informed attitude to food choices.
FAQs: Gluten-Free
Why do people opt for gluten-free diets?
Many people adhere to a gluten-free diet for health reasons. Some people prefer gluten-free diets due to their claims to help them feel healthier, lose weight, and have more stamina. However, only some have to avoid gluten, so it's important to consider personal health needs and talk to experts before making any drastic dietary adjustments.
Why is gluten bad?
Gluten causes an immunological reaction that damages the small intestine. Therefore, those with celiac disease must avoid it. Some people have a negative reaction to gluten while not having celiac disease. Therefore, it's always advised to consult a professional before incorporating any major changes in your diet plan.
Are gluten-free foods healthier than regular foods?
No, not always. Some gluten-free packaged foods are heavily processed, with greater sugar, harmful fats, and chemicals. A well-balanced gluten-free diet that focuses on whole, nutrient-dense foods can be healthy. Still, it is critical to carefully select goods and read labels to ensure nutritional content and minimise processed options.
Further Read,