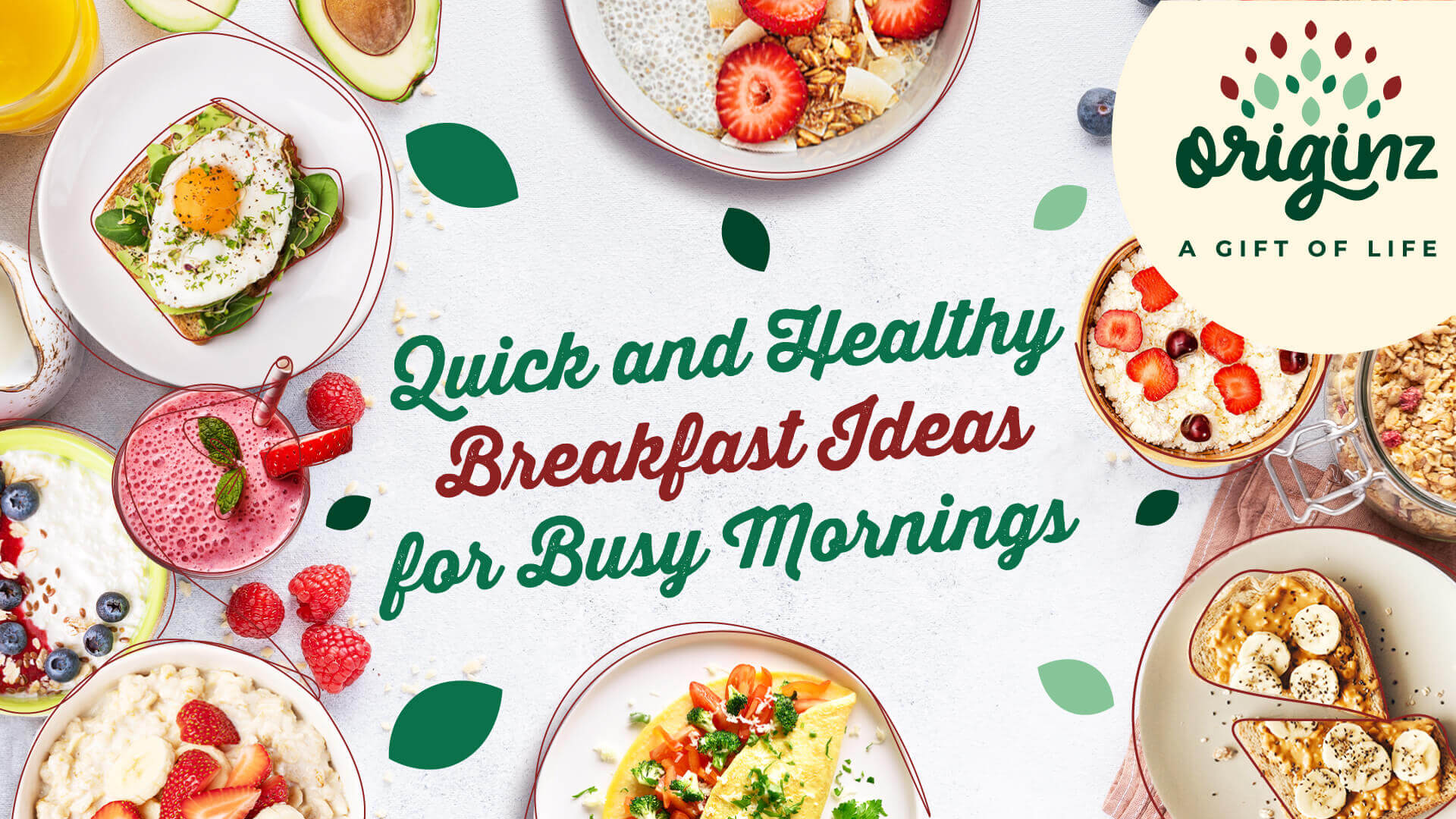 Quick and Healthy Breakfast Ideas for Busy Mornings
Mornings, especially for those with hectic schedules, can be a flurry of activity. Skipping breakfast or opting for something less healthy is easy when pressed for time. However, there is truth to the claim that breakfast is the most important meal of the day, as it gives you the energy boost you need to get through the day. This blog will discuss various options for a quick healthy breakfast that may be prepared even on the busiest of mornings. Whether you're looking for fast breakfast ideas, simple breakfast options, or organic and high-protein selections, we've got you covered.
Quick Breakfast Ideas
When time is of the essence, try one of these quick breakfast options to fill you up and prepare you for the day.
Overnight Oats:
Mix rolled oats with milk (dairy or plant-based), a sweetener (honey or maple syrup), and your choice of fruits and nuts in a container the night before to enjoy for breakfast. In the morning, just grab it from the fridge, and you'll be good to go.
Greek Yoghurt Parfait:
Make a Greek yoghurt parfait by layering Greek yoghurt, granola, and fruit in a container or glass. This little powerhouse is packed with protein, fibre, and antioxidants!.
Smoothie:
Another quick breakfast idea is to make a high-protein smoothie. All you need is a banana, some spinach, almond milk, and a scoop of protein powder.
Easy Healthy Breakfast Ideas
Making a nutritious breakfast doesn't have to be time-consuming. These quick fixes are not only convenient but also healthy and filling:
Avocado Toast:
One easy and healthy breakfast idea is to spread mashed ripe avocado on whole-grain toast, top it with a poached or fried egg, and season with salt, pepper, and red pepper flakes.
Peanut Butter Banana Sandwich:
For a quick breakfast, spread peanut butter on whole-grain bread, add slices of ripe banana, and assemble it into a tasty sandwich.
Chia Pudding:
Create chia pudding by combining chia seeds with milk (dairy, oat or soya) and a little honey. After letting it rest in the fridge overnight, you can top it with crunchy ingredients like fresh fruit or almonds.
Simple Breakfast for Weight Loss
If you're trying to lose weight, starting your day off right with a straightforward and nutritious breakfast can make all the difference:
Egg White Omelette:
Prepare an omelette using egg whites, spinach, tomatoes, and a sprinkle of low-fat cheese for a high-protein, low-calorie breakfast.
Whole-Grain Cereal:
For a filling breakfast that's high in fibre and protein, try whole-grain cereal with low-fat milk and some berries sprinkled on top.
Cottage Cheese with Fruit:
Top a bowl of cottage cheese with your favourite fruits, like pineapple or strawberries, for a protein-packed breakfast that's low in calories.
Healthy Organic Breakfast Options
These healthy organic breakfast options have organic ingredients for those who care about where their food comes from.
Organic Smoothie:
To avoid consuming pesticides with your morning breakfast, try making a smoothie with organic fruits and vegetables, along with organic yoghurt or plant-based milk.
Organic Granola with Yogurt:
For a wholesome and tasty breakfast, combine organic granola with yoghurt and a bit of honey.
Organic Scrambled Eggs:
For a pesticide-free, farm-fresh breakfast, try making scrambled eggs with organic eggs and organic vegetables that have been sautéed.
Quick High-Protein Breakfast
Protein is essential for energy and fullness. Try these high-protein breakfast ideas:
Protein Pancakes:
Use a protein pancake mix or protein powder to make protein-packed pancakes. Greek yoghurt and berries make for great toppings.
Quinoa Breakfast Bowl:
Cook quinoa with milk, add vanilla essence, and top it with almonds and dried fruit. Enjoy your protein-rich and gluten-free quinoa breakfast bowl.
Savoury Breakfast Wrap:
Wrap up scrambled eggs, black beans, salsa, and avocado in a whole wheat tortilla for a protein-rich, portable breakfast.
A healthy breakfast shouldn't be skipped just because the morning is hectic. With these simple and nutritious breakfast suggestions, you can have a good start to your day, even if you only have limited time. These options, often available in your neighbourhood health food store, can satisfy your cravings for something simple, high in protein or organic. You can also visit online organic stores and explore their options. Eating well first thing in the morning sets the tone for the rest of your day and gives you the mental and physical fortitude to deal with whatever challenges arise.
FAQs
Can I prepare overnight oats with non-dairy milk for a dairy-free option?
Absolutely! Overnight oats can be made with almond milk, soy milk, coconut milk, or any other non-dairy milk you choose for a delicious dairy-free breakfast.
How can I make my smoothie more filling and nutritious?
To boost the nutrition of your smoothie, consider adding ingredients like spinach or kale for extra greens, chia seeds for fibre, and a scoop of protein powder to increase protein content.
Are organic and high-protein breakfast options available at my local health food store?
Yes, most health food stores offer a range of organic and high-protein breakfast items, including organic cereals, granolas, yoghurt, and protein bars. Be sure to check the labels for organic certification and protein content.
Further Read,