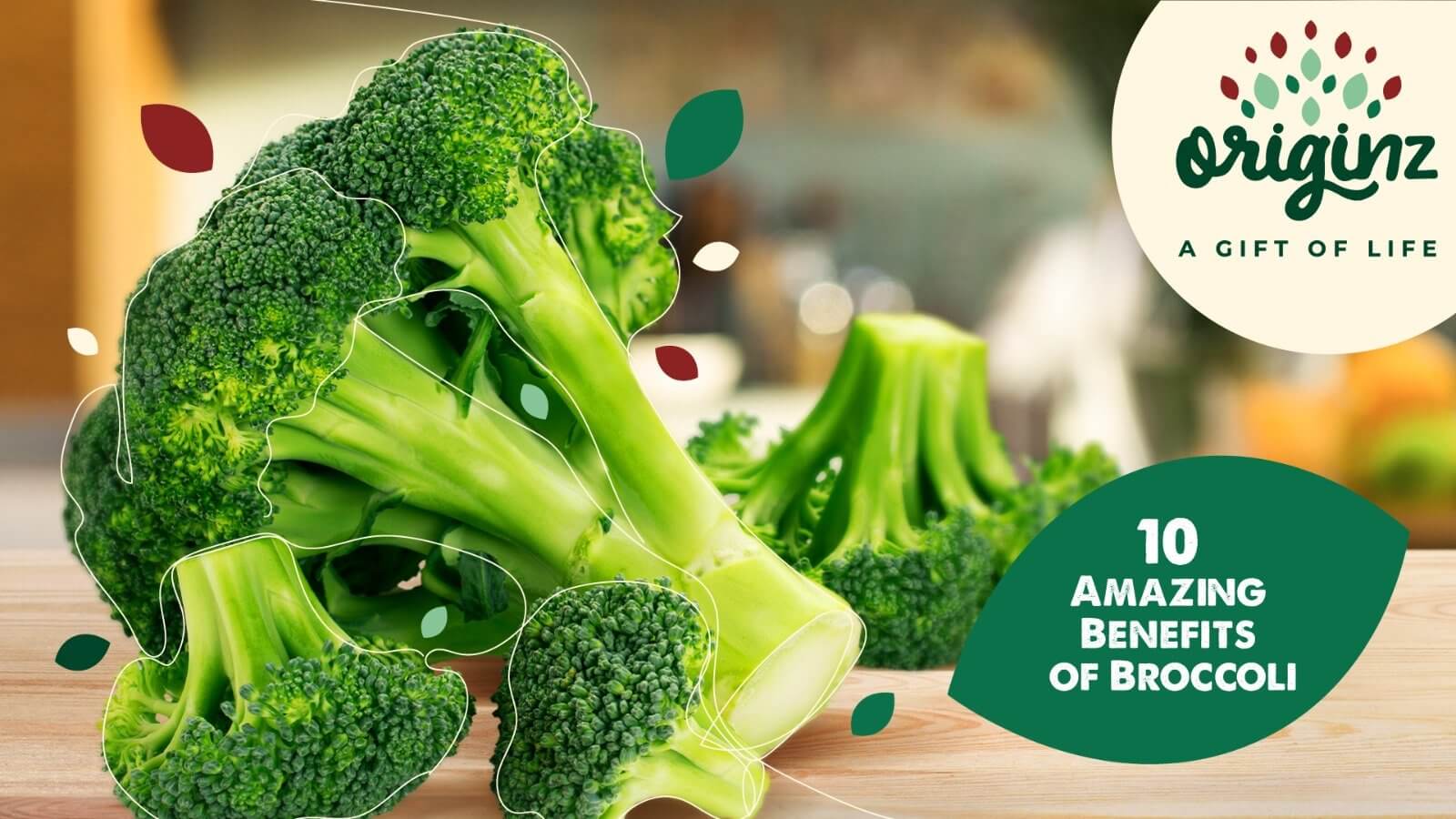 10 Amazing Benefits of Broccoli
Broccoli – the vibrant green cruciferous vegetable that sits on a pedestal in the world of nutrition. Often referred to as a superfood, broccoli packs a punch in both flavour and health benefits. Whether you enjoy it steamed, roasted, or even in a delicious stir-fry, this versatile veggie offers a plethora of advantages for your well-being. In this blog, we will explore the many benefits of including broccoli in your diet, shedding light on its contributions to a healthier lifestyle.
1. Broccoli is Nutrient-Rich
Broccoli is a nutritional powerhouse, teeming with essential vitamins and minerals. It is particularly rich in vitamins C and K, folate, and potassium. The nutrients in broccoli play a crucial role in maintaining a healthy immune system, promoting blood clotting, and supporting overall heart health. Moreover, broccoli is a good source of dietary fiber, aiding in digestion and helping you maintain a healthy weight.
2. Broccoli Aids in Weight Loss
If you're on a journey to shed some pounds, you can consume broccoli for weight loss. It's low in calories but high in fiber, helping you feel full and satisfied. The fiber in broccoli also supports healthy digestion, preventing overeating and promoting weight loss. Furthermore, its natural crunchiness makes it a great substitute for high-calorie snacks.
3. Broccoli Supports Heart Health
Broccoli's impressive nutrient profile contributes to heart health. Among its many health benefits is its high fiber content that helps lower cholesterol levels, reducing the risk of heart disease. The presence of sulforaphane, a powerful antioxidant, may also help protect the heart by reducing inflammation and oxidative stress.
4. Broccoli Strengthens the Immune System
A strong immune system is your body's first line of defence against illness. Broccoli, which is loaded with vitamin C, is an excellent immune-boosting food. Regular consumption of broccoli can help your body ward off infections and common colds while supporting the body's natural defences.
5. Broccoli Benefits for Women
Broccoli offers specific benefits for women. Its rich folate content is especially important for women of childbearing age, as it helps prevent neural tube defects during pregnancy. Additionally, the indole compounds in broccoli may assist in balancing hormones, potentially reducing the risk of certain hormone-related cancers.
6. Broccoli Benefits for Men
Men can also benefit from adding broccoli to their diet. This vegetable contains compounds known as glucosinolates that may help lower the risk of prostate cancer. Regular consumption of broccoli, along with other healthy lifestyle choices, can be a proactive step for men to maintain their health.
7. Broccoli Promotes Healthy Bones
Vitamin K, found abundantly in broccoli, is essential for maintaining healthy bones. It plays a vital role in bone metabolism, which keeps them strong and resilient. Vitamin K also helps prevent osteoporosis by increasing calcium absorption.
8. Versatile Culinary Uses of Broccoli
Broccoli's versatility in the kitchen is one of its most appealing features. You can enjoy it steamed, sautéed, roasted, or even raw in salads. It pairs well with a variety of flavours and ingredients, making it a great addition to numerous recipes. If you're short on time, consider using frozen broccoli as a convenient option for adding this nutritious veggie to your meals.
9. Types of Broccoli
Broccoli comes in several varieties, each with its own unique flavour, texture, and nutrient profile. Common types include broccoli florets, broccoli raab, and broccoli sprouts. Experiment with different types to discover your favourites and diversify your nutrient intake.
10. Broccoli Seed Benefits
While most people focus on the broccoli florets, the seeds of broccoli also contain valuable nutrients. Broccoli seed extract is gaining popularity for its potential health benefits. It is rich in antioxidants and may contribute to overall wellness, including weight management and liver health.
Frozen Broccoli: A Convenient Option
In today's fast-paced world, convenience often plays a crucial role in our food choices. Frozen broccoli is a low-effort, yet nutritious option for those with busy lifestyles. It retains many of the vita broccoli benefits for malemins and minerals found in fresh broccoli, making it a practical choice for incorporating this vegetable into your diet. Just be mindful of added sauces or seasonings in frozen broccoli products, which can sometimes contain extra calories and sodium.
Frozen Vegetables: Part of a Healthy Diet
Frozen vegetables, including broccoli, can be an integral part of a healthy diet. They are often flash-frozen shortly after harvest, preserving their nutrients and freshness. These frozen options are readily available year-round, ensuring you have access to nutritious vegetables even when they're out of season.
FAQs
Q1: Is frozen broccoli as healthy as fresh broccoli?

Yes, frozen broccoli retains many of its nutrients, making it just as healthy as fresh broccoli without the effort of preparation. However, be cautious of added sauces or seasonings in some frozen broccoli products.
Q2: How can I incorporate more broccoli into my diet if I don't like the taste?
Try different cooking methods, such as roasting or sautéing, to enhance the flavour. You can also hide it in blended dishes like smoothies or soups for a milder taste.
Q3: Can broccoli help with weight loss even if I have a slow metabolism?
Yes, broccoli can aid in weight loss regardless of your metabolism. Its high fiber content helps you feel full, making it an ideal choice for calorie-conscious diets and a key component of healthy food choices. Its low-calorie nature further contributes to its effectiveness in supporting weight management.
Q4: Are there any side effects of consuming broccoli in large quantities?
While broccoli is generally safe to eat, consuming extremely large amounts can lead to digestive discomfort due to its high fiber content. Moderation is key to a balanced diet.
In conclusion, the benefits of broccoli are far-reaching and diverse, making it a valuable addition to your diet. Whether you're aiming to support your immune system, improve heart health, or manage your weight, broccoli offers an array of advantages. Plus, its versatility in the kitchen ensures you can enjoy its nutritious goodness in various ways. Make sure to explore the different types of broccoli available to keep your meals exciting and nutrient rich, and remember that frozen broccoli can be just as nutritious as fresh broccoli. Embrace the power of this green superfood and savour the delicious journey towards a healthier you.
Further Read,