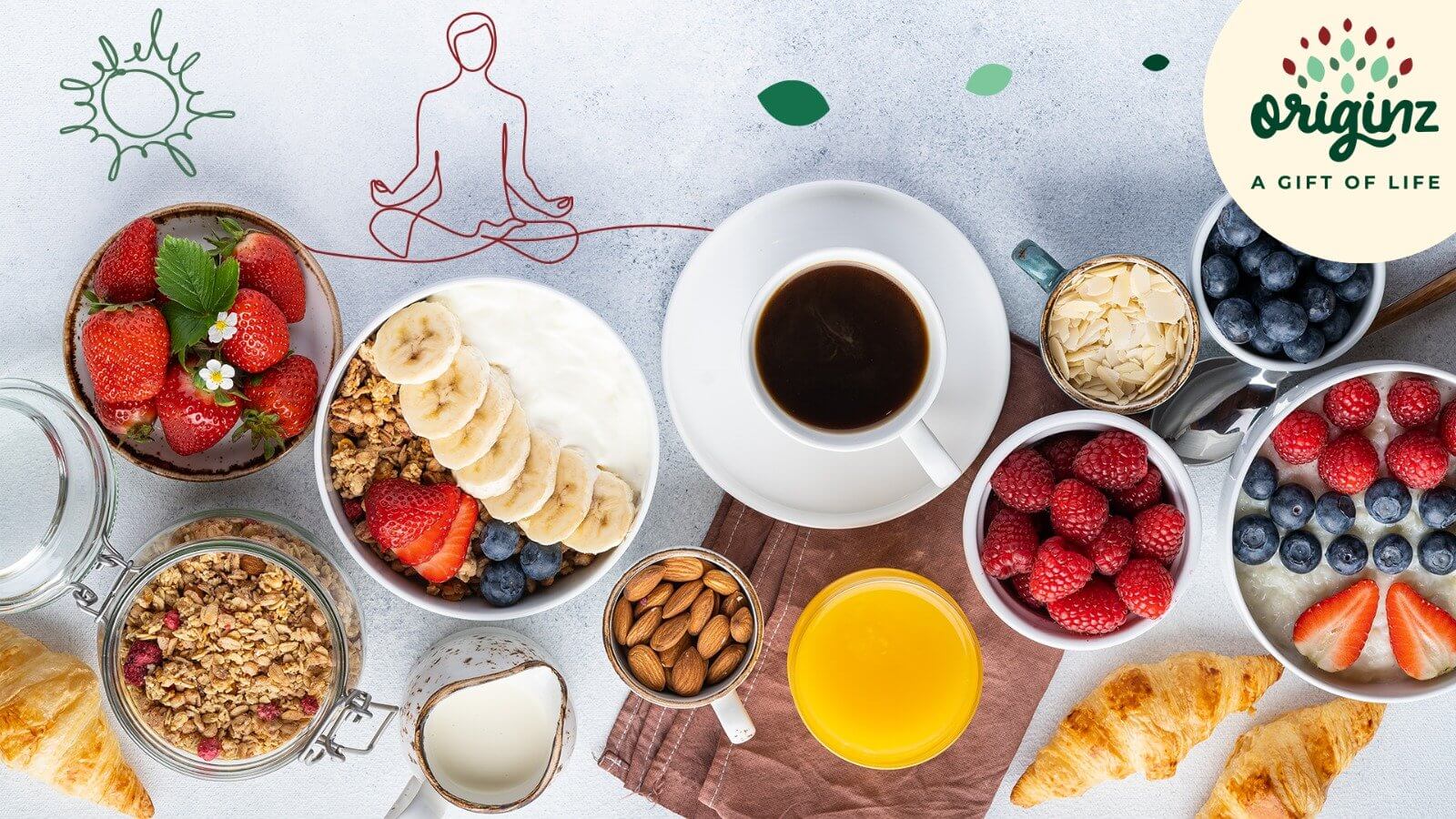 Start your day on a wholesome note: a list of healthy organic breakfast options to choose from
'Breakfast like a king!' You probably hear this refrain often, and rightly so. Eating a wholesome breakfast is widely acknowledged as an essential part of staying fit and healthy.
A breakfast that's rich in nutrients helps you start the day on a lively and energetic note while also setting the tone for the rest of the day. It's the one meal of the day that you would do well not to miss out on.
While there are many healthy breakfast options to choose from, incorporating organic foods into your breakfast can result in even greater health benefits.
Here's a look at why organic ingredients tend to be better than conventional ingredients:
An organic breakfast is typically made of whole, nutrient-dense ingredients that are packed with vitamins, minerals, and antioxidants.
Organic ingredients are grown sustainably without the use of chemicals and pesticides, prolonged exposure to which could be detrimental to our health.
Organic ingredients are free of growth hormones and antibiotics, which helps reduce the risk of antibiotic resistance and helps promote overall health and wellness.
Ingredients that go into some of the best organic breakfast options tend to be fresher, more flavorful and have better overall texture compared to conventionally grown ingredients.
Switching to an organic breakfast comes with a number of health benefits:
It helps boost your energy levels.

It helps your little ones focus and concentrate better throughout the day.

It helps regulate your metabolism and keeps you feeling full for longer.

It keeps your heart healthy.

It improves your skin health.

It reduces the risk of metabolic diseases.

It improves your gut health.

It reduces the risk of a stroke.
Healthy breakfast options to start your day
Here, then, are 15 inspiring organic breakfast ideas to kickstart your day!
Overnight oats
Healthy organic cereal makes for a great breakfast ingredient. Mix organic oats with milk (preferably plant-based), honey, and vanilla extract in a bowl. Refrigerate overnight and have it the next morning, topped with nuts and chopped fruits.
Smoothie bowl
This one's high on nutrition – making it one of the best organic breakfast options out there, both for the calorie conscious and for kids. And it's so, so easy to prepare. Just blend together organic frozen fruits, Greek yogurt, and milk. Pour into a bowl and top it with sliced fruit and granola. If you want to enhance the sweetness factor, add some organic honey.
Avocado toast
When it comes to vegetarian breakfast options, this one's a must-have. Spread mashed avocado on toasted whole wheat bread, then sprinkle some sea salt and black pepper. And voila! A wholesome and delicious breakfast is ready.
Veggie omelet
Another healthy and delicious option! Whisk together organic eggs, milk, salt, and pepper. Sauté bell peppers, onions, and spinach. Add the eggs, and cook until set. Serve hot with whole wheat bread.
Whole grain pancakes:
These are easy to prepare and, with the addition of a few ingredients, make for meals on their own. Mix organic whole wheat flour, milk, eggs, baking powder, and cinnamon. Cook on a griddle and top with maple syrup and fresh fruit.
Chickpea hummus oats:
Another flavorful option that's made with healthy organic cereal. Cook ½ cup of organic oats in 1 cup of water until creamy—top with a scoop of hummus, cooked chickpeas, and a sprinkle of paprika.
Chia seed pudding:
A breakfast option that amounts to goodness in every bite. Mix chia seeds, organic almond beverages, honey, and vanilla extract in a bowl. Refrigerate overnight and top it the following day with fresh fruit.
Organic porridge:
This versatile breakfast option is warm and comforting and, with various toppings and flavors, makes for a fun meal for kids. Bring a mixture of organic rolled oats and water (or milk) to a boil. Reduce the heat and let it simmer for 5–10 minutes, stirring occasionally. Top with fresh fruits, nuts, or honey.
Greek yogurt parfait:
As easy to make as it is delicious, this one's a must-have! To prepare, layer organic Greek yogurt, granola, and fresh fruit in a glass or bowl. Repeat the layers until the container is full. You can serve immediately or refrigerate for later.
Oatmeal latte:
Add a shot of goodness to your regular espresso. Start by brewing a shot of espresso while you heat up some organic oat beverage on the side. Mix the two together, adding in some organic oatmeal for enhanced taste and texture.
Breakfast Sandwich
Prepped with the right ingredients, a sandwich can go from 'fast food' to a healthy and wholesome breakfast option. Start with organic whole grain bread (or wrap) and choose organic ingredients such as fresh vegetables, lean proteins like grilled chicken or tofu, and a spread like hummus or goat cheese.
Rosemary and tomato focaccia
Mix organic whole wheat flour, yeast, salt, and water to make the dough. Add organic diced tomatoes and rosemary and bake for 20-25 minutes in a preheated oven (200o C) until golden brown.
Organic muffin
Your little ones are going to love this one! In a mixing bowl, add organic flour, sugar, baking powder, and salt, and combine well. Add organic eggs, milk, and melted butter and continue to stir. Pour the batter into a lined muffin tray and bake for 18-20 minutes. Your muffins are ready to be served!
Fruit salad
Another simple but nutrient-rich option to start the day. Choose from a variety of organically grown seasonal fruits, including berries, peaches, and bananas. Slice the fruit and combine them in a large bowl. Top it with yogurt, honey, and nuts to add another dimension of flavors and texture.
Tomato and egg skillet:
Sauté organic diced tomatoes in a skillet in olive oil. Add some garlic. Now add the strained tomato sauce and crack a few eggs on top. You can add some natural tomato paste for better consistency. Cover and cook until the eggs are set. Serve hot with whole wheat bread.
Do try these healthy breakfast options. It'll make a huge difference – both in terms of increasing your energy levels and improving your mood!
Further Read,