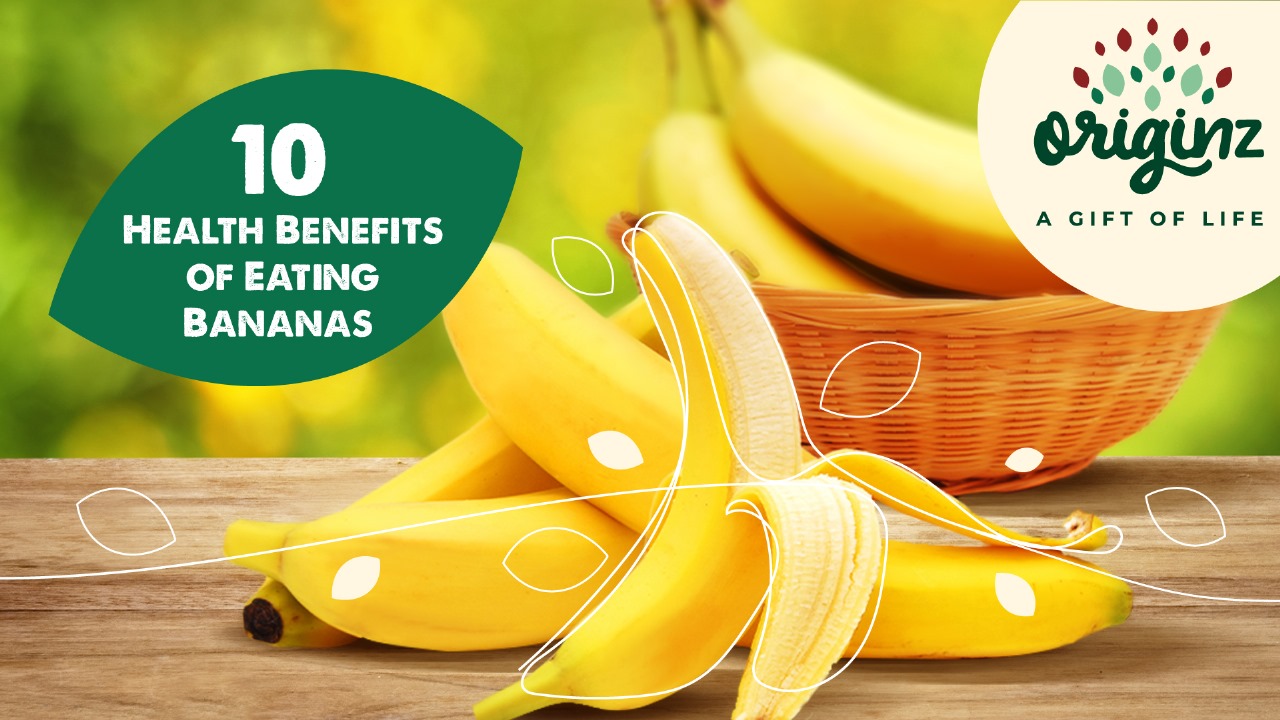 10 Health Benefits of Eating Bananas
Bananas are a beloved fruit around the world, and for good reason. Not only are they delicious and convenient, but they also offer a plethora of health benefits. From providing essential nutrients to aiding in weight management and even enhancing your skin complexion, bananas are a true superfood. Let's look at ten health benefits of eating bananas, from their nutritional value to their impact on weight loss and skin health.
1. Rich in Essential Nutrients
Many of the health benefits of bananas come from their impressive nutritional profile. Bananas are a great source of essential vitamins and minerals, including vitamin C, vitamin B6, potassium, and fiber. These nutrients play a vital role in maintaining overall health.
2. Keep your Gut Healthy
Bananas are a fantastic natural remedy for digestive issues. They are rich in dietary fiber, which helps regulate bowel movements and prevents constipation. Fiber also supports the growth of beneficial gut bacteria, promoting a healthy digestive system.
3. Energy Boost
Bananas are often referred to as "nature's energy bars" due to their high carbohydrate content, mainly in the form of natural sugars like glucose, fructose, and sucrose. Consuming a banana before or after physical activity can provide a quick energy boost and help prevent muscle cramps, thanks to their potassium content.
4. Support Heart Health
Potassium is a key mineral for maintaining a healthy heart, and bananas are an excellent source of it. Potassium helps regulate blood pressure and reduces the risk of stroke, making bananas a heart-healthy snack choice.
5. Benefits of Eating Banana for Weight Loss
For those looking to shed a few pounds, bananas can be a valuable addition to your diet. They are low in calories and high in fiber, which helps keep you feeling full for longer. The fiber content also aids in digestion and prevents overeating.
6. Natural Mood Enhancer
Bananas contain a compound called tryptophan, which is converted into serotonin in the brain. Serotonin is a neurotransmitter known for its mood-enhancing properties. Including bananas in your diet can help improve your mood and reduce symptoms of depression and anxiety.
7. Promote Healthy Skin
The benefits of eating bananas extend to your skin as well. Banana peels, in particular, are rich in antioxidants and can be used to alleviate various skin conditions. Applying a mashed banana or banana peel to your skin can help moisturize, reduce inflammation, and improve the appearance of acne scars.
8. May Help Regulate Blood Sugar
Despite their natural sweetness, bananas have a relatively low glycaemic index (GI). This means they have a lower impact on blood sugar levels compared to other high-sugar foods. Eating bananas in moderation can be a part of a balanced diet for individuals with diabetes.
9. Aid in Kidney Health
Potassium, found abundantly in bananas, is crucial for maintaining proper kidney function. It helps in reducing the risk of kidney stones and ensures that waste products are effectively eliminated from the body.
10. Support Bone Health
Bananas also contribute to strong and healthy bones. They contain essential nutrients like magnesium and manganese, which are essential for bone growth and maintenance.
Banana Benefits: More Than Just a Fruit
Bananas offer a myriad of health benefits that make them a versatile and nutritious addition to your diet. Whether you enjoy them as a quick snack, blend them into a delicious apple banana strawberry purée, or incorporate them into your meals, bananas can positively impact your health in numerous ways.
Bananas for Weight Loss
If you're looking to shed some extra pounds, bananas can be your ally in achieving your weight loss goals. Here's how they contribute to your weight loss journey:
Low in Calories: A medium-sized banana contains approximately 105 calories, making it a satisfying yet calorie-friendly snack.

High in Fiber: Bananas are packed with dietary fiber, which helps control your appetite and keeps you feeling full for longer. This can help you resist the temptation of unhealthy snacks.




Natural Sweetness: Bananas can satisfy your sweet tooth without you having to resort to sugary snacks or desserts, making them an excellent choice for those trying to reduce their sugar intake.

Energy Boost: The carbohydrates in bananas provide a quick energy boost, making them an ideal pre-workout or post-workout snack to fuel your exercise routine.
Nutritional Value of Bananas
To truly appreciate the health benefits of bananas, let's delve into their impressive nutritional profile:
Vitamin C: Bananas contain vitamin C, an antioxidant that supports immune function, skin health, and overall well-being.

Vitamin B6: This vitamin is essential for brain development and function. It also helps the body convert food into energy.

Potassium: Bananas are a rich source of potassium, which helps regulate blood pressure and maintain a healthy heart.

Fiber: The fiber in bananas aids digestion, promotes a feeling of fullness, and supports a healthy gut.

Antioxidants: Bananas contain several antioxidants, including dopamine and catechins, which help reduce oxidative stress in the body.
Bananas for Skin
Bananas aren't just beneficial when eaten; they can also do wonders for your skin. Here are some ways you can incorporate bananas into your skincare routine:
Banana Face Mask: Mash a ripe banana and apply it as a face mask. The antioxidants in bananas can help reduce inflammation, lighten dark spots, and leave your skin feeling refreshed.
Banana Peel for Acne: Rub the inside of a banana peel on acne-prone areas. The peel's nutrients can help soothe irritation and reduce the appearance of blemishes.

Banana for Hydration: Bananas are naturally hydrating due to their high-water content. Eating them regularly can help keep your skin moisturized and glowing.



FAQs About the Health Benefits of Eating Bananas
Q. Can bananas help with weight loss?
Yes, bananas can support weight loss efforts due to their low calorie content, high fiber content, and ability to keep you feeling full. They make for a nutritious and satisfying snack.
Q. Are there any side effects of consuming too many bananas?
While bananas are generally healthy, consuming them in excess can lead to an excessive intake of calories and carbohydrates. It's essential to maintain a balanced diet and enjoy bananas in moderation.
Q. Can bananas be included in an organic food diet for weight loss
Absolutely! Bananas are available in both conventional and organic varieties. If you follow an organic food diet where the emphasis is on choosing organic foods for weight loss, you can include organic bananas as a nutritious and guilt-free snack option.
Q. How can I incorporate bananas into my daily diet for maximum health benefits?
There are numerous ways to enjoy bananas daily. You can eat them as a quick snack, add slices to your cereal or yogurt, blend them into smoothies, or use them in baking as a natural sweetener.
The health benefits of eating bananas are undeniable. From providing essential nutrients to supporting weight loss and enhancing skin health, this humble fruit has a lot to offer. So, go ahead and make bananas a regular part of your diet to reap the numerous advantages they bring to your overall well-being. You'll be doing your body a favour by indulging in this delicious and nutritious fruit.
Further Read,