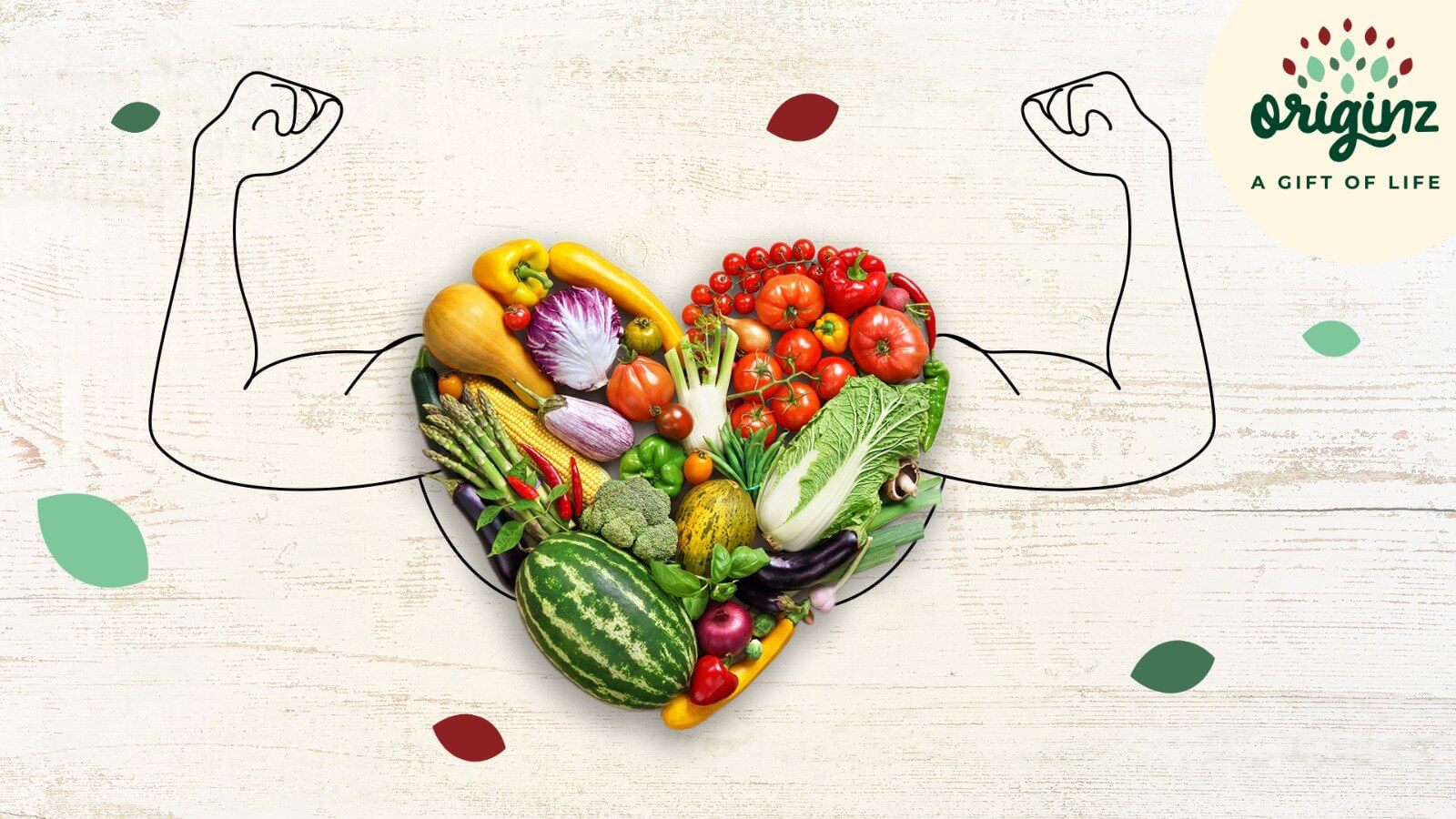 Need to know: Organic Food and Immune System
Covid-19 came like a hurricane, upending lives left, right, and center. Though it wreaked havoc everywhere, one good thing came out: humans realized the importance of a strong immune system. And this is what led to the sudden interest in consuming organic food.
The question is, how does organic food help your immune system? And how viable a connection does organic foods and immune system share?
Let this blog be your ultimate guide.
The Connection Between Organic Foods and Immune System
A food item is only termed 'organic' when grown on land free from prohibited substances like conventional pesticides, fertilizers, and GMOs. For animal-based organic products, no hormonal or antibiotic induction should be involved.
Since organic foods are free of harmful ingredients, they're rich in nutrients your body needs to form a robust immune system.
How Does Organic Food Help Your Immune System?
Eating organic food creates a positive impact on your body. Not only emotionally and mentally, but you can also observe benefits to your physical health.
Here are a few organic food health benefits.
1. Improves Immune System
Your body needs fiber, vitamins, zinc, and Omega-3s to boost the immune system. Organic foods are rich in these nutrients. Ultimately, it leads to improving your immunity.
Moreover, since an organic diet is pesticide-free, no chemicals can enter your body to cause health issues.
A good example of the difference is observing people whose diet constitutes non-organic foods. Such people are prone to reproductive problems, bone issues, and other concerns.
2.
Prevents Antibiotic Resistance
Excessive antibiotic usage has developed resistance not only in the human body but among livestock, too. While farmers may argue that antibiotics are necessary to cure the animals of a specific disease, the long-term effects are drastic. And when you consume such foods, your body can become resistant to antibiotics, weakening the immune system.
In comparison, organic foods involve no antibiotics. Even if animals fall ill, they're taken out of the herd but not utilized to prepare food or made available to the market. As a result, you only consume pure organic produce for your meals.
3.
Enhances Cardiovascular Health
One of the organic food health benefits is its effect on the heart. Artificially processed foods are a leading cause of developing cardiovascular disease. And if your meals revolve around a cholesterol-rich diet, you are at high risk of being diagnosed with heart disease.
Organic foods reduce that risk because they're made of naturally processed fruits, vegetables, seeds, whole grains, or organic meat.
What Organic Food Boosts Your Immune System?
Now that you know the connection between organic foods and immune system and how does organic food help your immune system, it opens up another debate:
What organic food boosts your immune system?
Let's have a look.
1.
Nuts, Seeds, & Greens
Vitamin E is the main nutrient in nuts, seeds, and green vegetables. Some seeds, like sunflower seeds, and vegetables, like spinach, also contain magnesium, fiber, and manganese. All these are best to enjoy as snacks or lunch.
2.
Fish & Eggs
Rich in Vitamin D AND Omega-3s, fish and eggs are excellent organic options for enhancing your immune system. While cooking, make sure to use olive oil for the best effect.
4.
Multigrain
Multigrain includes whole grains like oats, quinoa, brown rice, corn, etc. Multigrain is also a healthy choice for people wishing to lose weight and those who want their stomachs full long after a meal.
And if you're not big on eating multigrain alone, try Penne Rigate Multigrain – a gluten-free pasta made of four cereals: quinoa, buckwheat, corn, and rice.
Other miscellaneous organic foods that you can include in your diet are:
→ Dark chocolate
→ Berries
→ Turmeric
→ Ginger
→ Garlic
→ Black pepper
Organic Drinks that Boost Immune System
Hot or cold beverages are vital to keeping your body balanced. After all, you can't trust energy drinks to provide what your body needs. Because while they may satiate your thirst, they do little to improve your immunity. For that, you need something as potent as organic apple cider vinegar.
You can also add other healthy drinks to your daily diet. Some of them include:
→ Green tea
→ Berry smoothie
→ Watermelon and mint smoothie
Green tea is especially useful with its antioxidants. A simple bag or spoon of green tea can enhance your immune system like no other, not to mention the weight loss benefits it provides. Besides that, it contains amino acids that help fight germs within the T-cells (known to fight against infections).
Parting Words
The human body is beautifully articulated yet complex where the immune system is concerned. While scientific research is underway to evaluate further organic food health benefits, we have learned about the firm connection between organic foods and immune system.
And this gives you, us, and anyone interested in boosting their immunity a viable reason to invest in organic foods.
If not now, when?
If not you, who?
Further Read -