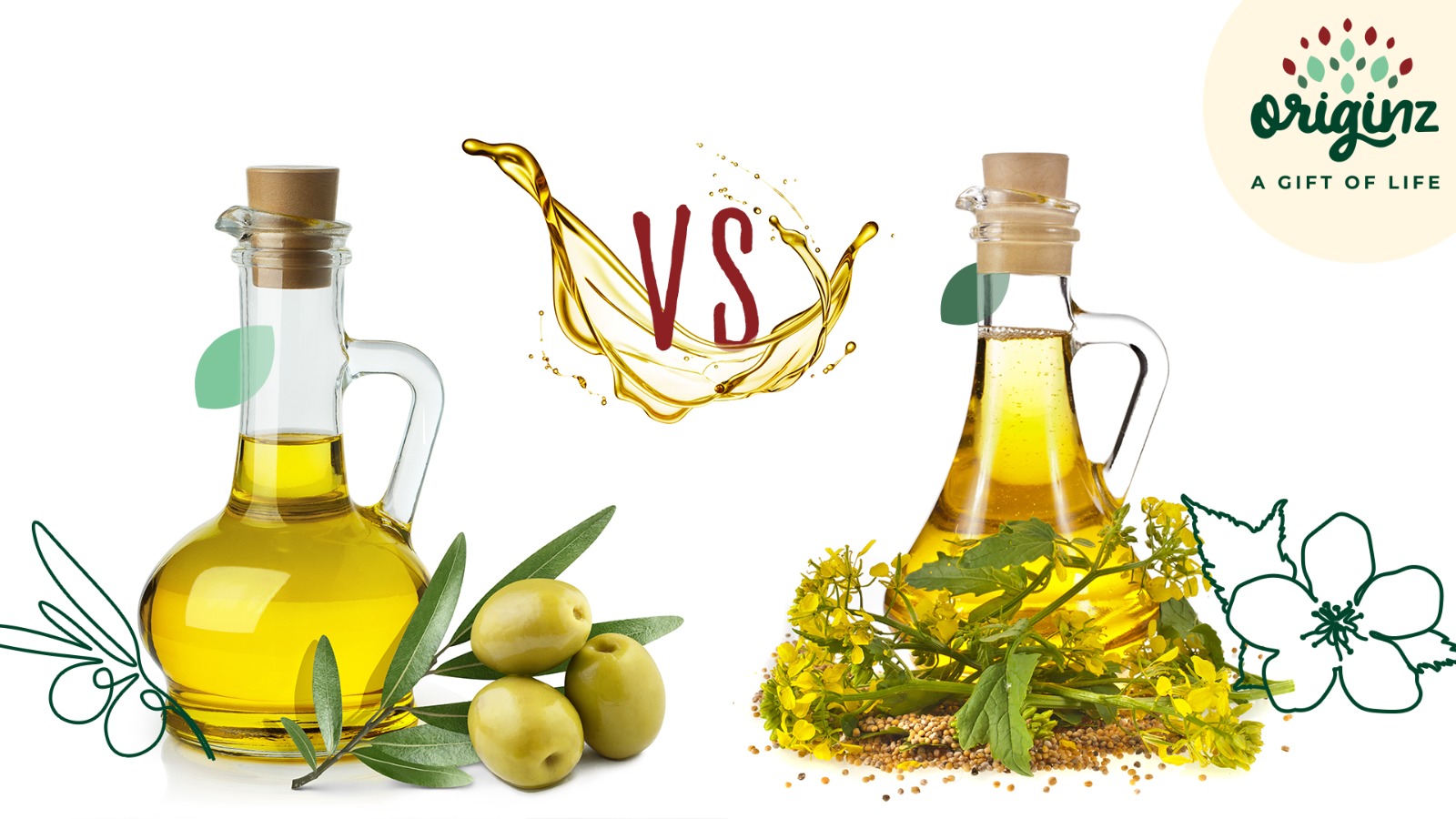 Olive Oil vs Mustard Oil: Which Oil is Better?
Cooking is said to be very therapeutic for many people. With so many cuisines to try, and so many flavours to add, it's just too much fun. But when it comes to cooking oil, we all must think twice before using one. All the flavour, consistency, and even our health are all significantly impacted by the cooking oils we use. In this blog, we will discuss the nutritional benefits of two common cooking oils, olive oil and mustard oil, as well as their cooking uses and potential health advantages. By the end of this blog, you will better understand which oil is better for you and your cooking demands.
Olive Oil vs. Mustard Oil
Olive oil is a well-known food oil made from the fruit of the olive tree. It is known to have a lot of healthy monounsaturated fats, which can help lower cholesterol and reduce the chance of heart disease. Olive oil also has a lot of antioxidants, which protect your cells from damage caused by free radicals.
On the other hand, India, Pakistan, and other South Asian countries use mustard oil as a traditional cooking oil. It comes from the seeds of the mustard plant and has a strong, sharp taste. Mustard oil has a lot of heart-healthy monounsaturated and polyunsaturated fats.
Olive Oil Benefits:
1.
Inflammation
Olive oil contains antioxidants that act as ibuprofen. It acts as an anti-inflammatory drug and can help reduce inflammation in the body, which is linked to many chronic diseases.
2. Improved Brain Function
Olive oil is used in the Mediterranean diet. A study from 2006 and 2018 shows that regular consumption of the Mediterranean diet can slow the development of Alzheimer's and other brain diseases. It also helps in improving cognitive function.
3.Skin
The antioxidants present in olive oil can help prevent wrinkles and act as an anti-aging oil. Olive oil is also a great source of hydration and can be directly applied to the skin. It has other potential benefits such as anti-acne, protection from the sun by acting as spf, and more. But doing a skin test before applying any product directly on the face is always safe.
4. Reduced Risk of Stroke
One study found that people who consumed olive oil regularly had a lower risk of stroke than those who did not. But one has to prevent consuming food with fatty acids such as beef, cheese, eggs, and more.
Mustard Oil Benefits:
1. Pain
Mustard oil is widely used in some Asian households. It can be massaged on your joints or muscles to relieve pain and inflammation.
2. Improved Digestion
Mustard oil is known to be a very potent stimulant. It helps in digestion. Therefore, food cooked in mustard oil is healthy, helps with digestion, and increases metabolism.
3. Low Cholesterol Levels
Mustard oil had a high level of mono as well as polyunsaturated fatty acids. This helps in balancing cholesterol levels.
4. Antibacterial Properties
Mustard seeds have antibacterial properties, which can fight off infections. Therefore, mustard oil can be directly applied to an infected area or consumed if the infection is internal.
Olive Oil vs. Mustard Oil: Which One To Choose?
Several factors must be considered when choosing between olive oil and mustard oil. Here are some of the main differences between the two oils:
1. Flavour
Olive oil has a mild and nutty flavour, which works well with baking or maybe as a salad dressing oil. Mustard oil, on the other hand, has a very strong flavour, it works well in frying, sauteing any pickle, or general cooking.
2. Smoke Point
The smoke point is basically the temperature when the oil is ready to cook. Like it starts to break and can be used now. Olive oil has a very low smoke point and hence cannot be used for high heating cooking like frying. Mustard oil has a high smoke point, making it preferable for frying and cooking.
3. Nutritional Benefits
Both oils have their own nutritional benefits, one helps with neurological problems while the other helps with digestive issues. One thing to note is that olive oil contains just monounsaturated fatty acids, while mustard has monounsaturated along with polyunsaturated fatty acids.
4. Cultural Preferences
Well, both oils have their preferences but are not limited to those. They can be used and experimented with various cuisines. But we must highlight mustard oil has a cultural preference in most Asian countries, while the west prefers olive oil.
Therefore, which one is better? The answer depends on your individual cooking preferences and requirements. For light baking or dressing, olive oil might be a better choice but if you're looking for something with strong flavour or can be used for frying or cooking, choose mustard oil.
It is essential to note that not all oils are created equivalent and to choose 100% pure, minimally processed, high-quality oils. Some oils may be labeled "olive oil" or "mustard oil," but they may contain additional constituents or be combined with other oils, which can alter their nutritional profile and flavour. Look for 100% pure olive oil labeled "extra-virgin," indicating that it has not been treated with chemicals or heat when purchasing olive oil. Extra-virgin olive oil is of the utmost quality and provides the most significant health benefits.
When deciding between olive oil and mustard oil, consider your preferences, cooking requirements, and the oil's quality. To maximize the health benefits and flavour of your cooking oils, opt for premium oils that are 100 percent pure and minimally refined.
Further Read,