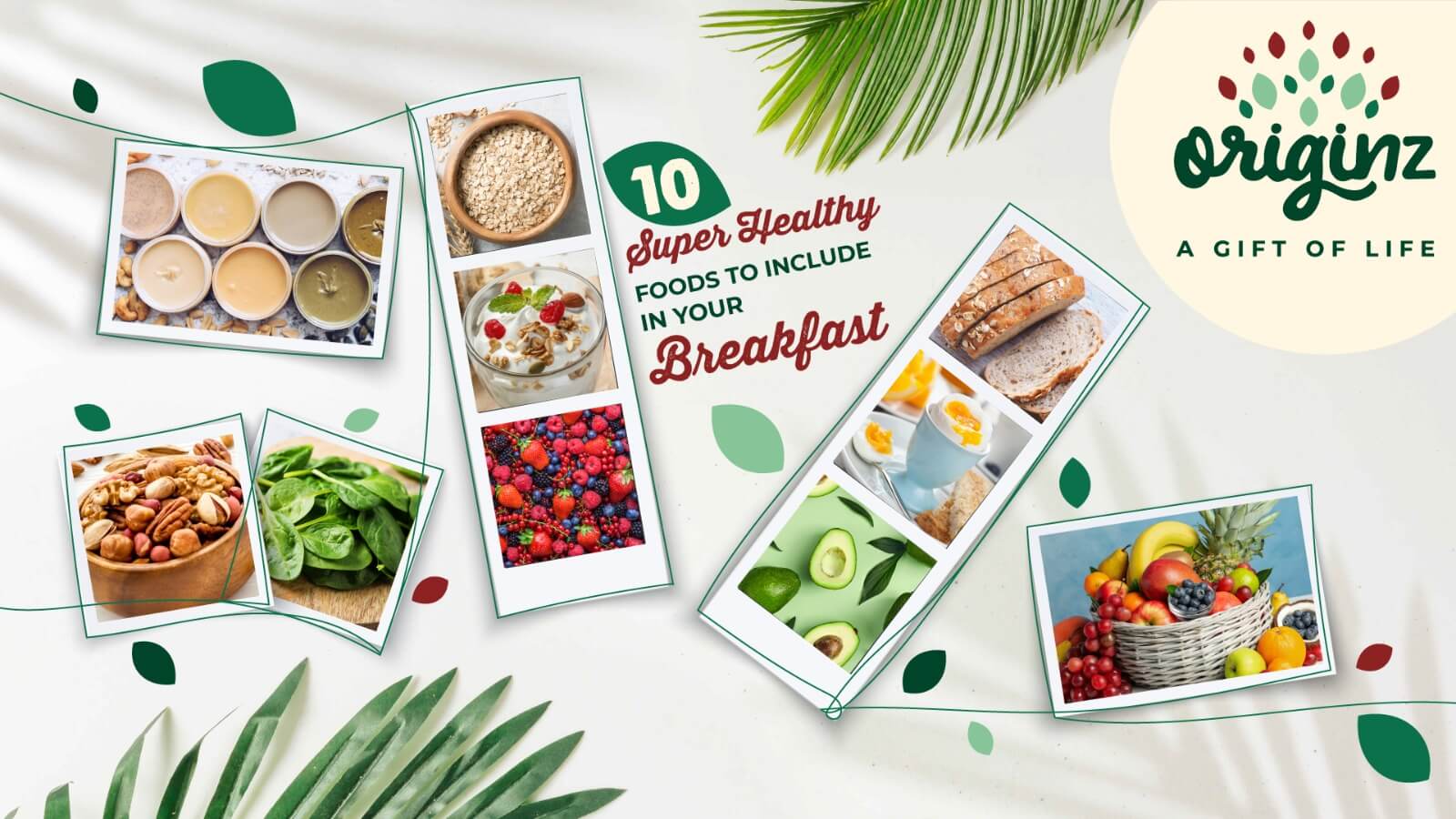 10 Super Healthy Foods to Include in Your Breakfast
When it comes to setting a positive tone for the day ahead, your breakfast plays a pivotal role. This morning meal goes beyond mere refuelling after a night's rest; it serves as the foundational source of essential nutrients, ensuring a sustained energy level that carries you through the demands of the day. To ensure that you're starting your day with a focus on healthy breakfast options and setting the most nourishing tone possible, let's train our focus on 10 remarkably beneficial foods; foods that deserve a prime spot on your breakfast menu, contributing to a vibrant and energetic start to your day.
1. Oats: A Nutrient-Packed Powerhouse
Oats are undoubtedly one of the super healthy foods that can transform your morning routine. Rich in fiber, they keep you full and satisfied, helping you curb those mid-morning cravings. Whether in the form of oatmeal or overnight oats, they make for a healthy and wholesome breakfast.
2. Greek Yogurt: Creamy and Protein-Rich
Greek yogurt, a high-protein healthy breakfast food, effectively fuels your body with a rich array of essential nutrients. Bursting with beneficial probiotics, this dairy delight actively facilitates digestion and contributes to the promotion of optimal gut health. Elevate its taste and nutrition profile by pairing it with a medley of fresh fruits, a sprinkling of nuts, and a tantalizing drizzle of honey.
3. Berries: Bursting with Antioxidants
Berries, such as blueberries, strawberries, and raspberries, are a colourful addition to your breakfast that boasts a wealth of antioxidants. These little powerhouses aid in fighting oxidative stress, promoting skin health, and enhancing cognitive function. Sprinkle them on yogurt, oatmeal, or whole-grain cereal for an extra burst of flavour and nutrition.
4. Eggs: Nature's Protein Packets
Eggs are a classic high-protein breakfast food that provides a range of essential nutrients. They're an excellent source of choline, which supports brain health, and are packed with amino acids crucial for muscle repair and growth. Scrambled, poached, or boiled, eggs are a versatile addition to your breakfast plate.
5. Avocado: Healthy Fats for Sustained Energy
Avocado, often referred to as nature's butter, is rich in monounsaturated fats that promote heart health and keep you feeling satisfied. Spread avocado on whole-grain toast or add slices to your omelette for a creamy, nutritious twist.
6. Nuts and Seeds: Crunchy Nutrition Bombs
Nuts and seeds, such as almonds, chia seeds, and flaxseeds, are rich in healthy fats, fiber, and essential vitamins and minerals. These nutritional powerhouses not only enhance the texture of your breakfast but also contribute to your overall well-being.
7. Whole-Grain Bread: Fiber-Rich Foundation
Choosing whole-grain bread over refined varieties is a wise move for a low calorie breakfast that's high in fiber. Fiber aids in digestion, supports weight loss efforts, and maintains stable blood sugar levels. Enjoy a slice of whole-grain toast topped with your favourite nutritious ingredients.
8. Spinach: Sneak in Some Greens
Including greens like spinach in your breakfast might not be the most conventional choice, but it's a clever way to elevate the nutritional value of your morning meal. Spinach is loaded with vitamins, minerals, and antioxidants, all of which contribute to your overall well-being.
9. Fresh Nut Butters: Creamy and Nutrient-Dense
Opt for all-natural, organic breakfast options like freshly made nut butters. Almond, peanut, and cashew butters are rich in healthy fats and proteins, making them a delightful and nourishing spread for your toast or oatmeal.
10. Fruits Beyond Berries: Variety is Key
While berries are undoubtedly a fantastic and vibrant addition, it's important not to overlook the diverse spectrum of healthy breakfast foods available. In addition to berries, consider integrating a variety of other fruits into your breakfast range. Bananas, oranges, apples, and pears stand as excellent sources of essential vitamins and minerals, infusing your morning routine with a delightful and invigorating twist that elevates the overall nutritional value of your meal.
FAQs:
Q1: Can I have a high protein breakfast without consuming meat?
A1: Absolutely! Greek yogurt, eggs, nuts, and seeds are fantastic plant-based sources of protein that can be easily integrated into your morning meal.
Q2: How can I create a low calorie breakfast that still keeps me full until lunch?
A2: Focus on foods rich in fiber and protein, such as oatmeal topped with nuts and berries or a veggie-packed omelette. These choices will keep you satisfied without excess calories.
Q3: Are there specific foods that amount to a weight loss breakfast?
A3: Yes, foods like oats, Greek yogurt, and eggs provide satiety and energy, helping you control your appetite and manage your weight.
Q4: Are organic breakfast options worth considering?
A4: Organic breakfast options can offer benefits by reducing exposure to pesticides and promoting sustainable farming practices. When feasible, opt for organic foods to enhance your breakfast's overall quality. It also includes wholesome plant-based milk options like Originz 100% organic oat and soya beverages.
Incorporating these incredibly nourishing super healthy foods into your breakfast not only jumpstarts your day with a surge of vital nutrients but also establishes a foundation for cultivating healthier eating habits that resonate through your entire breakfast range and power you through the rest of your day.
Further Read,