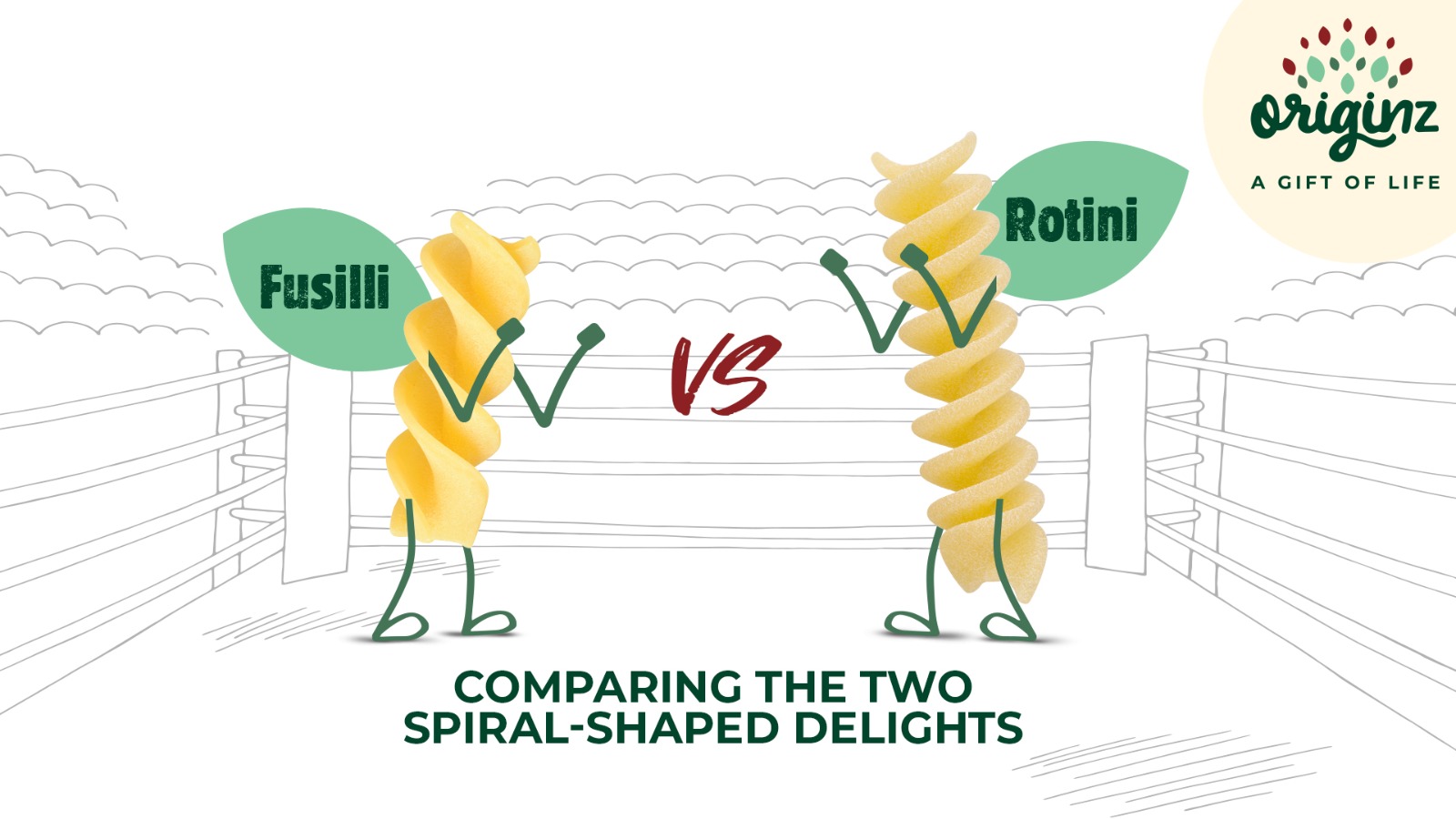 Fusilli vs Rotini: Comparing the two spiral-shaped delights
When it comes to pasta, the variety seems endless. Among the numerous shapes and forms, Rotini vs Fusilli pasta are two pasta types that often find themselves side by side on store shelves. Both are spiral-shaped and can be easily mistaken for one another at first glance. However, when you delve into their characteristics, cooking methods, and subtle distinctions, the difference between Fusilli and Rotini becomes quite apparent.
Exploring the Similarities
Before diving into the differences, let's highlight the commonalities between these two spiral pasta types. Fusilli and Rotini both hail from Italy, a country renowned for its rich pasta tradition. They belong to the broader category of short pasta, designed to capture sauces and hold onto flavours, making them perfect for a wide array of dishes.
The Twisty Twirl of Fusilli
Fusilli, derived from the Italian word "fuso," meaning spindle, is a pasta variety characterized by its distinctive corkscrew shape. The spirals wind their way up the pasta, creating crevices that can trap every bit of sauce or dressing, ensuring that each bite is a flavourful explosion. The ridges and grooves on Fusilli's surface provide a wonderful texture, making it an excellent choice for both simple and intricate sauces. The organic fusilli, in particular, has gained popularity in recent years due to the growing trend of consuming organic food. Originz offers an excellent made from 100% organic wheat grown in family-owned farms in Southern Italy. It not only adds a delicious twist to your meal but also aligns with a conscious and healthy lifestyle.
The Whirlwind of Rotini
Rotini, on the other hand, presents a similar spiral shape, but with tighter twists and a slightly larger surface area. This makes Rotini an equally efficient vehicle for capturing sauces and holding them in every nook and cranny. The word "Rotini" comes from the Italian "ruotare," which translates to "to rotate" or "to twist." These rotations make Rotini an ideal pasta for hearty dishes, as its shape holds up well with chunkier sauces and ingredients.
Difference between Fusilli and Rotini
Now, let's delve into the specific differences that set these two spiral pastas apart:
Shape and Size: While both Fusilli and Rotini are spiral-shaped, the nuances in their form distinguish them. Fusilli tends to have a wider and more open spiral, whereas Rotini boasts a tighter twist. This structural difference influences their ability to hold different types of sauces.
Texture: Fusilli's larger surface area, combined with its pronounced grooves, allows it to hold onto sauces with ease. Rotini's compact twists provide a slightly different texture, making it suitable for a variety of recipes.
Sauce Compatibility: Due to its open spiral design, Fusilli is particularly adept at trapping creamy and chunky sauces. On the other hand, Rotini's tighter twists make it an excellent partner for oil-based dressings and lighter sauces.
Cooking Methods: How to Prepare Fusilli Pasta and Make Rotini Pasta
How to Prepare Fusilli Pasta:
Boil Water: Fill a pot with water and bring it to a rolling boil.

Add Salt: Add a generous pinch of salt to the boiling water. This enhances the pasta's flavour.

Add Pasta: Drop the Fusilli pasta into the boiling water and stir gently to prevent sticking.

Cook Al Dente: Follow the package instructions for cooking time, but aim to cook the pasta al dente, which means it should have a slight firmness when bitten.

Drain and Serve: Once cooked, drain the pasta and immediately toss it with your choice of sauce or ingredients.



How to Make Rotini Pasta:
Boil Water: Similar to preparing Fusilli, start by boiling water in a pot.

Add Salt: Add salt to the boiling water before adding the Rotini pasta.

Add Pasta: Gently add the Rotini pasta to the boiling water and stir occasionally.

Test for Doneness: Cook the pasta until it's al dente. This step usually takes around 8-10 minutes.

Drain and Enjoy: Drain the pasta and combine it with your preferred sauce or ingredients.
Frequently Asked Questions
Q1:
Can I use Fusilli and Rotini interchangeably in recipes?
An: While both pasta types share similarities, their differences in shape and texture can affect the overall experience of a dish. Fusilli's wider spiral is better suited for chunky sauces, whereas Rotini's tighter twist complements lighter dressings.
Q2:
Are Fusilli and Rotini gluten-free options?
An: Traditional Fusilli and Rotini are made from wheat, so they contain gluten. However, gluten-free versions using alternative flours are available in some markets. Here, again, Originz offers an excellent option that's both multigrain and gluten-free.
Q3:
Can I use organic Rotini or Fusilli in my dishes?
An: Absolutely! Many brands offer organic versions of these pasta types. Opting for organic food ensures a higher quality product while supporting sustainable farming practices.
Q4:
Which pasta type is best for cold salads?
An: Both Fusilli and Rotini work well in cold salads due to their spiral shapes that can capture dressings and flavours. The choice ultimately depends on your preference and the ingredients you're using.
In the world of pasta, the distinction between Rotini vs Fusilli pasta may seem subtle, but these differences have a significant impact on the dishes you create. Whether you're looking to craft a saucy masterpiece or a light, flavourful salad, comprehending the unique qualities of these spiral pastas empowers you to make the ideal choice for your culinary creations. So, go ahead, explore the aisles, and experiment with these delightful pasta shapes in your kitchen.
Further Read,