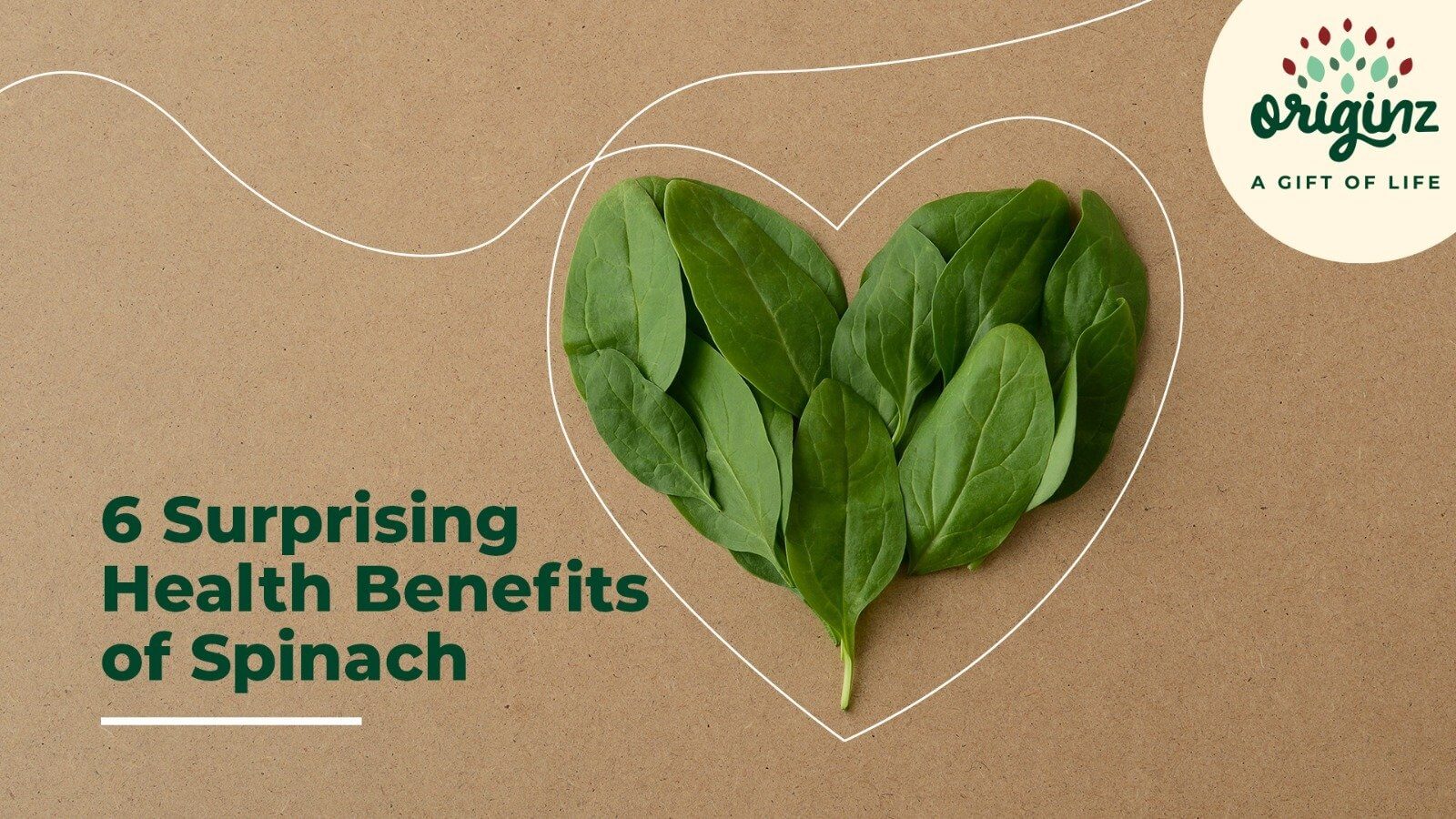 6 Surprising Health Benefits of Spinach
Spinach, with its vibrant green leaves and delightful taste, is not just a versatile ingredient that can be used in various dishes but also a powerhouse of essential nutrients. This leafy green vegetable is packed with goodness that can do wonders for your overall well-being. In this blog, we will explore six surprising health benefits of spinach, shedding light on what makes it a nutritional champion and why it should be a regular part of your diet.
1. A Nutrient Powerhouse
One of the primary reasons spinach is celebrated for its health benefits is its impressive nutrient profile. Loaded with vitamins such as A, C, K, and B-complex vitamins, spinach also contains essential minerals like iron, magnesium, calcium, and potassium. These nutrients are vital for maintaining optimal body functions, promoting healthy skin, boosting the immune system, and supporting bone health.
2. Boosts Skin Health
Spinach benefits for skin are noteworthy. Thanks to its rich antioxidant content, spinach helps protect the skin from damage caused by harmful UV rays and environmental pollutants. The presence of vitamins A and C aids in collagen production, which keeps the skin youthful and supple. Consuming spinach regularly can contribute to reducing the appearance of wrinkles and fine lines, promoting a radiant and glowing complexion.
3. Promotes Weight Loss
If you're on a journey to shed a few pounds, spinach for weight loss can be your best friend. Low in calories and high in fiber, spinach is an excellent addition to any weight loss diet. The fiber content keeps you feeling full for longer, curbing hunger pangs and reducing overall calorie intake. Additionally, the high water content in spinach helps keep you hydrated, which is crucial for effective weight loss and maintaining a healthy metabolism. So, load up on this nutritious leafy green to support your weight loss goals and enjoy its numerous other health benefits simultaneously.
4. Supports Digestive Health
A diet rich in spinach can significantly improve digestive health. The fiber content in spinach aids in proper digestion and regular bowel movements, preventing constipation and other gastrointestinal issues. The presence of magnesium in spinach also plays a role in supporting healthy digestion by regulating muscle contractions in the intestines.
5. Heart-Healthy Benefits
The importance of spinach for heart health cannot be overstated. The combination of fiber, potassium, and folate in spinach helps regulate blood pressure, reducing the risk of hypertension and cardiovascular diseases. Folate, in particular, helps lower homocysteine levels, which are associated with an increased risk of heart problems.
6. Spinach Juice: A Nutrient-Rich Elixir
While eating spinach in various dishes is delightful, the benefits of spinach juice take its health benefits to the next level. Preparing spinach juice using fresh, organic leaves ensures maximum nutrient retention. Drinking spinach juice regularly can provide a concentrated dose of vitamins, minerals, and antioxidants, giving your body a natural boost. The benefits of spinach juice can be further enhanced by combining it with other fruits and vegetables, like apple kiwi spinach puree, to not only elevate its taste but also increase its nutritional value. Embrace this green elixir as a delicious and wholesome addition to your daily diet!
FAQs:
1. Can I use frozen spinach instead of fresh spinach to retain its health benefits?
Yes, you can use frozen spinach as a convenient alternative to fresh spinach. Freezing helps retain many of the nutrients, making frozen spinach a viable option for incorporating into your meals and smoothies. However, it's essential to check the label and opt for frozen spinach without any added salt or preservatives.
2. How does spinach aid in weight loss?
Spinach aids in weight loss due to its low-calorie content and high fiber. The fiber keeps you full for longer, reducing the tendency to overeat. Additionally, the water content in spinach helps maintain hydration, which is crucial for weight loss and a healthy metabolism.
3. Are there any side effects of consuming too much spinach?
While spinach is incredibly nutritious, it is essential to be mindful of spinach benefits and consume it in moderation. Consuming excessive amounts may lead to certain side effects. Spinach contains oxalates, which can interfere with the absorption of calcium and may contribute to the formation of kidney stones in susceptible individuals. Moderation is key; enjoy spinach as part of a balanced and varied diet to reap its numerous health benefits without any adverse effects. By incorporating this leafy green wisely into your meals, you can harness its nutritional power and promote your well-being effectively.
Spinach is undoubtedly a superfood that offers an impressive array of surprising health benefits. From supporting heart health and promoting weight loss to boosting skin health and aiding digestion, the spinach benefits are truly remarkable. Its versatility makes it easy to incorporate into your daily meals, whether in salads, smoothies, or cooked dishes, ensuring you can harness its goodness in various delightful ways. So, start embracing this healthy food in your diet and savor the incredible positive impact it can have on your well-being. Your body will thank you for nourishing it with this nutrient-packed leafy green!
Disclaimer: The information in this blog is for educational purposes only and should not be considered as medical advice. Always consult with a qualified healthcare professional before making changes to your diet or lifestyle.
Further Read,