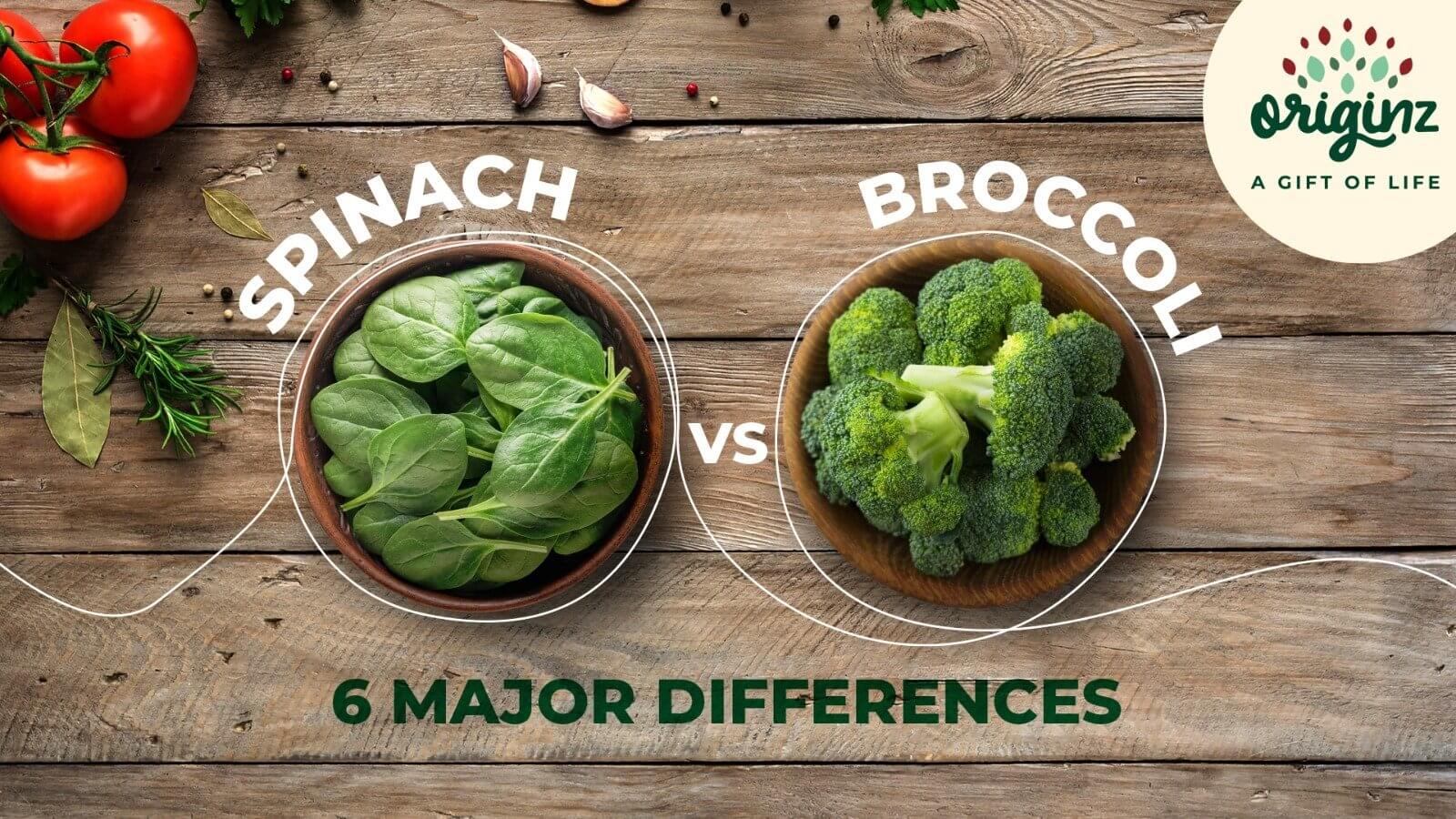 Spinach vs Broccoli: 6 Major Differences
When it comes to making choices for your diet that truly pack a nutritious punch, the age-old comparison of spinach vs broccoli continues to capture the spotlight. These two contenders in the world of vegetables, spinach and broccoli, offer a delightful dilemma for health-conscious individuals and culinary enthusiasts alike. With their striking colours, distinct flavours, and an array of health benefits, they have become staples in a variety of cuisines. Let's delve even deeper into the nuances that differentiate spinach and broccoli, guiding you through their nutritional values and culinary versatility, aiding you in making informed decisions about your dietary choices.
Difference Between Spinach and Broccoli
1. Appearance and Flavour
The first notable difference between spinach and broccoli lies in their appearance. Spinach, with its broad, flat leaves, comes in vibrant shades of green. On the other hand, broccoli presents a more robust structure, consisting of dense clusters of small florets atop firm stems. When it comes to taste, spinach boasts a mild and slightly earthy flavour, while broccoli delivers a slightly bitter and crisp taste.
2. Nutrient Content
Both spinach and broccoli are nutrition powerhouses, but their nutrient profiles differ. Spinach is renowned for its high iron content, making it a great choice for those seeking to boost their iron intake. On the other hand, broccoli is rich in vitamins C and K, as well as dietary fiber, making it an excellent choice for immune support and bone health.
3. Cooking Methods and Uses
Another key difference between spinach and broccoli lies in their culinary versatility. Spinach is commonly used in salads, sautés, and smoothies, as its delicate leaves wilt quickly when exposed to heat. On the other hand, broccoli is often steamed, roasted, or added to stir-fries due to its sturdy texture. The frozen spinach and frozen broccoli options are convenient choices for busy individuals seeking a quick addition to their meals.
4. Benefits of Broccoli for Weight Loss
For those aiming to shed a few pounds, broccoli can be a valuable addition to their diet. With its low-calorie content and high fiber content, broccoli helps create a feeling of fullness, aiding in weight management. Its nutritional density also ensures that you're getting essential nutrients without excessive calories.
5. Spinach Uses in Smoothies
Spinach is a popular choice for green smoothies due to its mild flavour and vibrant colour. Adding a handful of spinach to your morning smoothie can significantly increase your nutrient intake without overpowering the taste. This is a convenient and delicious way to incorporate essential vitamins and minerals into your daily routine.
6. Broccoli Juice Benefits
While spinach is often used in juices, broccoli juice is gaining attention for its potential health benefits. Broccoli is a source of glucoraphanin, a compound that can be converted into sulforaphane, known for its antioxidant and anti-inflammatory properties. Including broccoli juice in your diet could offer a unique way to tap into these potential health advantages.
FAQs about Spinach and Broccoli
1. Can I use frozen spinach and frozen broccoli in my dishes?
Absolutely! When it comes to the best frozen fruits and veggies, frozen spinach and frozen broccoli are among the top contenders. These convenient options not only offer the advantage of preserving most of their nutrients but also provide you with the flexibility to include them in your meals at any time. Additionally, for those looking for organic choices, opting for organic frozen spinach and broccoli ensures that you're getting produce free from synthetic pesticides and chemicals. Originz has a great frozen range that come from organic farming practices.
2. Which is better for iron: spinach or broccoli?
Spinach takes the lead in terms of iron content. It's an excellent choice for individuals with iron-deficiency anaemia or those looking to increase their iron intake.
3. Can broccoli really help with weight loss?
Yes, broccoli can be beneficial for weight loss. Its low-calorie and high-fiber content contribute to a feeling of fullness, which can aid in controlling your appetite and calorie intake.
4. Are there any creative ways to include spinach and broccoli in my diet?
Certainly! You can add spinach to your morning omelette or use it as a base for salads. Broccoli can be roasted with a drizzle of olive oil and your favourite seasonings, or you can create a flavourful broccoli and cheese soup.
Both spinach and broccoli stand as formidable contenders when it comes to enriching your diet with essential nutrients. While spinach is celebrated for its iron content and adaptability in various dishes, broccoli takes the spotlight with its distinctive blend of vitamins, and it's worth mentioning the benefits of broccoli, particularly its potential for aiding weight loss. Whether you opt for the crispness of fresh greens, the warmth of cooked vegetables, or the convenience of frozen options, incorporating spinach and broccoli into your culinary repertoire is a rewarding step toward a healthier lifestyle. So, on your next trip to the grocery store, make it a point to reach for both the lush spinach leaves and the sturdy broccoli heads, ensuring your meals remain not only visually appealing but also richly nourishing and utterly delectable.
Further Read,