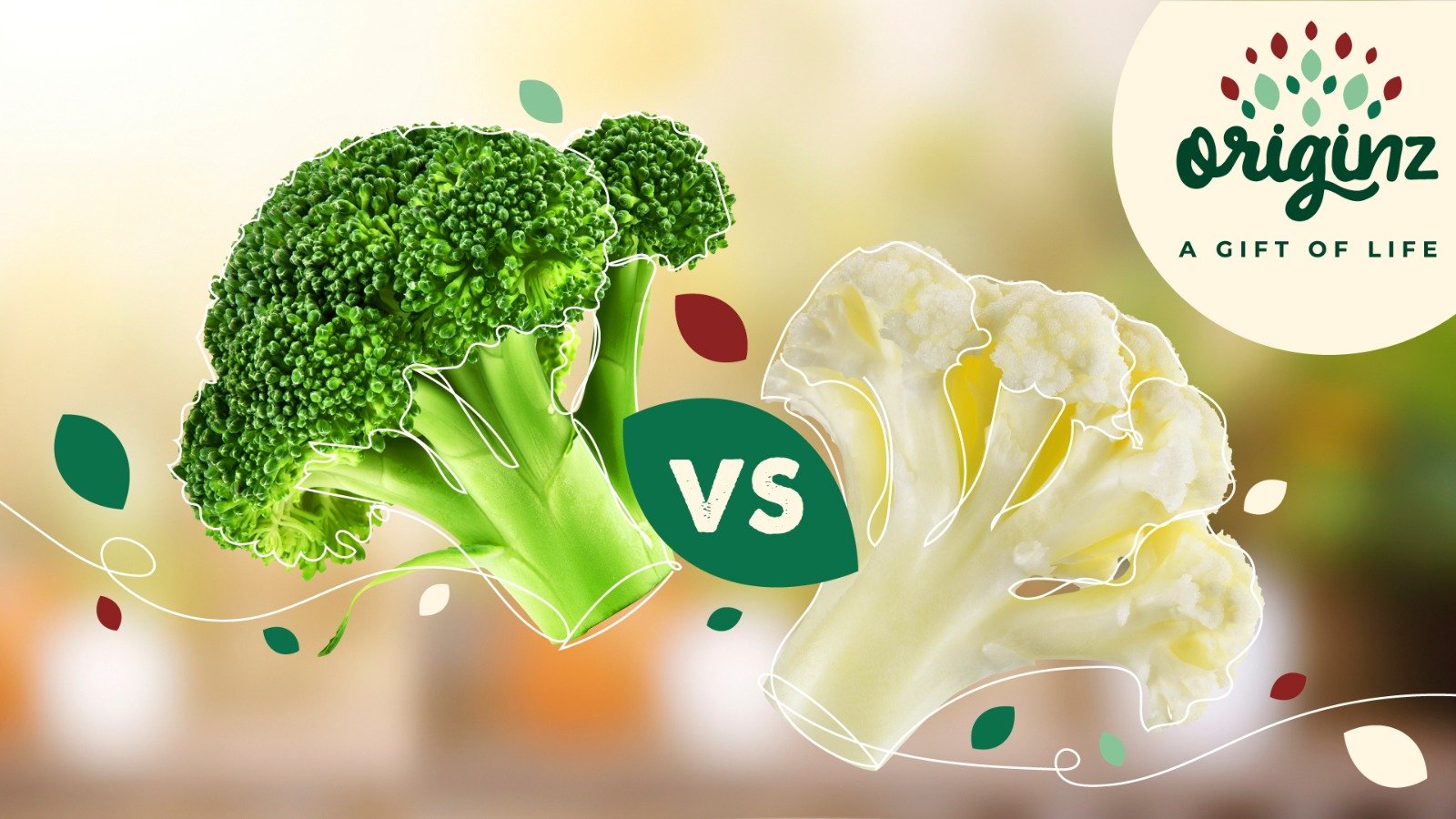 Broccoli Vs Cauliflower: The Major Difference
If veggies were superheroes, broccoli and cauliflower would surely be among the most powerful competitors. Both are high in critical nutrients and health advantages, making them popular among health-conscious people. These cruciferous cousins, on the other hand, have certain distinguishing traits. In this blog, we'll take a tasty tour through broccoli and cauliflower, examining the differences between broccoli and cauliflower and the advantages they bring.
The Cruciferous Showdown: Broccoli vs Cauliflower
Before diving into each vegetable's nutritional powerhouse, let's first understand the visual differences between these green and white marvels.
Broccoli:
Meet Broccoli, the tree-like vegetable! Broccoli has a branching structure made up of dense green florets that are linked to a thick stalk. This vegetable looks like a little tree and has a lovely crunch and a mild, slightly peppery flavour. Broccoli is not a man-made vegetable; it belongs to the same family as cauliflower, kale, and cabbage. Broccoli is available in various forms, including fresh, dried into chips, and frozen broccoli!
Cauliflower:
Cauliflower is a snow-capped vegetable! Cauliflower has a spherical, compact head that is made up of developing flower buds. Unlike its green version, Cauliflower is pale in colour, which some may find boring. But don't be fooled by its outward aspect! Its softer, somewhat sweeter flavour makes it a suitable accompaniment to various cuisines.
Nutritional Showdown: Broccoli vs Cauliflower
Let the nutrition battle begin! When comparing the nutrient content of broccoli and cauliflower, it's like watching a fierce match between two giants who both emerge victorious.
Broccoli Benefits:
There are numerous vitamins and minerals in only one cup of cooked broccoli. It's high in vitamin C, an antioxidant that boosts the immune system and promotes healthy skin. Broccoli is also high in vitamin K, necessary for bone health and blood clotting. As if that weren't enough, broccoli benefits digestion due to its high fibre and keeps you full and content.
Cauliflower Benefits:
When it comes to nutrition, cauliflower does not disappoint. It has slightly fewer vitamins and minerals than broccoli but packs a powerful punch. Like its green brother, it is a good source of vitamins C and K. Cauliflower also includes choline, a vitamin necessary for brain growth and function. What's the best part? Cauliflower benefits weight management as it contains few calories, making it an excellent choice for people looking to maintain a healthy weight.
Frozen Vegetables for Toddlers: A Parent's Dream Come True
As parents, we want the best for our children, and nutrition is critical to their growth and development. Broccoli and cauliflower are excellent sources of essential vitamins and minerals for your child's diet. Frozen vegetables for babies come to the rescue regarding convenience without sacrificing nutrients!
Frozen Vegetables:
Because frozen vegetables retain the majority of their nutrients, they are an excellent choice for busy parents. There can be numerous frozen food benefits as they are flash-frozen at the peak of freshness, preserving their nutrients. Steaming or microwaving these frozen vegetables is a quick, easy-to-make, nutritious, tasty lunch for your child. They are easily mashed or pureed to meet your baby's nutritional needs, and you can even blend them with other foods for variety.
The Perks of Frozen Food
Now, is frozen food as good as fresh? Well, prepare to be pleasantly surprised!
Contrary to popular opinion, frozen foods can be more nutritious than fresh vegetables. How so? Fresh veggies may lose some nutrients during shipping and storage, whereas frozen vegetables are immediately preserved after harvest, trapping in vitamins and minerals. As a result, frozen broccoli or cauliflower can be just as nutritious, if not more, than fresh counterparts. Frozen vegetables have a longer shelf life, reducing food waste and saving you money.
There are no losers in this broccoli vs cauliflower battle—only winners. Both veggies provide distinct vitamins, minerals, and health advantages, making them necessary for a well-balanced diet. You can't go wrong with either the snappy green florets of broccoli or the adaptable, mild-flavoured cauliflower.
For new parents, frozen vegetables like broccoli, carrots, and others are a practical and nutritious way to ensure their children get the healthiest start. So, let us raise our forks to the cruciferous champions who add colour, flavour and life to our dishes!
Finally, remember to appreciate the nutritional diversity of broccoli and cauliflower. These vegetables will keep you and your family healthy and happy, whether cooking up a storm or introducing your infant to the delights of solid foods. So take advantage of broccoli and cauliflower's richness in your life!
FAQs - Broccoli vs Cauliflower
What is the major difference between broccoli and cauliflower?
Broccoli and cauliflower belong to the same family of cruciferous vegetables but differ in appearance and taste. Broccoli has a tree-like structure, dense green florets, and a slightly peppery taste. On the other hand, cauliflower features a rounded, compact head of undeveloped flower buds and has a milder, slightly sweet flavour. The most apparent visual distinction is their colour, with broccoli being green and cauliflower being white.
Which vegetable is more nutritious: broccoli or cauliflower?
Both broccoli and cauliflower offer impressive nutritional profiles. Broccoli is rich in vitamin C, promoting a robust immune system and healthy skin. It's also a good source of vitamin K, essential for bone health and blood clotting. Cauliflower, while slightly lower in nutrients, is still a fantastic choice. It is an excellent vitamin C and K source and contains choline, which is crucial for brain development. Ultimately, both vegetables bring a wealth of vitamins and minerals to the table, making them valuable additions to any diet.
Is frozen broccoli suitable for toddlers?
Frozen broccoli is suitable for toddlers and a convenient option for parents. Frozen vegetables retain their nutrients as they are quickly frozen at their peak freshness. When preparing frozen veggies for your child, it's best to steam or microwave them and then mash or puree them to suit their feeding needs. The ease of preparation and retention of nutrients make frozen vegetables an excellent choice for introducing essential vitamins and minerals to your child's diet.
Further Read,