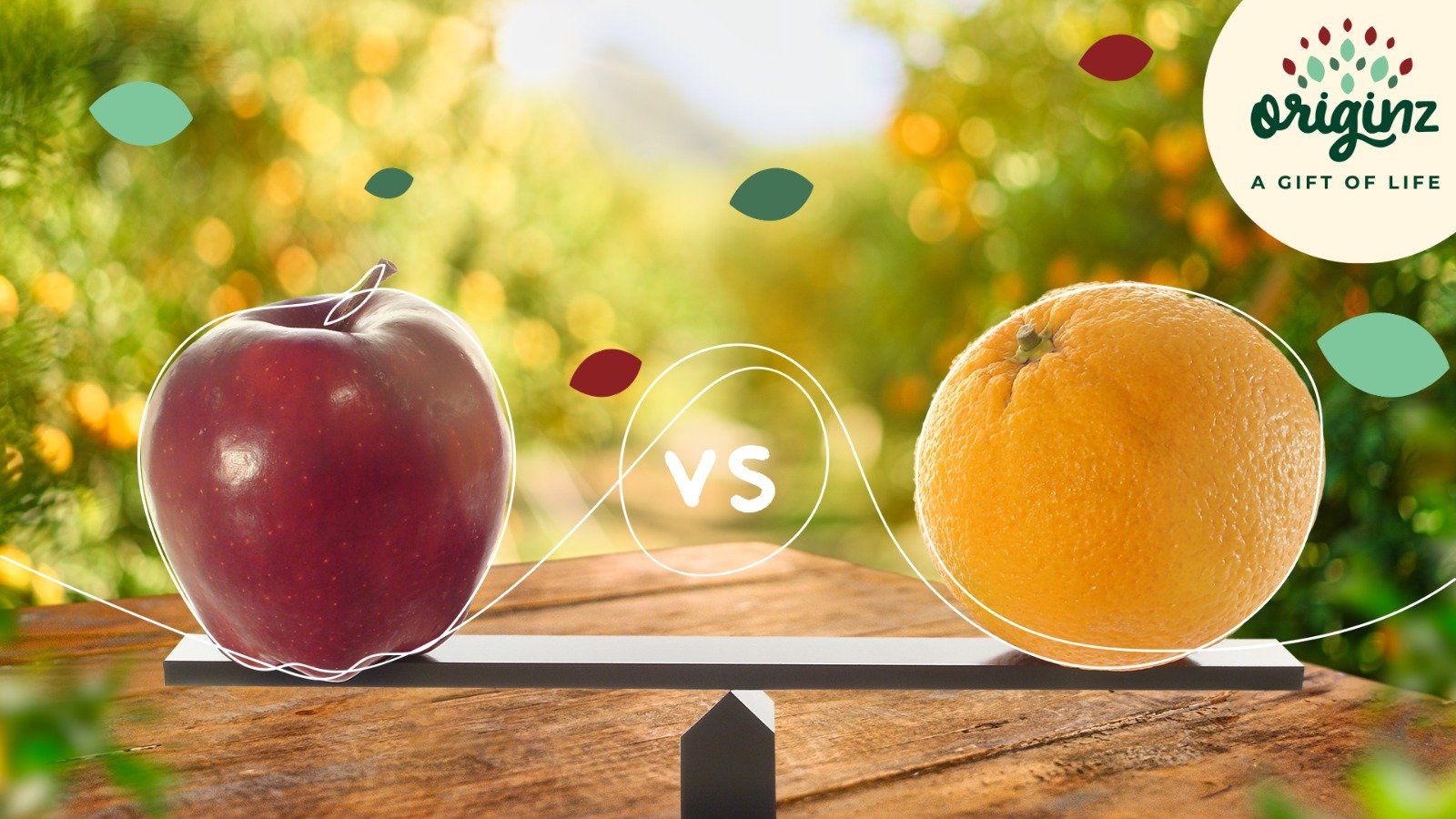 Apple Juice Vs. Orange Juice: Health Impact Comparison
Juices are not only delicious but also contribute to your hydration and overall health. Among the vast array of juices available in the market, apple juice and orange juice stand out as popular choices. However, deciding between the two can be quite a challenge. Both offer essential nutrients and numerous health benefits, but understanding their differences is crucial. In this blog, we will delve into the health advantages, impact on weight loss, and acidity levels of apple juice versus orange juice.

Apple Juice Benefits
Apple juice is a rich source of vital nutrients, including vitamins, minerals, and antioxidants. It boasts a high vitamin C content, which is essential for maintaining a robust immune system. Additionally, apples contain antioxidants such as quercetin and catechin, known for their ability to prevent chronic diseases. Regular consumption of apple juice has even been linked to a lower risk of Alzheimer's disease, coronary artery disease, and various types of cancer.
For those seeking a healthy and natural beverage option, Originz offers 100% organic apple juice. This refreshing juice is made solely from organic apples, without any added sugar or preservatives.
Orange Juice Benefits
Orange juice is also packed with antioxidants and vitamin C, along with a significant amount of potassium, thiamine, folate, and other essential vitamins and minerals. In addition to promoting heart health, orange juice consumption has been associated with a reduced risk of stroke and certain types of cancer.
If you prefer organic food choices, Originz provides 100% organic orange juice. This delightful beverage is made from freshly cultivated organic oranges, ensuring it is free from added sugars or preservatives.
Apple Juice vs. Orange Juice for Weight Loss
Both apple juice and orange juice can support weight loss, but it's important to consider a few factors when deciding between the two:
1. Calorie Content
Both apple juice and orange juice contain calories, with orange juice having slightly more per serving. If you're watching your calorie intake for weight loss purposes, it's advisable to consume either juice in moderation.
2. Sugar Levels
Orange juice naturally contains more sugar than apple juice, which can provide an immediate energy boost. However, this can lead to a spike in blood sugar levels, potentially triggering cravings and overeating later on. Hence, moderation is key when consuming orange juice.
3. Fibre Content
Apple juice contains a significant amount of fibre, which helps you feel fuller for longer periods. It aids in boosting immunity and combating constipation. By reducing overall calorie intake, apple juice can contribute to weight loss.
4. Nutritional Value
Both apple juice and orange juice offer essential vitamins and minerals for good health. However, orange juice surpasses apple juice in terms of vitamin C content, making it particularly beneficial for cold prevention. Orange juice is also known to support healthy fetal development.
5. Glycemic Index
The glycemic index (GI) of a food determines how quickly it raises blood sugar levels. Due to its higher sugar content, orange juice has a higher GI compared to apple juice. Opting for lower GI foods or consuming juices alongside such foods can help maintain stable blood sugar levels, which may aid in weight management.
Both apple juice and orange juice can be part of a healthy diet for weight reduction. However, choosing the option that aligns with your specific goals and preferences is crucial. Additionally, selecting 100% organic and natural juices ensures you derive the maximum nutritional benefits from your beverage.
Apple vs. Orange Juice for Acidity
Acidity is another aspect to consider when deciding between apple juice and orange juice. Here are a few points to consider:
● Orange juice has a lower pH level (ranging from 3.3 to 4.2) compared to apple juice (with a pH range of 3.5 to 4.0), making it more acidic overall.
● Oranges are known for their high citric acid content, which contributes to the acidity of orange juice. In contrast, apple juice contains less citric acid and is therefore less acidic.
● The higher acidity of orange juice gives it a tangy flavor, while apple juice has a sweeter and softer taste due to its lower acidity.
● Some individuals may experience digestive discomfort such as heartburn or acid reflux when consuming highly acidic liquids like orange juice. In such cases, apple juice, with its reduced acidity, may be a better option.
● Excessive consumption of orange juice, with its higher acidity, can potentially erode tooth enamel. On the other hand, apple juice, being less acidic, may have a lesser impact on oral health when consumed in moderation.
● It's important to listen to your body's signals and consult with a healthcare professional if you have any concerns, as individual tolerances and sensitivities to acidity can vary.
When considering apple juice vs. orange juice, it's crucial to consider their impact on acidity levels and overall health advantages. By choosing 100% organic and natural solutions, you can rest assured that your juice is free from added sugars or preservatives that could potentially worsen acidity levels.Indulge in the goodness of apple juice and orange juice, both of which offer numerous health benefits and can seamlessly fit into your well-rounded dietary routine. The choice between the two depends on your personal preferences and health goals. Are you seeking a healthier option with fewer calories? Or do you experience acid reflux? Look no further than apple juice, the perfect alternative for you. Craving a quick energy boost or a significant dose of vitamin C? Refreshing orange juice is the answer!Opting for premium and organic choices is essential, regardless of your juice preference. Originz provides 100% organic apple juice and 100% organic orange juice, without any added sugars or preservatives, ensuring that you get the full-nutritional value of the drink. By carefully selecting your juice, you can positively impact your health and enhance your overall well-being.
Further Read -