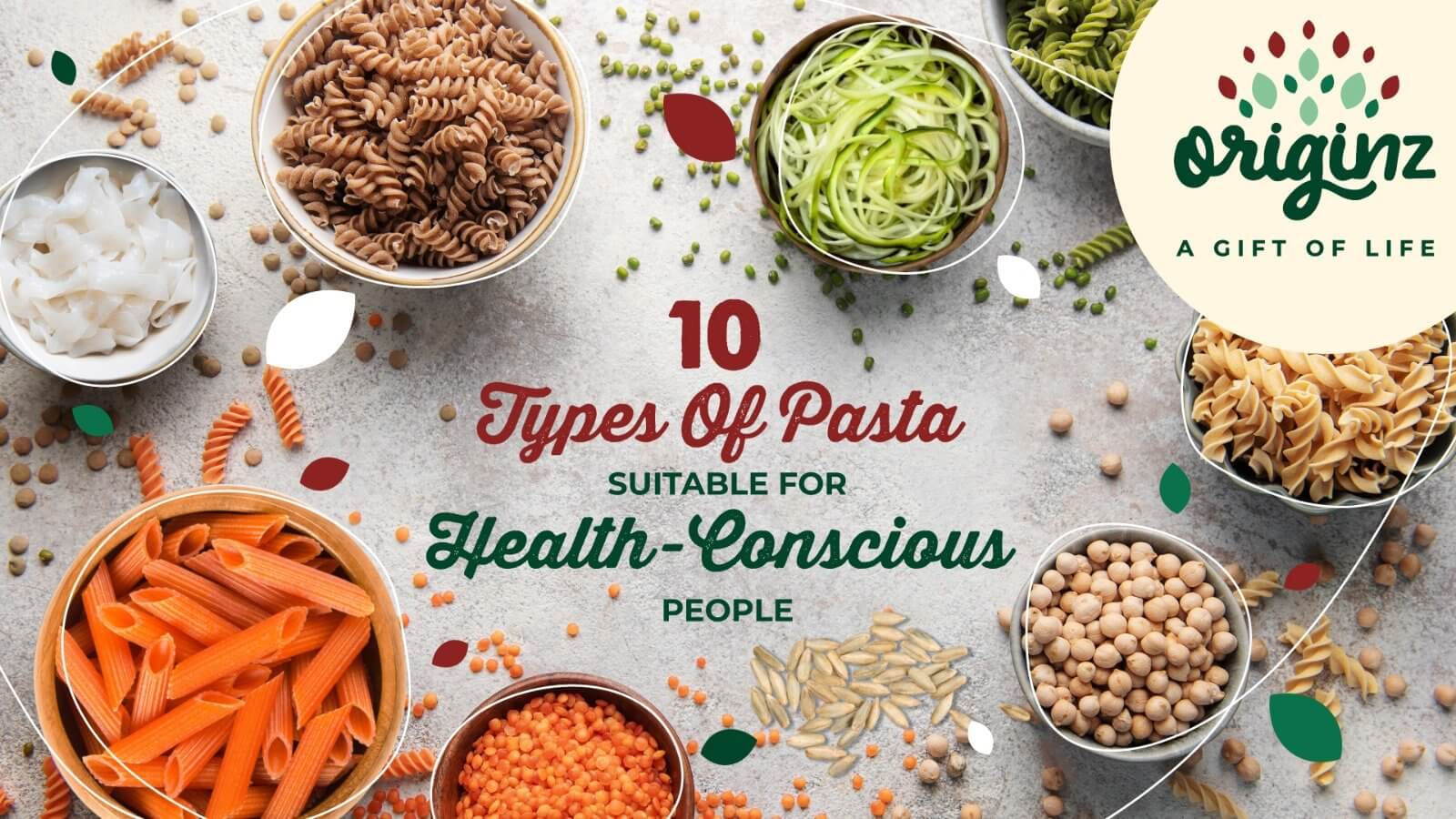 10 Types of Pasta Suitable For Health-Conscious People
Pasta has undoubtedly secured its place as a much-loved comfort food the world over. Nonetheless, for health-conscious individuals, the idea of relishing a hearty plate of pasta might occasionally appear to clash with their health objectives. Enter an extensive assortment of healthy pasta alternatives that not only satiate taste buds but also harmonize with holistic wellness aspirations.
In this blog, we look at no less than 10 pasta variations that impeccably suit the discerning preferences of health-conscious individuals, encompassing selections low in calorie content as well as those strategically geared towards facilitating weight loss endeavours.
1. Whole Wheat Pasta:
Starting strong with a staple in healthy pasta choices, whole wheat pasta offers a higher fiber content compared to traditional refined pasta. This aids in digestion, keeps you feeling fuller for longer, and helps stabilize blood sugar levels.
2. Brown Rice Pasta:
Gluten-free and rich in essential nutrients, brown rice pasta is a fantastic alternative for those with gluten sensitivities. It's easy on the digestive system and provides a satisfying texture.
3. Lentil Pasta:
Packing a protein punch, lentil pasta is an excellent choice for those looking to boost their protein intake. Made from ground lentils, it offers a hearty texture and is often gluten-free.
4. Chickpea Pasta:
Derived from chickpea flour, this pasta variety is high in protein and fiber. It has a slightly nutty flavour and is a great low-calorie pasta option for weight loss.
5. Quinoa Pasta:
Quinoa pasta combines the goodness of quinoa, a complete protein source, with the comfort of pasta. It's rich in amino acids and provides a unique nutty flavour.
6. Spelt Pasta:
A distant cousin of wheat, spelt is easier to digest and contains more protein than wheat. Spelt pasta offers a distinct, slightly sweet taste and is often considered a healthier alternative.
7. Konjac Noodles:
For those looking to cut carbs and calories, konjac noodles are an innovative choice. Extremely low in calories and carbs, they are often used in Asian cuisine and absorb the flavours of the dishes they're paired with.
8. Zucchini Noodles (Zoodles):
A favourite among those following a low-carb or keto diet, zucchini noodles are a creative way to enjoy pasta dishes without the guilt. They're versatile and can be used in both hot and cold dishes.
9. Edamame Pasta:
Made from edamame beans, this pasta variety is a treasure trove of plant-based protein. It's a great choice for vegans and vegetarians looking to boost their protein intake.
10. Barley Pasta:
Barley pasta offers a chewy texture and a nutty flavour. It's a good source of dietary fiber and has been linked to various health benefits, including improved digestion and heart health.
When it comes to healthy pasta noodles, the possibilities are endless. Whether you're craving the rich flavours of mushroom stroganoff pasta, the fiery kick of penne arrabbiata pasta, or simply seeking a satisfying plate of healthy food, these pasta choices have you covered. They not only cater to your taste buds but also align with your wellness goals.
Organic, Multi-Grain, and Gluten-Free Pasta Options:
For those with specific dietary needs or a penchant for natural ingredients, the world of healthy pasta extends to include organic, multigrain, and gluten-free alternatives. Organic pasta is cultivated without the use of synthetic pesticides or fertilizers, ensuring a cleaner and more wholesome option for the health-conscious consumer. Multigrain pasta blends various grains such as wheat, oats, quinoa, and flaxseeds, providing a spectrum of nutrients and flavours in every bite. Meanwhile, gluten-free pasta caters to those with sensitivities or allergies to gluten, a protein found in wheat and related grains. Originz offers a delightful range of 100% organic multigrain pasta – that's also gluten-free! These diverse choices cater to a wide range of dietary requirements and preferences, making healthy pasta accessible to all.
FAQs about Healthy Pasta:
Q1: Are these healthy pasta options suitable for those on a low-calorie diet?
A1: Absolutely! Many of these pasta varieties, such as konjac noodles, zucchini noodles, and certain legume-based options, qualify as low calorie pasta, making them exceptional choices for individuals who are mindful of their caloric intake.
Q2: Is healthy pasta good for weight loss? Can it be part of a weight loss plan?
A2: Yes, definitely. These pasta options are often rich in fiber and protein, which can help you stay fuller for longer, reducing overeating. Remember, portion control is key to any successful weight loss journey.
Q3: Are these alternatives equally versatile in recipes?
A3: Indeed! These healthy pasta alternatives can be used in a wide range of recipes, from classic Italian dishes to innovative stir-fries and salads. Their unique textures and flavours add a delightful twist to your meals.
Q4: How do I prepare these alternative pasta options?
A4: The preparation methods may vary slightly for each type of pasta. Generally, they can be boiled like regular pasta, but cooking times might differ. Check the packaging for specific instructions, and don't be afraid to experiment to find your preferred level of tenderness.
Healthy pasta, including the diverse realm of healthy pasta noodles, is not just a dream for health-conscious individuals; it's a delicious reality. With options like whole wheat pasta, lentil pasta, and zucchini noodles, you can indulge in your favourite pasta dishes while aligning with your wellness goals.
Further Read,