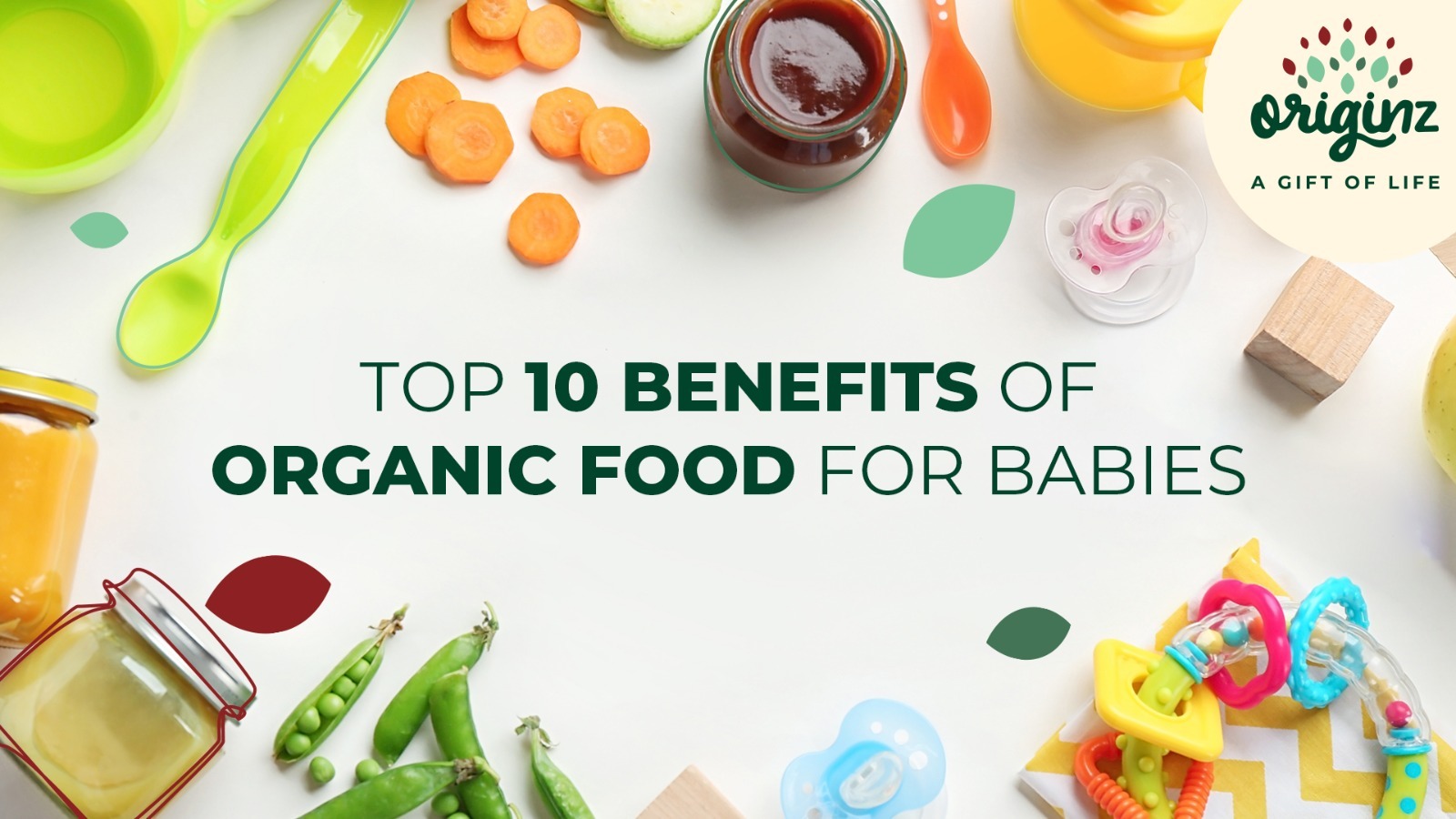 Top 10 Benefits of Organic Food for Babies
We always want to give our children the very best, especially when it comes to food. Choosing healthy, wholesome, safe, and nutritious food is vital to ensuring they receive the right nutrients that aid their growth and development. Organic baby food is a convenient option that meets all these requirements. In this blog, we'll look at the top ten benefits of organic food for babies and the best organic food options for them.
1. Free from Toxins
One of the most important advantages of organic food for babies is that it is free from hazardous chemicals. Conventionally cultivated fruits and vegetables are frequently sprayed with pesticides and herbicides, which can impair a baby's developing immune system. Because organic food is produced without harmful chemicals, it is a healthier option for young children.
2. Rich in Nutrients and Vitamins
Organic food is packed with all the nutrients and vitamins necessary for an infant's proper growth and development. When fruits and vegetables are cultivated organically in nutrient-dense soil, the resulting product contains a greater quantity of the relevant vitamins and minerals. In addition, organic dairy products and meat do not have antibiotics or hormones, making them a more nutritious option for infants than conventional alternatives.
3. Better Taste
When we think of organic food, there is a common misconception that it might not taste good. We worry that babies may also not like its taste. However, that's not true. Organic food contains no added flavour which makes it taste as good as any other food item. There is a higher likelihood that infants will enjoy eating the natural taste of organic food, which may encourage them to consume a greater range of fruits and vegetables.
4. Lower Risk of Allergies
Organic food is free from herbicides, pesticides, or any other chemical preservatives, making it a great food choice that doesn't cause any allergies in infants or adults. These food products do not contain GMOs either, which may contribute to allergic reactions.
5. Better Immune System
When infants consume organic food, the nutrients and vitamins present in them may help in developing a robust immune system. This prevents the children from catching infections and falling sick often.
6. Beneficial to The Environment
Organic food is grown using methods that are beneficial for the environment. They help reduce pollution, conserve water, and make a difference to the planet. Hence, when parents choose organic food for babies and young children, they help provide a sustainable future for their children.
7. Support Local
Most of the time, organic food is grown by local, small farmers practicing sustainable farming methods. Parents can support local farmers and their communities by selecting organic foods for their family and their baby's diet, contributing to an equal distribution of food resources.
8. Lower Risk of Obesity
Organic food for infants is associated with a lower likelihood of developing obesity in later years. It does not involve the use of chemicals that can wreak havoc on hormones which may cause obesity. In comparison to conventionally farmed produce, organic food typically undergoes a lower level of processing which contributes to maintaining a healthy weight.
9. Multiple Options
Choosing organic food for babies offers a greater variety of fruits and vegetables, which can assist in introducing them to new flavours and sensations. Organic apple puree, organic mixed fruit juice, and organic apple kiwi spinach puree are just a few of the organic baby food alternatives that parents have at their disposal to provide their infants with scrumptious and wholesome options.
10. Long-Term Health Benefits
Providing your baby with organic food options helps build the foundation of wholesome, organic foods that can contribute to their long-term health, and establish healthy eating habits from an early age.
The Best Organic Food for Babies
When it comes to the best organic food for babies, you may choose from various nutrient-rich options that assist with their growth and development.
Organic Fruits
Bananas, avocados, and berries are naturally sweet and are a great source of vitamins and fibre that are great for growing infants.
Organic Vegetables
Sweet potatoes, carrots, and peas are high in fibre and antioxidants, which help in maintaining the digestive health of little ones.
Organic Whole Grains
Muesli and quinoa are just some examples of whole grains that provide energy and fibre to help aid in digestion.
Organic Lean Proteins and Dairy
Chicken, fish, and tofu are some examples of proteins that aid in muscle development in growing infants. Calcium is found in dairy products such as yogurt and cheese.
Introducing these organic foods gradually and monitoring for any potential allergies or intolerances ensures that your child has a balanced and wholesome diet. Additionally, purees might be a great way to introduce solids to babies. Purees have a smooth and easily digested texture, making the transition from liquids to solids easier for infants.
There are numerous options when selecting the best organic puree and juice for babies. Here are a few of the best choices:
1. Organic Apple Puree
Organic apple puree is an excellent choice for babies just beginning to eat solid foods. Apples are high in fibre and vitamin C, which can benefit a baby's digestive and immune systems. Originz offers organic apple puree prepared from 100% organic apples and contains no added sugars or preservatives, making it a nutritious and safe option for babies above 6 months.
2. Organic Mixed Fruit Juice
Organic mixed fruit juice is a healthy yet tasty beverage that exposes babies to various fruits. Originz mixed fruit juice contains organic fruit extract with water. which have the necessary vitamins and antioxidants. Because there are no added sweets or preservatives in this juice, it is a nutritious and delightful option for babies. Parents can include juice in their child's diet once they are over 12 months.
3.
Apple Kiwi Spinach Puree
Originz's apple kiwi spinach puree is a fantastic choice for introducing new flavours and textures to babies. This puree is made with organic apples, kiwis, and spinach, all of which are strong in nutrients and vitamins. This sugar-free and preservative-free puree is a healthy and nutritious option for babies above 9 months.
Choosing organic food for babies is a terrific way to ensure that they get the best possible start in life. They are free of hazardous chemicals, support local farmers, and give a wider choice of fruits and vegetables that can help babies grow and develop. Originz provides some of the best organic food options such as organic apple puree, mixed fruit juice, and apple kiwi spinach puree which may make parents' job easier when it comes to giving their babies healthy and delicious food.
Further Read ,