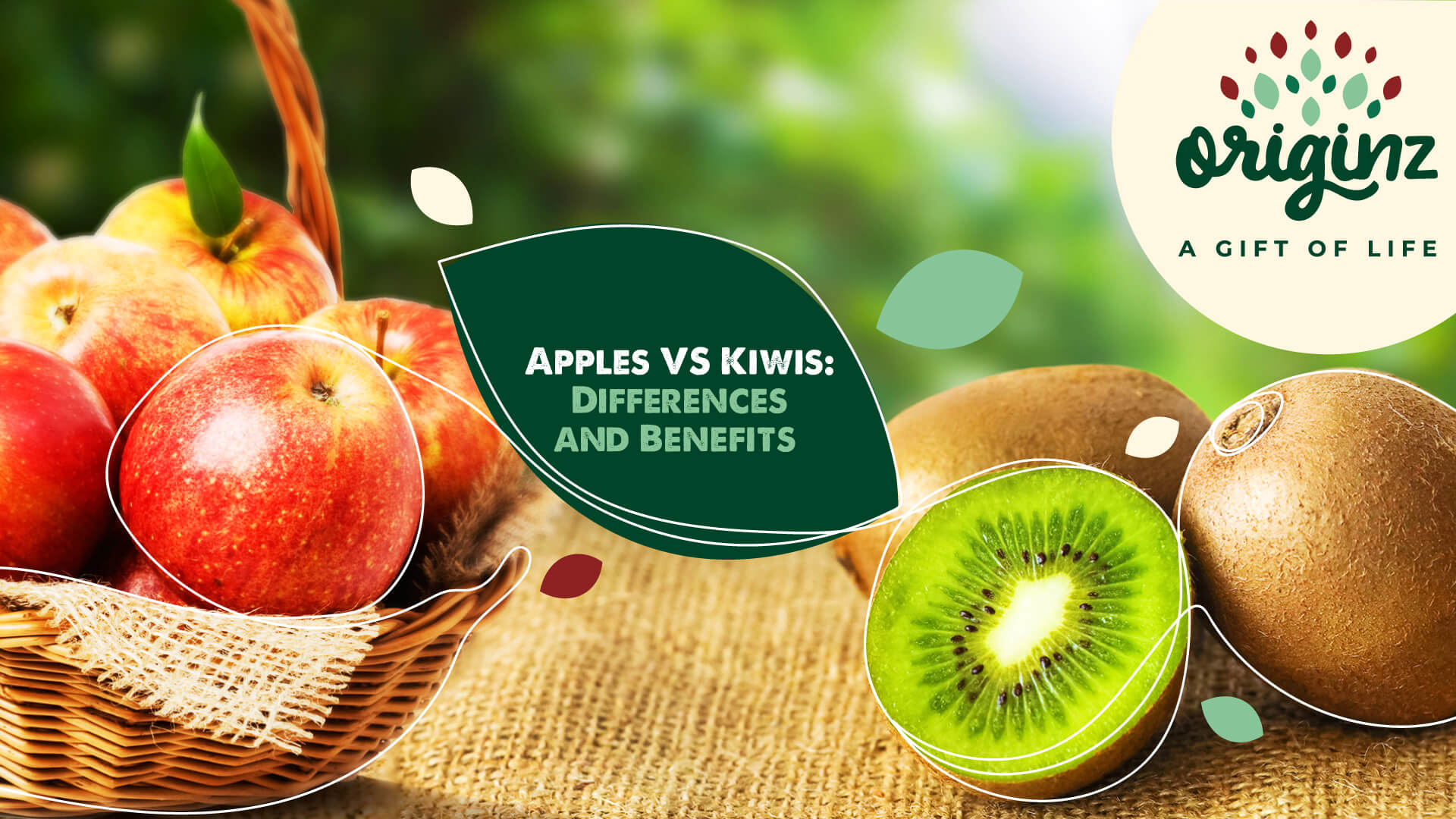 Kiwis vs. Apples: Differences and Benefits
Apples and kiwis – two small fruits that punch above their weight. Both of them are packed with essential nutrients, including fiber and vitamin C. You can enjoy both of them as part of a balanced breakfast, or as an ingredient in a healthy dessert or smoothie like the Originz Apple, Kiwi and Spinach Purée, or the Originz Apple, Banana and Strawberry Purée. But in the apple vs. kiwi contest, which fruit comes out on top? In this blog, we explore ten health benefits that apples and kiwis share, and highlight the ways in which each fruit benefits your overall well-being.
Awesome Nutritional Profile
Both apples and kiwis have an impressive range of nutrients which provide varied health benefits. Apples contain vitamin C, which supports the immune system, and large quantities of antioxidants, which protect cells from damage. But in terms of vitamin content, kiwis are the clear winner; a serving of kiwi can have twice the amount of vitamin C compared to an orange, as well as high amounts of vitamins E and K.
Heart Health Benefits
Apples are a great source of soluble fibre, particularly pectin. Pectin reduces cholesterol in your blood, lowering your risk of heart disease in the future. Fruits high in pectin are also ideal for making homemade jam. Kiwis, on the other hand, are high in potassium, which helps you regulate your blood pressure for a healthy circulatory system.
Digestive Health Benefits
The fibre content in apples, which is mostly found in the skin, helps food pass through the gut more smoothly, preventing constipation and promoting a healthy digestive system. Kiwis achieve the same effect. They have both soluble and insoluble fibre (roughage), as well as an enzyme called actinidin. These compounds aid in protein digestion.
Immune System Benefits
Both apples and kiwis contain vitamin C, which strengthens your immune system by helping produce white blood cells. These are the body's first line of defence against illness. In this regard, the kiwi is the clear winner, as one kiwi can provide over 100% of the average person's recommended daily intake of vitamin C. To be fair to the apple, the kiwi isn't mentioned in the saying "an apple a day keeps the doctor away!"
Weight Management
Apples and kiwis are both excellent choices for those looking to shed a few pounds. Neither contains more than 100 calories, and both help curb hunger due to their high fibre content. The presence of the soluble fibre pectin in apples promotes a feeling of fullness which reduces your likelihood of overeating or snacking between meals.
Antioxidant Content
Both apples and kiwis are rich in antioxidants. Apples' antioxidant content mainly comes from quercetin, which fights against the free radicals that destroy your cells. This lowers your risk of chronic disease. Kiwis also contain high levels of vitamins C and E, both known for their antioxidant properties.
Skin Health
The antioxidants in apples, particularly the quercetin mentioned earlier, have strong anti-inflammatory properties which reduce skin irritation and redness. Both fruits also have a high vitamin C content, which helps promote a youthful complexion. Vitamin C helps trigger collagen production. This, in turn, keeps your skin plump and hydrated.
Bone Health
The main vitamins and minerals that support bone health in apples and kiwis are calcium and vitamin K. While apples contain small amounts of these, the kiwi is once again the clear winner. Despite their small size, they contain large amounts of calcium and vitamin K. These help keep your bones strong and protect you from osteoporosis.
Blood Sugar Regulation
The fibre content of both apples and kiwis help to regulate your blood sugar. Fibre slows down the speed that sugars are absorbed into the bloodstream, which keeps your blood sugar steady and avoids sudden spikes in blood sugar. This is especially helpful for people with diabetes, but it is recommended to consult a medical professional for detailed advice on this.
Eye Health
This contest is a battle of the vitamins. The high vitamin C content of kiwis helps reduce the risk of eye diseases later in life, such as cataracts and macular degeneration. However, apples contain small amounts of vitamin A, which is instrumental in maintaining good vision and eye health. Vitamin A also improves the function of the retina, which means that you can actually see better in the dark.
FAQs
Q: Should I eat apple skin, or peel it before eating?
A: Apple skin is one of the best parts of the apple, nutritionally speaking. The skin contains most of the dietary fibre, and many types of antioxidants and vitamins. You can still benefit from apple's stunning nutrient profile even without the skin, though.
Q: Can I eat kiwi skin? Is it safe?
A: Though it might look unappetising, kiwi skin is perfectly safe to eat. Like apple skin, kiwi skin contains many of the fruit's antioxidants and vitamins, as well as much of its fibre. Be sure to wash the kiwi to remove any impurities on the outside before eating.
Q: How do I choose ripe apples and kiwis when shopping?
A: Ripe apples are firm, with a smooth texture and vibrant colour. Avoid fruits with obvious bruises, soft spots, or wrinkles on the skin. Ripe kiwis yield slightly when squeezed, and the skin should be smooth and free from blemishes.
In this apples vs kiwis contest, both fruits have their strong suits. Apples have high amounts of antioxidants and dietary fiber, and kiwis have some of the most vitamin C of any fruit. But, like any good competition, it's not really about the winning. If you enjoy both these fruits as part of a balanced diet, your body will be the real winner.
Further Read,