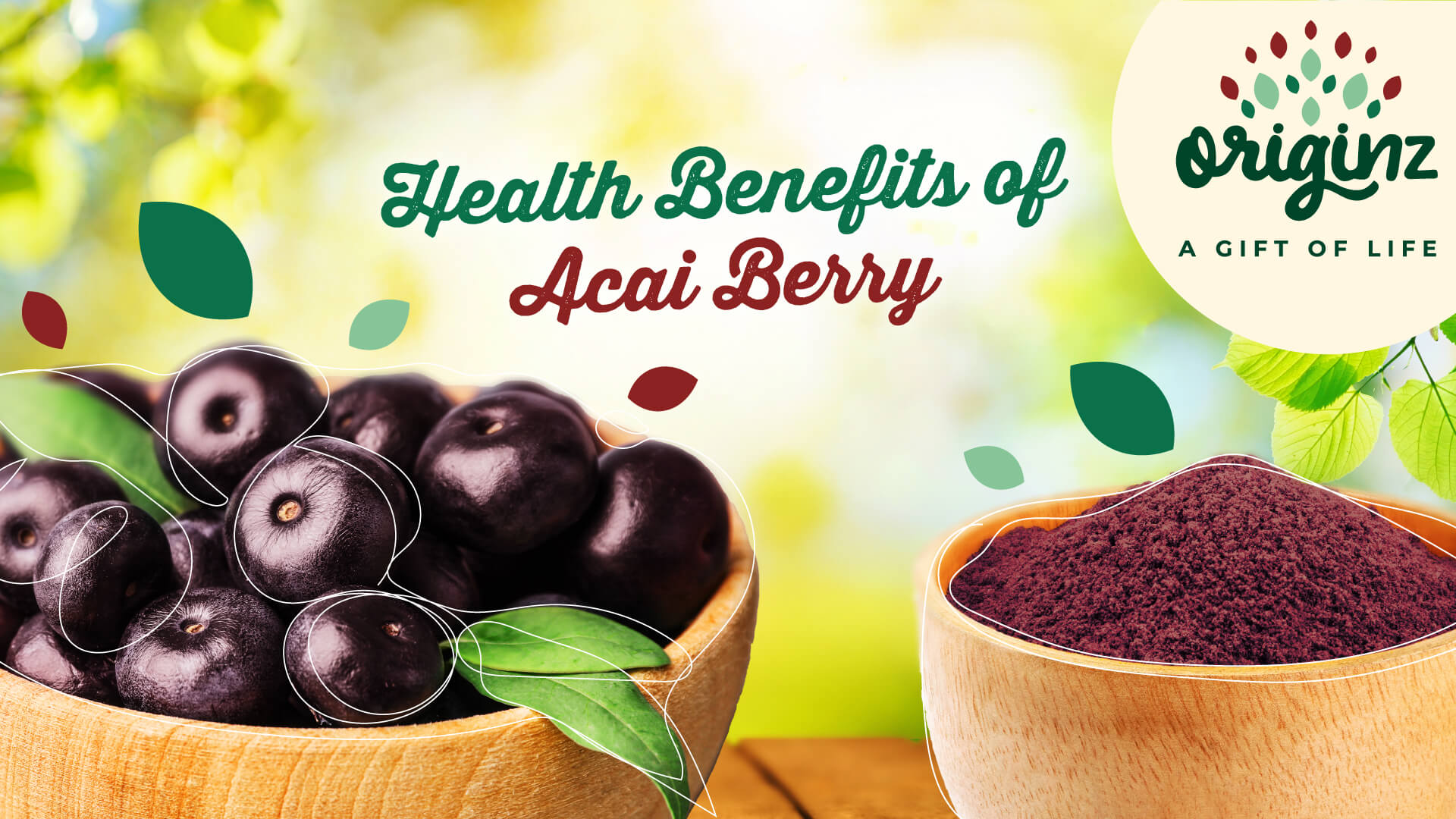 Unlocking the Power of Acai Berry: 8 Best Acai Berry Health Benefits
The acai berry's popularity far outstrips that of any other superfood. The Amazon rainforest is home to this tiny purple fruit, which has received widespread recognition for its remarkable health advantages. Don't look any further if you're trying to improve your diet with healthy and tasty options. This Blog will discuss the eight benefits of acai berry that are good for your health.
Benefits of Acai Berry
The Ultimate Defence Shield: Packed with Antioxidants
Antioxidant-rich acai berries can help your body mount a strong defence against disease-causing free radicals. These free radicals, produced both inside and outside by pollution, are harmful to your cells and have been linked to accelerated ageing and several chronic diseases. Antioxidants such as the anthocyanins found in acai berries are effective against oxidative stress. Consistent use can help lower the chance of developing chronic diseases and maintain a youthful appearance and state of health.
Heart Health Boost: Protecting Your Most Vital Organ
Acai berries improve cardiovascular health, making this benefit a top one. They are rich in heart-healthy substances like fibre, good fats, and plant sterols. Together, these factors improve blood flow and reduce the likelihood of heart disease by lowering "bad" LDL cholesterol levels and raising "good" HDL cholesterol levels. Potassium, which can be found in acai berries, aids in controlling blood pressure.
A Weight Loss Ally: Shed Pounds Naturally
Due to the benefits of acai berry for weight loss, it's considered as a reliable ally in the fight against fat. Because of the high fibre content, they make you feel full with a smaller amount of food. In addition, acai berries speed up your metabolism, making it easier for your body to burn fat. Because of its weight-controlling benefits, acai berries should be included in your diet.
Benefits for Skin: A Natural Elixir for Radiant Complexion
These fruits are used in numerous cosmetics because of their benefits of acai berry for skin. Acai berries' anti-oxidants protect against sun damage, delay ageing, and lessen skin cancer's likelihood. In addition, acai berry extract can boost elasticity, resulting in firmer, younger skin. Consuming acai berries regularly or using skincare products containing acai can give you the glowing skin you've always wanted.
A Nutrient-Rich Powerhouse: Fuel for Your Body
Acai berries provide a wide variety of beneficial elements. They are an excellent source of immune- and skin-boosting vitamins like vitamins A, C, and E. These berries are a good source of many minerals, including potassium, calcium, and magnesium electrolytes. By including acai berries in your diet, you can rest assured that you provide your body with a wide range of essential nutrients.
Enhanced Digestive Health: Keep Your Gut Happy
Thanks to their high fibre content, Acai berries are great for your digestive system. Constipation can be avoided, and regular bowel motions are achieved with fibre. It's suitable for your gut microbiota because it feeds the good bacteria there and helps them thrive. Improvements in digestion, immunity, and even mood have all been related to maintaining a diverse and robust microbiome in the gut. Acai berry consumption has been linked to improved digestive health.
Boosted Cognitive Function: Sharp as a Tack
There are chemicals in acai berries that may be good for the brain. These berries are rich in antioxidants, which help defend brain cells against oxidative damage and may slow mental loss with age. Acai berry extracts have been linked in some research to enhanced memory and mental performance, making them a potential nootropic supplement.
Anti-Inflammatory Properties: Taming the Flame
Acai berry health benefits include anti-inflammatory benefits. Heart disease, diabetes, and cancer can all be traced back to chronic inflammation. Antioxidants in acai berries give the fruit anti-inflammatory effects. They can aid in lowering systemic inflammation, which is detrimental to your health. Acai berry consumption has reduced the threat of acquiring chronic inflammatory diseases.
Where to Find Acai Berries?
You may be wondering where to find acai berries now that we've covered acai berry health benefits. Frozen acai berries, dried acai berries, and acai powder all exist. They are frequently available as organic food products or in the frozen fruit section of your neighbourhood's healthy food store. With these alternatives, you may incorporate acai berries into your diet via smoothies, bowls, and other dishes.
A diet that includes acai berries is a tasty and nutritious method to improve your health. These tiny fruits pack a powerful nutritional punch, helping with everything from heart health to skin glow to a satisfying snack. Why not start your path to improved health right now by visiting your neighbourhood's healthy food store and purchasing some organic acai berry products?
FAQs: Health Benefits of Acai Berry
Can I consume acai berries every day?
Yes, acai berries are safe to eat daily in reasonable quantities. However, as with any food, moderation is key to maintaining a balanced diet.
Are acai supplements as effective as whole berries?
While acai supplements can provide some benefits, whole berries offer a wider range of nutrients and antioxidants. Whole berries are generally considered the more nutritious option.
Are there any side effects of consuming acai berries?
Acai berries are safe for most people when consumed in moderation. However, if you have allergies to similar fruits or are on medication, it's best to consult your healthcare provider before adding them to your diet.
Can acai berries help prevent cancer?
The health benefits of acai berry are numerous because its high antioxidant content may help reduce cancer risk by protecting cells from damage. However, a balanced diet and lifestyle factors are crucial in cancer prevention.
Further Read,