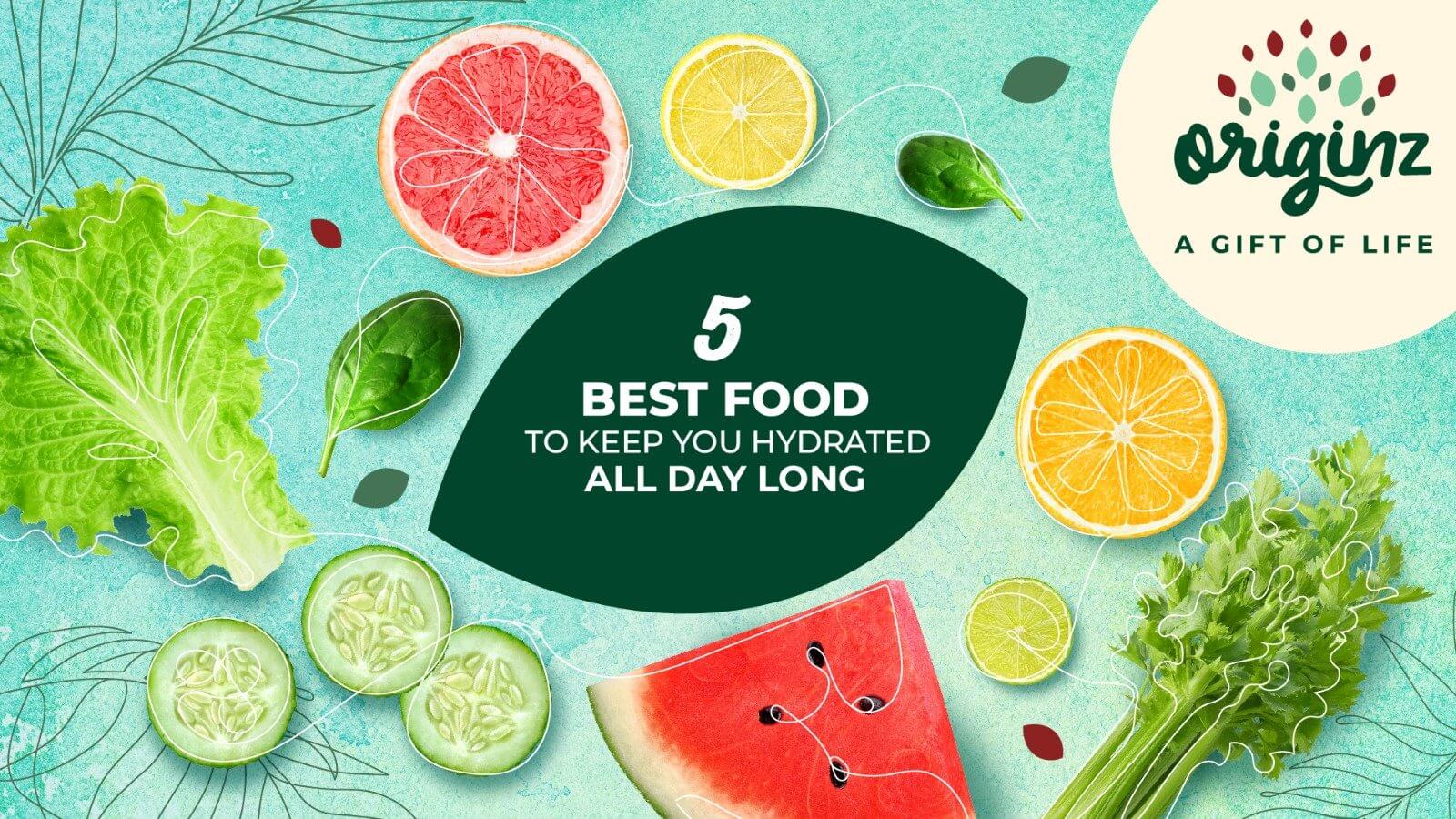 Top 5 Foods to Keep You Hydrated All Day Long
Now that the heat of summer has arrived, you must consume enough water every hour. Good hydration is crucial for maintaining optimum health and wellness. While water is essential, you can also increase your hydration levels by including certain foods in your diet. This blog will discuss five water-rich foods that provide various health benefits and help you stay hydrated throughout the day. Let's dive in and uncover the finest foods for hydration to quench your thirst naturally!
1. Refreshing Watermelon
In terms of hydrating fruits, watermelon reigns supreme. With its high water content of about 92%, watermelon is a delicious summertime treat and an excellent way to remain hydrated. This luscious fruit also contains vital electrolytes, such as potassium, contributing to maintaining the body's fluid balance. Snacking on watermelon slices or blending them into a smoothie can substantially increase your hydration levels.
2. Crisp and Cooling Cucumbers
Cucumbers are another top contender when it comes to water-rich foods. Cucumbers comprise approximately 96% water and offer a hydrating crunch that can satisfy your thirst. Additionally, cucumbers are low in calories and high in fibre, making them a perfect snack for weight management. Add cucumber slices to your salads, sandwiches, or enjoy them as a standalone snack to keep yourself hydrated throughout the day.
3. Juicy and Tangy Citrus Fruits
Citrus fruits such as oranges, grapefruits, and lemons are rich in vitamin C and contain a substantial amount of water, making them all hydrating fruits. Oranges, for instance, are an excellent source of hydration because they contain approximately 88% water. Additionally, these fruits contain natural sugars and electrolytes, making them an excellent choice for replenishing fluids during the sweltering summer months. You can drink orange juice, prepare a fruit salad, or snack on oranges to stay hydrated and strengthen your immune system.
4. Hydrating Leafy Greens
Not only are leafy vegetables such as lettuce, spinach, and kale rich in nutrients, but they also have a high water content. These greens can contribute to your daily hydration requirements, making them valuable to your diet. Approximately 95% of romaine lettuce is water, making it an extremely hydrating option. Incorporating leafy greens into salads, wraps, and green smoothies adds hydration and provides a variety of vitamins, minerals, and antioxidants that promote overall health.
5. Cool and Crisp Celery
Due to its high water content of approximately 95%, celery is an excellent choice for hydration despite its reputation as a 'negative-calorie' product. Its satisfying crunch and moderate flavour make it a versatile ingredient that can be eaten on its own or incorporated into various dishes. Electrolytes, such as potassium and magnesium, found in celery can help restore the body's fluid balance. Enjoy celery stalks with your favourite dip, incorporate them into soups and stir-fries, or blend them into hydrating and nutrient-rich green juices.
Another food item that one can consume for hydration is a soya beverage. Soya beverages are made by blending soybeans and water. This beverage is naturally high in water content, making it suitable for hydration. Originz offers organic soya beverage that is gluten-free, contains no added sugars, and is low in salt. This makes it a perfect plant-based drink that is nutritious, hydrating, and delicious.
Staying hydrated is vital for maintaining overall health and well-being. While drinking water is essential, incorporating water-rich foods into your diet can also contribute to your hydration needs. The five foods mentioned above - watermelon, cucumbers, citrus fruits, leafy greens, and celery - offer a delightful combination of hydration, flavour, and nutrients. Additionally, strawberries, broccoli, yoghourt, among others, can be fantastic options for maintaining adequate hydration levels throughout the day. By including these foods in your diet, you not only hydrate your body but also provide it with the vitamins and minerals needed to function properly. So, quench your thirst naturally with these delicious and refreshing options!
FAQs
Q. What are the best water-rich foods for staying hydrated?
The best water-rich foods for hydration include watermelon, cucumbers, strawberries, broccoli, and yogurt.
Q. How much water should I drink daily to stay hydrated?
The recommended daily water intake varies depending on age, weight, and gender. Generally, drinking at least 8 glasses of water a day is recommended.
Q. Can drinking too much water be harmful to my health?
Yes, drinking excessive amounts of water can lead to hyponatremia, which can cause seizures, coma, and even death. It is essential to drink water in moderation and not overhydrate.
Q. Are there any other benefits of eating water-rich fruits and vegetables?
Besides hydrating your body, water-rich fruits and vegetables are also high in essential nutrients like vitamins and minerals. They can also help with digestion and promote overall health.
Q. Are there other ways to stay hydrated besides drinking water and eating water-rich foods?
Other ways to stay hydrated include drinking coconut water, herbal teas, and low-sugar sports drinks. You can also include soups and broths in your diet, which are hydrating and packed with nutrients.
Further Read,