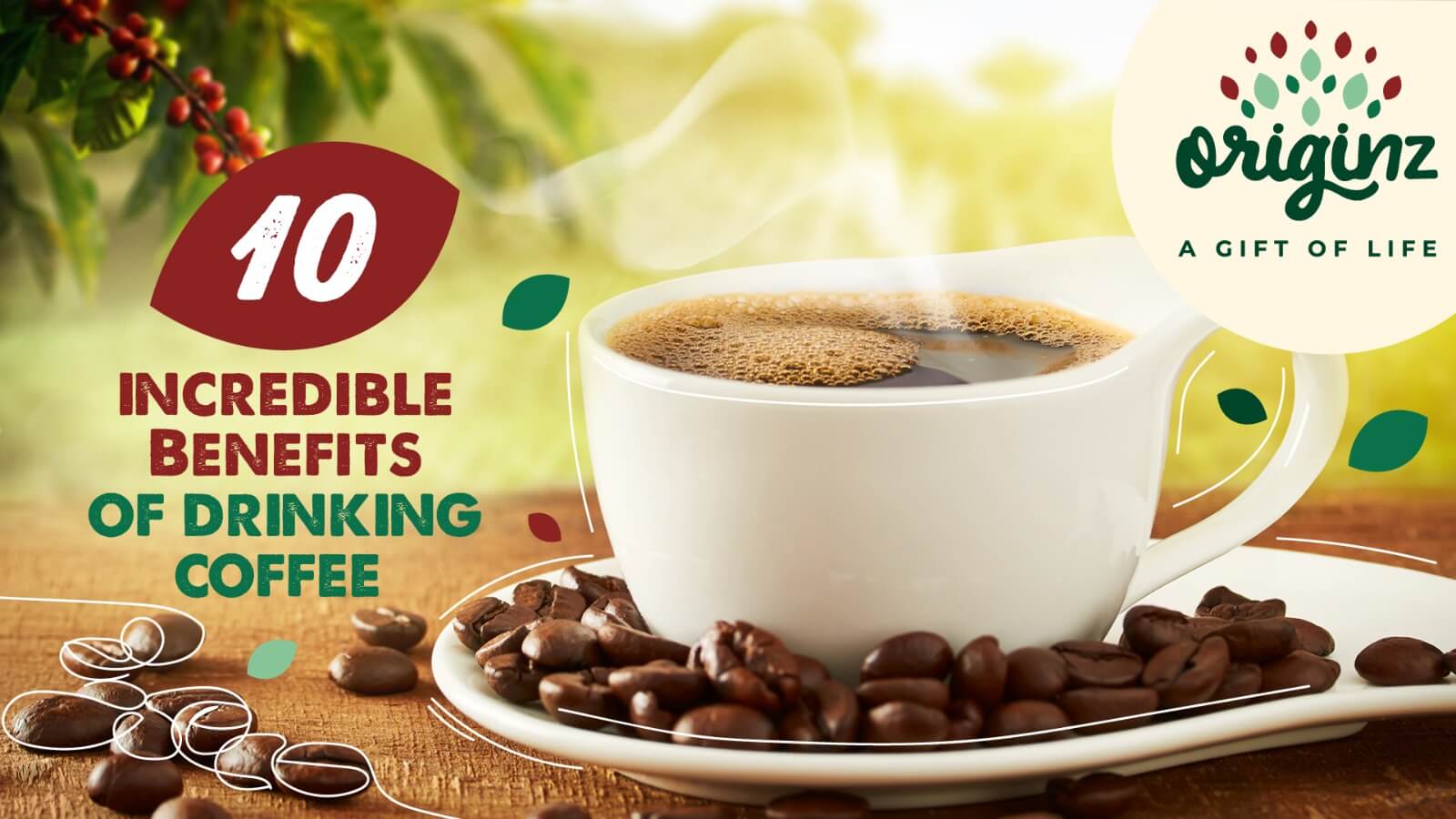 10 Incredible Benefits of Drinking Coffee
Legend has it that coffee was discovered sometime in the ninth century by a goatherd in Ethiopia. From these humble beginnings, coffee has flourished across the world. From the Italian espresso to the Arabic qahwa, people everywhere incorporate coffee into their day-to-day lives, drinking it as part of a morning routine, to stay alert and improve focus during a long workday, or simply to socialize with friends. Far from just being a quick caffeine hit, coffee offers a wealth of health benefits, especially when consumed with other healthy foods. Here are 10 of our favourites!
1. Coffee Keeps Your Mind Sharp
The caffeine in coffee blocks the neurotransmitters that make you feel tired, keeping you alert and awake. Studies also show that caffeine can improve your brain function, especially your memory, reaction time, and concentration.
2. Coffee Provides An Energy Boost During Workouts
Coffee makes for an ideal workout drink. Caffeine triggers the release of adrenaline, which helps you take in more oxygen and release stored energy from the body. It makes workouts feel a lot easier. The Tiramisu Iced Latte, made with Originz Oat Beverage,makes for an excellent workout drink.
3.
Coffee Has Antioxidant Properties
Even a small cup of coffee is packed with antioxidants. It helps protect your body from inflammation and cell damage. Antioxidants also improve your skin health and immune system function, as well as reducing your risk of chronic illnesses such as arthritis.
4.
Coffee Protects Against Disease
Drinking coffee regularly has been shown to safeguard you from many diseases. Compounds in coffee, such as chlorogenic acid, improve insulin sensitivity and mitigate the risk of Type 2 diabetes, and caffeine, which boosts your brain function, helps protect against Parkinson's and Alzheimer's diseases.
5.
Coffee Promotes Liver Health
The antioxidants in coffee help to protect your liver from diseases including cirrhosis and liver cancer, as well as lowering your risk of non-alcoholic fatty liver disease. Drinking coffee in moderation has also been shown to lower certain liver enzymes, which makes your liver function better.
6.
Coffee Promotes Heart Health
Coffee may make your heart beat faster, but it also keeps it healthy. Drinking coffee regularly has been associated with a lower risk of heart disease and stroke due to its antioxidant content. Coffee can also be used to help regulate blood pressure, but this can vary from person to person.
7.
Coffee Keeps You Happy
The caffeine in coffee can stimulate production of dopamine and serotonin – your brain's 'happy hormones' – which improve your mood and lower your risk of depression. The ritual of a morning coffee can bring a sense of calm to your morning, and going out to a café with friends can improve your well-being with social interaction. There is a reason coffee houses were so popular throughout history, after all!
8.
Coffee Reduces The Risk of Cancer
Coffee's high antioxidant content, which protects the body from oxidative stress, means that it can reduce the risk of many cancers, including colorectal cancer, liver cancer, and even endometrial cancer in women.
9.
Coffee Helps You Manage Weight
Coffee has been shown to temporarily increase the rate of the body's metabolism, meaning that it burns more calories. Combined with its benefits for physical activity, this means that coffee can help you lose weight. Coffee also functions as a mild appetite suppressant – in fact, it is theorised that the word coffee came from the Arabic qahiya, meaning 'to lack hunger'! For best results, enjoy as part of a balanced diet of organic foods aimed at weight loss.
10.
Coffee May Just Help You Live Longer
Finally, some studies have shown that drinking coffee regularly is associated with a longer lifespan, as well as an improved quality of life. This is surely due to the many health benefits listed above, and coffee's importance to daily life for many people.
FAQs
Q: Does decaffeinated coffee offer the same benefits as caffeinated coffee?
Many of the health benefits of caffeinated coffee are present in decaf coffee. Decaf contains almost as many antioxidants as caffeinated coffee, and offers similar protection against chronic illnesses, but does not offer the benefits that are specific to caffeine. However, this might not always be a bad thing. If you are particularly sensitive to caffeine, then decaf can offer a less stimulating alternative.
Q: Does adding milk to coffee increase its health benefits?
It depends. Adding milk to coffee can increase its nutritional value by adding calcium, vitamin D and protein, and can help make coffee easier to digest. However, milk can also significantly increase the coffee's calorie content, and might interfere with its antioxidants. For a lighter alternative, consider adding Originz Oat or Soya Beverages to your morning coffee!
What is a healthy amount of coffee to drink in a day?
Generally, about 300–400 milligrams of caffeine (about 3 or 4 normal-sized cups of coffee) is considered the sweet spot for caffeine intake. However, this can vary a lot from person to person, so it is worth getting to know your own body's caffeine tolerance. To keep a healthy sleep schedule, avoid drinking too much coffee too late in the day, as the caffeine can interfere with sleep.
Coffee has earned its place as one of the most popular drinks in the world, and for good reason. Coffee provides numerous benefits to both your mind and your body, keeping your brain in shape and fuelling your body for the day. Its high antioxidant content gives you a daily dose of protection against cancers and other chronic illnesses. Furthermore, it benefits your mental health by producing 'happy hormones' and enabling you to connect with friends. Just remember to enjoy coffee mindfully and in moderation!