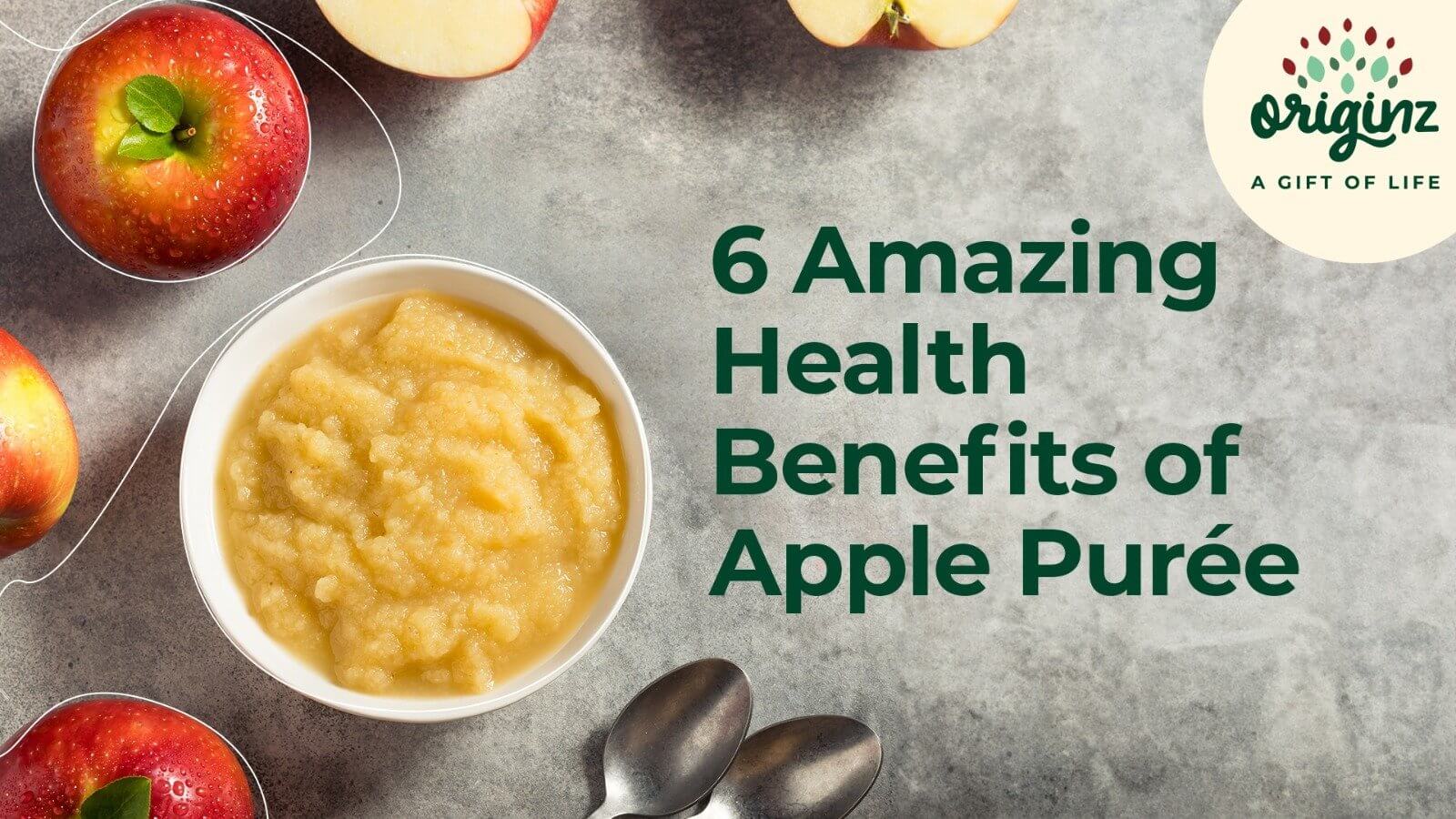 Amazing Health Benefits of Apple Purée
Apple purée is a versatile food with multiple uses, and also offers numerous health benefits. Apple purée is a delicious treat for the taste buds and is packed with vital nutrients. It is made by heating and blending apples until they have a smooth, velvety consistency. In this blog, we will discuss apple purée benefits, the best apples for apple purée, and the distinction between apple sauce and apple purée. We'll also go over the advantages of organic apple juice and its correlation to apple purée.
Apple Purée Benefits
Rich in Nutrients:
One of the best things about apple purée is its abundance of vitamins, minerals, and dietary fibre. It has a high concentration of beneficial nutrients like vitamin C, potassium, and antioxidants that work together to strengthen the immune system and prevent cell damage caused by free radicals.
Digestive Health:
Apple purée is high in fibre, which aids digestion and keeps you from feeling bloated. It contributes to maintaining a well-balanced microbiota in the digestive tract, thereby promoting overall digestive health.
Heart Health:
Regular consumption of apple purée may assist in reducing cholesterol levels, thanks to the abundance of soluble fibre content found in it. Having lower cholesterol levels is linked to a lower risk of cardiovascular disease.
Weight Management:
Apple purée can be a terrific addition to your weight management strategy because it is low in calories and fibre. It reduces hunger levels and helps you stay full for longer with fewer calories.
Improved Bone Health:
Apples are rich in calcium and other nutrients that promote healthy bones. Incorporating apple purée into your diet may aid in bone health and the reduce the risk of osteoporosis.
Blood Sugar Regulation:
Apple purée is a good choice for people with diabetes or those who are trying to manage their blood sugar levels, as the fibre and natural sugars in apples help in regulating blood sugar.
Best Apples for Apple Purée
Certain apple varieties are more suitable for making apple purée due to their texture and flavour. Some of the best apples for apple purée include:
Golden Delicious:
These apples have a naturally sweet taste and smooth texture, which is perfect for creating a smooth and velvety purée.
Honeycrisp
:
Known for their crisp texture and sweet-tart flavour, the apple purée made from Honeycrisp apples is both delicious and smooth.
Gala
:
Gala apples have a mild flavour and a thin shell, making them ideal for producing a purée.
Fuji:
Fuji apples provide an ideal harmony of sweetness and acidity, making for a smooth and satisfying purée.
Apple Sauce vs Apple Purée
Apple sauce and apple purée might appear identical at first glance, but they are quite different. Let's get into the nuances of apple sauce vs apple purée. Apples are cooked and mashed to create either chunky or silky apple sauce, occasionally supplemented with ingredients such as sugar and spices. On the other hand, apple purée is made by simmering and blending unsweetened apples until they attain a smooth consistency. When compared to apple sauce, the process of crafting apple purée preserves a greater portion of the fruit's fibre and minerals.
Apple Cider Vinegar
Apple cider vinegar is a liquid produced through the fermentation of apple cider. In addition to the health benefits of apple purée, which it is not a substitute for, it also helps with digestion, regulates blood sugar, and promotes fat burning. Consuming apple purée can have health benefits, and adding apple cider vinegar to your diet can amplify these benefits
Apple Banana Strawberry Purée
If you're tired of the usual apple purée, consider combining it with the wholesome benefits of bananas and strawberries for a delightful twist. The apple banana strawberry purée blend yields a sweet and wholesome dessert alternative that's perfect for babies and toddlers. The natural sweetness of the fruit eliminates the need for any additional sweeteners.
Organic Apple Juice
Organic Apple Juice is produced from apples that have been grown without the use of synthetic pesticides or chemicals. This juice is better for you because it contains no additives and retains more of its healthy components. The health advantages of apple purée can be amplified by including organic apple juice in your daily diet.
As the saying goes, 'An apple a day keeps the doctor away', it might be fruitful to utilize the health benefits of apple purée by simply adding it to your diet. From enhanced digestion and heart health to strengthened bones, there are so many health reasons to choose apple purée. You may also improve your cooking experience by selecting the best apples for your purée. The advantages of eating apple-based products are further enhanced when you consider the benefits of apple cider vinegar and organic apple juice. Now that you know about apple purée's delightful flavour and health benefits, don't shy away from indulging in it.
FAQs: Apple Purée Benefits
Can apple purée be given to babies and toddlers?
Yes, apple purée is a great snack for babies and toddlers. It is easily digestible, high in essential nutrients, and aids in digestion. When giving apple purée to babies, select soft and ripe apples, peel them, remove the seeds, and simmer until tender before blending into a smooth purée. For babies under one-year-old, avoid adding any sweets or spices.
Is apple purée suitable for people with diabetes?
When consumed in moderation as part of a balanced diet, apple purée can be a viable alternative for those with diabetes. Apples have a low glycemic index, and their natural sugars are balanced with fibre, which aids with blood sugar regulation. However, it is critical to work with a healthcare practitioner or qualified dietitian to create a personalised meal plan that considers specific health problems and medication.
How to store apple purée for later use?
To keep apple purée for later use, allow it to cool completely before transferring it into an airtight container. Keep it in the refrigerator for 3 to 5 days. If you wish to retain it for a longer period, freeze it in ice cube trays or little pieces. Transfer the frozen cubes to a freezer-safe bag or container. Frozen apple purée can be stored for up to three months. Thaw frozen purée in the refrigerator or over low heat before serving.
Further Read,